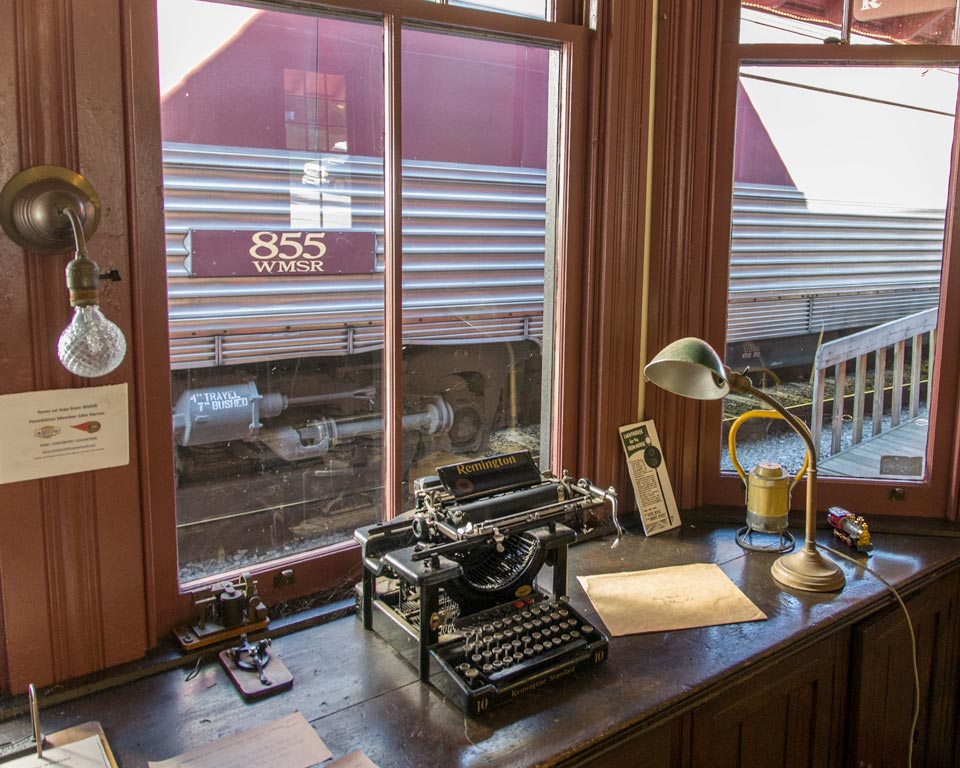 ⇒ Doug Bess

Doug Bess grew up in the Kanawha Valley town of Nitro, West Virginia during the 1950s and 60s. Fascinated with railroading since he can remember, Doug began taking pictures at age 18 and has done so intermittently through the years. He retired from Norfolk Southern Railway in 2003 and retired from his consulting business, Kanawha Technical Services, Inc., earlier this year. Doug and his wife Marcelle live in the Atlanta area and when not taking train photos, they enjoy spending time with their grandchildren.
⇒ Steve Boyko

Steve Boyko is a train geek and a computer geek. He moved from train-less Fredericton, New Brunswick to train-rich Winnipeg, Manitoba and is slowly being assimilated as a Westerner. He writes at Confessions of a Train Geek and Manitoba Grain Elevators and is active on Facebook and Instagram.
⇒ Michael Brotzman

Michael Brotzman is a PRR and signaling enthusiast from Southern New Jersey.  He is a proud member of the West Jersey chapter NRHS and has been running the annual SEPTA Mid-Winter fan trip since 2001.
⇒ Keith Clouse

Keith, a photographer with interests in transportation and heavy industry, is retired and living in Pittsburgh, Pennsylvania with his wife Norma and a houseful of rescued felines. He volunteers at a local historical site helping to preserve the rich heritage of the industrial age in Pittsburgh.
⇒ Michael L. Cougill

Michael grew up watching a daily parade of trains on the Pennsylvania Railroad line in Centerville, Indiana in the 1960-70s and that planted the seeds for a lifetime fascination with railroading. He is the owner of OST Publications, a small press serving model makers with a focus on craftsmanship. Visit his Facebook page here.
⇒ John Cowgill

John spent his early years in a small town outside of Washington D.C. called Colmar Manor, Maryland, a town surrounded by three railroad lines.  He enjoys watching the trains roll by while waiting at the railroad crossings, and enjoys riding trains as well.  Railroads is one of his main passions.  You can see his photos on Facebook at John Cowgill: DC Railroad Examiner, and you can read his articles at https://johncowgillstoriesoftherailroad.com.  John also enjoys traveling, road trips, seeing historic sites to include railroad sites and taking many photos.
⇒ Paul Flaherty

Paul Flaherty grew up in Riverdale, Illinois, a location of many railroads, and remembers steam power from his early years.  Paul's interest in trains came at a very early age from his father who worked in Chicago for the ICRR in the Traffic Dept.   His fondest memory was to travel with his dad on the N&W's J-Class powered Pocahontas at age 12 in 1957, a railroad at that time that was virtually 100% steam.   As a teen, Paul enjoyed steam powered fan trips along with a buddy who had similar interests.  Paul's train interests were revived upon his retirement.  Today Paul enjoys railroad photography, fan trips, memorabilia & books, and is involved in many RR internet sites.
⇒ Michael Froio

Michael is a professional photographer who teaches at the Antoinette Westphal College of Media Arts and Design at Drexel University in Philadelphia. He has received several grants and fellowships including a two-year Career Development Fellowship and Alumni Travel Grant with the Center for Emerging Visual Artists as well as a 2009 Individual Artist Fellowship from the New Jersey Council on the Arts. Michael has published articles with the National Railway Historical Society and presented lectures for the Center for Railroad Photography and Art, The Library Company of Philadelphia and various Chapters of the National Railway Historical Society.
⇒ Edd Fuller

Edd Fuller has been taking pictures of trains on and off since 1972. After spending over thirty years in the printing and publishing business, he began a second career as a software developer. Now retired, Edd lives with his wife in the foothills of Virginia's Blue Ridge Mountains and edits The Trackside Photographer.
⇒ Eric Gagnon

Eric Gagnon was born in Montreal, Quebec and has lived in Kingston, Ontario most of his life. Much time was spent trackside when not in school, college or practising as a medical laboratory technologist. Married with two children, Eric is also an HO-scale modeller, musician, avid reader and blogger, having launched his Canadian railfan blog Trackside Treasure in 2008. Eric's first book Trackside with VIA:The First 35 Years, published in 2011, was followed by two more in 2012: Trackside with VIA:Cross-Canada Compendium and Consist Companion.
⇒ Jeff Garrison

Jeff Garrison is a Presbyterian minister near Savannah, Georgia. He has enjoyed enjoyed riding trains ever since his kindergarten class took a short ride on an old Seaboard Air Line train and was privileged to tour the mail car. He has taken the train across much of the United States and in a number of Asian countries. In 2011, he traveled overland, mainly by train, from Singapore to Europe. He enjoys slow travel, whether by foot, boat, car or train. The sight of tracks excites his wanderlust. Jeff can be found on Facebook and maintains a public blog, thepulpitandthepen.com.
⇒ Tom Gatermann

Tom Gatermann lives in Nashville, Tennessee and grew up in St. Louis, Missouri. His love of railroading was passed down to him from his father and paternal grandfather. Tom began taking photographs when he was 7 years old and has never stopped. He worked as a forensic photographer for many years before taking on his current role as a stay-at-home dad with his newborn daughter. His interests include information security, photography of all sorts (not just railroad related), and spending as much time with his daughter as possible. Tom currently posts his work on his Google+ page.
⇒ Gordon Glattenberg

Gordon Glattenberg is a native of Southern California and has been photographing trains since 1955. He enjoys travel and has been to 50 states and 45 countries. He has a mechanical engineering degree from Caltech and is a retired aerospace engineer.
⇒ Steve Goch

Steve has always had wanderlust, and traveled all over the world for pleasure. He especially loved riding trains in any country he visited. Life is funny, though, because he met Kathy, who shares his love of travel, and they  were married in Greece on the Island of Santorini in 2007. He enjoys sharing her experiences in their travels, to see them in a new perspective and sense of history. All the stories of his and their travels are on their website: http://www.stevekathytravels.com/
⇒ Gary Grady

Dr. Grady is a professor of psychology, author, and photographer. Raised in a military family stationed around the world, he developed a great love for travel early in life. He did post-doctoral studies at Oxford and his speaking engagements have taken him to places like the United Kingdom, Europe and South Africa. His and his wife's favorite adventures have been in the UK where they have traveled regularly for over 25 years. He has been writing articles for over 50 years on a wide range of subjects, many illustrated with his photography.
⇒ Oren B. Helbok

Oren grew up in the Bronx and with his father, John (WhereSteamLives.net/john-e-helbok), he experienced some of the early excursion era glory, chasing High Iron Company trips from age 3.  Since age 6, Oren has made photographs, predominately trains, predominately steam, from approximately coast to coast and in Canada and Great Britain.  In recent years he has come to appreciate that "railroading" includes much more than just hardware, namely the landscapes and the people surrounding the trains.  Oren writes stories to accompany his photos because, he believes, "sometimes a picture needs a thousand words."  See and read more at WhereSteamLives.net.
⇒ Bob Hughes

Bob caught the railfan and photo bug at Colby College, and hasn't been without a camera since.  MEC's Waterville Yard was a hangout in the 1960's, followed by nine years on the New Haven and LIRR, including two years active duty as a US Navy Photographer's Mate on the USS Intrepid.  Bob left railroading in 1977, and retired from a career in magazine printing and production in 2008.  Summer days find him enjoying retirement with his wife Lynn and boating on Narragansett Bay in Warren, RI, while winter leaves time for scanning slide collections for friends and family, and needle-pointing. Email Bob at bhughes914@gmail.com
⇒ Danny Johnson

Danny is a native of Wesson, Mississippi on the former Illinois Central's Chicago to New Orleans mainline where he developed an interest in trains and railroading.  Relocating to Vicksburg, Mississippi in the early 1980s, he spends time in almost every genre of photography except sports.  He holds a BS Degree in Mechanical Engineering from Mississippi State University and is a retired Professional Engineer in Mechanical Engineering and Fire Protection Engineering.  Many of his images may be viewed on PBase, at http://www.pbase.com/djp571309.
⇒ William R. Jolitz

Bill Jolitz has never not been fascinated with railroading.  It started with simple train-watching.  In 1962, he landed outside of Cincinnati, on the B&O mainline.  The station agent in Madiera, Nelson Stewart, took him under his wings and taught him the art of railroading, as did all other railroaders in the area.  Pure JOY! He started his professional life as a photographer, but an MBA took him into business.  After a total of 20 years in Saudi Arabia, he retired. He has always photographed trains, railroad infrastructure and people.  His work has appeared in both American and British magazines.
⇒ David Kahler

In 1937, David Kahler was propped up in his baby carriage on the front porch of his family's row house Baltimore, Maryland for the purpose of entertaining the enfant terrible while his mother took a nap. She never realized at the time how this once a day act would have a lifetime impact on her son's life. Her son loved to watch the endless passing of clanging streetcars below. He was mesmerized with the sight of steel wheels pounding on shiny steel rails. From the very beginning his passion for streetcars or trains never abated. Today, 79 years later, he has continued to channel this lifetime interest into railroad photography that is predicated upon the art of place. His professional career as an architect instilled within his soul a strong need to respect context in terms of architecture or railroads, whether they be urban or rural settings. Mr. Kahler spent his professional life in Milwaukee, Wisconsin while his artistic foundation was minted early on in southeastern Pennsylvania along the lines of the Pennsylvania Railroad and the Reading Railroad. He now resides in Fearrington Village adjacent to Chapel Hill, NC.
⇒ Matthew Kierstead

Matt Kierstead hails from southern New England where he grew up with changing railroading under Penn Central and Conrail.  He enjoys a lifelong interest in art, architecture, geology, heavy industry and transportation and associated landscapes.  Following that passion led him to an MA in Public History from West Virginia University where he was exposed to regional coal mines and steel mills. He spent a summer documenting the East Broad Top Railroad for the Historic American Engineering Record (HAER.)  Matt worked in historical preservation and cultural resource management for 20 years before moving to the Hudson River valley in 2011 and starting his own industrial history documentation and interpretation business, Milestone Heritage Consulting.  He continues to enjoy rail-related projects like HAER documentation of the Erie Railroad's Portage Viaduct.
⇒ Dan Kittay

Dan Kittay is a writer, photographer and web developer living in upstate New York. His love of trains came early in life from his father, and he has been photographing them ever since. An earlier career as an editor saw him traveling throughout the country for annual conventions, and he often tacked a day or two onto trips to shoot photographs and videos of trains in different settings, capturing many of today's fallen flags. Dan has recently been working on mobile app development, and creating a project that combines his interests in trains and photography.
⇒ Stuart Klipper

Stuart Klipper has now been making his photographs for nearly fifty years; it was initially a boyhood hobby. Photography, for him, has become primarily a way to get a handle on the world; what is in it, and how it is for us. He often likes to say that he just basically goes out, looks around, and sees what's there. He has done this in places widely across the planet. He can lay claim to being one of approximately four hundred people that have ever stood at both Poles. The photos in this selection were all made with a Linhof Technorama.
⇒ Richard Koenig

Born in 1960, Richard Koenig received his BFA from Pratt Institute. In 1998 he received his MFA from Indiana University and began teaching art and photography courses at Kalamazoo College, Michigan. His work, Photographic Prevarications, was shown in six one-person exhibits in as many years (2007 to 2012). In the summer of 2010 he began working on a long-term documentary project called Contemporary Views Along the First Transcontinental Railroad.
⇒ Dennis Livesey

Livesey's mother introduced him to trains and his father did the same with photography. After New York University, he became a motion picture camera assistant for 35 years working on such shows as "Hart To Hart," "The Wire" and "Law & Order". After moving to camera retail, he got more into railroading, not only as a photographer but as a volunteer railroader. His proudest achievement is the critically acclaimed book "Smoke Over Steamtown." Find his work with a Google search and at Liveseyimages.com. He lives in New York City with his love, wife Mel.
⇒ John Longhurst

John Longhurst is a railfan and model railroader in Winnipeg, Manitoba, Canada. Articles and photos of his layout have been published in Model Railroader, Railroad Model Craftsman, Canadian Railway Modeller and Model Railroad Hobbyist. He blogs about railways and model railroading at http://cprailmmsub.blogspot.ca/. Whenever he can, and it is convenient, he takes VIA Rail for business travel.
⇒ Matthew Malkiewicz

Matthew Malkiewicz resides in New Jersey, where he is the senior designer for an instrumentation/electrical/process control engineering firm. Matthew's fascination with trains started at the age of four months by watching a toy train run around the Christmas tree; he has been hooked ever since. His passionate hobby is to travel and capture the country's modern-day tourist steam operations. Vacations are now planned around and spent photographing special railroad related events, private train photo charters, museums, and historical places. His entire portfolio can be viewed at: www.losttracksoftime.com
⇒ Dan Maners

Dan started out on Penn Central in April 1973 as a trainman then conductor. He was promoted to engineer in 1987 under Conrail and finished his career in 2013 under CSX. He was bitten by the tower bug in the mid 80's. Dan maintains the website North American Interlockings.
⇒ John Marvig

John Marvig has had an interest in bridges and railroads since he was a little kid.  Born and raised in the Twin Cities of Minnesota, he began photographing historic railroad bridges when he was in 6th grade.  Since then, he has continued taking pictures throughout the Midwest.  He will be attending Iowa State University for Civil Engineering starting in the fall of 2016, and currently runs his own site: Johnmarvigbridges.org 
⇒ Christopher May

Chris was born in Aurora, IL and learned to love rail-fanning at the Burlington Northern's Eola yard. He has enjoyed photography since he received his first point and shoot camera when he was nine years old. Today he enjoys shooting with both film and digital cameras. He currently works as an estimator for a steel construction company and lives in Pueblo, CO.
⇒ Eric Miller

Eric is a lifelong resident of Southwest Virginia, and currently lives on a mountaintop near Wise, Virginia with his wife Rhonda, son (and budding railroad photographer) Tristan, and three mischievous cats. Eric has been a railfan since childhood, and has had his photography and writing published in Railfan & Railroad, Railroads Illustrated, Railroad Explorer, and The Railroad Press magazines. His poetry and photography have appeared on the Lightsource Photographers Railroad Page. See more of Eric's work at https://www.flickr.com/photos/ericmiller72
⇒ Frank Mills

"Trains," according to Frank's mom, was one of the first words out of his mouth. As a youngster, he was given a Brownie Box Camera, and you can just imagine the results. Trains are still much on Frank's mind these days, although the camera has become more sophisticated. Frank is intrigued by what railroad and trackside culture can teach us about who we are as a people. As a photographer Frank seeks to use his photography to explore this question from a "present-day historical perspective." See more of Frank's work on his Website and Facebook Page.
⇒ Andrew Morang

Andrew Morang grew up in Greece, southeast Asia, and Massachusetts, and now is a retired geologist living in Vicksburg, Mississippi. He became interested in photography in the 1960s, when his father showed him how to use his Leica Camera. Andrew's main photographic interests are urban decay, the deterioration of homes, factories, schools, railroads, and other creations of society that have been abandoned and left to decay. Many of these constructs are eventually razed, and people soon forget what they looked like or what they represented in their prime. Andrew has continued to use film along along with digital capture, and recently, with the luxury of post-retirement freedom, is using film more and more. For urban decay topics, the traditional black and white silver image looks right. He writes the blog Urban Decay
⇒ Tom Nanos

Tom Nanos is a life-long resident of eastern Connecticut, mainly focusing on documenting the railroads that travel through southern New England.  Interested in both railroads and photography in his teens (late 1970s-early 1980s), he never put the two together until about 2001.  In the 16 or so years he has been photographing railroads, his work has appeared in a number of magazines including Trains, Railfan & Railroad, Railroads Illustrated, Railroad Explorer, as well as in books and calendars.  In real life, he is a husband and father of two teenaged daughters, and is a content management platform manager and solution engineer at a major pharmaceutical firm. Tom's work may be seen at his Website and on Flickr.
⇒ Stu Nicholson

Stu Nicholson is a former TV news journalist and current media relations professional and writer.  He is a frequent contributor to the Railroad Picture Archives as well as to Ohio Valley Railroad Gang page on Facebook. His love of all things railroad goes back to childhood memories of watching the New Haven Railroad in his hometown in Connecticut to seeing the last steam locomotives in operation in Nova Scotia. "Railroading is as much a part of our history as baseball and we need to keep recording it's evolution."
⇒ Rob Richardson

Rob Richardson has been a photographer for nearly half a century, at first focusing on "crumbs of reality", interesting little things very few people notice.  He liked trains too.  One day, after his kids were pretty much grown, for no known reason, he did a Google search for "railroad photographs", and got blown away by what he found.  His first reaction was, "I want to do that!"  His second was, "Dammit, I CAN do that!" 
Rob's photographs, including crumbs, trains, grandkids, and miscellaneous other things, can be found http://www.pbase.com/interrobang and https://www.flickr.com/photos/cedriccicada. The story behind "Cedric Cicada" is far too long to include here.
⇒ Johnathan Riley

Johnathan Riley has been taking photographs of trains since 2015. He has had a niche of photographing steam locomotives and portraiture of the men and women who work at these railroads. Johnathan has had the railroad in his blood for many generations and looks forward to carrying on the tradition near his home in the Baltimore, Maryland suburbs. Johnathan can be found both on Facebook and on his Flickr page, John Riley
⇒ Dan Robie

Dan Robie grew up in Charleston, WV from the 1960s through the 1980s. Now a resident of North Carolina, he can reflect on nearly fifty years of interest in the hobby ranging from photography to modeling to historical research. In 2010, Dan created his web site WVNC Rails which focuses on rail history in West Virginia and North Carolina as well as the surrounding region.
⇒ Jason Sailer

Jason Paul Sailer was born in Medicine Hat, Alberta and grew up on a farm south of town.  Memories of taking grain to the wooden grain elevator with his dad and watching the trains moving the cars left a lasting impression on him.  After college, he moved to Lethbridge, Alberta to be employed as a senior architectural technologist.  He is currently married and has a young daughter. In Jason's spare time he is an avid photographer, researcher/blogger, and rookie HO-scale modeler.  Jason also serves as a secretary with an local railway museum (the Galt Historic Railway Park) and as president of the Ogilvie Wooden Grain Elevator Society, preserving a 1925 Ogilvie Flour grain elevator.
⇒ Kevin Scanlon

Kevin Scanlon has been photographing industrial subjects for the past 40+ years. During much of that time he roamed through West Virginia and has photographed everywhere from Paw Paw to Hoo Hoo Hollow. He lives in Pittsburgh with his wife Dory Adams and now spends much of his free time helping to preserve an historic steel mill. More of Kevin's photography can be found at KevinScanlonPhotography.com.
⇒ Dr. Frank R. Scheer

Frank's fifty-year career in supply chain management spans transportation carriers, public utilities, and the federal sector.  He is currently a procurement specialist with the U. S. Postal Service's Transportation Services. In the 1970s, Frank worked for the Richmond, Fredericksburg & Potomac, Chesapeake & Ohio, and Norfolk & Western railroads in a variety of operating positions. Between 1978 and 1982, Frank was Manager - Rail Cost Analysis, Office of General Counsel in the U. S. Railway Association. Dr. Scheer is the curator of The Railway Mail Service Library, Inc., which is located in the Boyce, Virginia Depot. Email him at: f_scheer@yahoo.com
⇒ Alan Shaw

Family legend has it that Alan first showed signs of interest in trains when he was about 2 years old, evidently fascinated by a train heading up Tasmania's Derwent valley. That may or may not be true, but he's been a keen photographer, especially of railways, since he was about 12. Growing up and finishing university in Tasmania, he moved to the nation's capital of Canberra for a couple of years in 1987, before moving to Brisbane, Queensland, where he's lived ever since. Trains remain a passion, especially the unusual and out-of-the-way activities that go unnoticed by most. Like many people, he fits his hobby between the demands of work and family—but enjoys immensely those  moments when he can.
⇒ Kevin Siemens

Kevin Siemens is a friendly Canadian from the prairie province of Winnipeg, Manitoba, Canada. His interest in trains dates back to early childhood when he would "listen" on the rails for oncoming trains. Grown up, he now stares down the rails anticipating a diesel to appear in the distance so he can watch it thunder past. Kevin endeavors to keep the passion and spirit of the railway alive by sharing unique images of the trackside as he sees it through the lens, hoping the inspire others. An amateur photographer for 7 years, his other passions  include racing in local marathons and culinary arts. View Kevin's online portfolio on Flickr.
⇒ Cade Smith

Cade was born and raised in Overland Park, Kansas, only a few miles from the Burlington Northern's former Frisco, Fort Scott Subdivision. At an early age he could be found trackside on Saturdays with Dad watching the parade of coal trains pass the old depot in downtown Lenexa. This time trackside at an early age cemented his life-long love for the railroads. It was not until 2016 that Cade picked up a camera and began photographing trains and the infrastructure that surrounds railroad operations. Now residing in Topeka with his wife Jenny and daughter Olivia, he can be found on his days off photographing the railroads of eastern Kansas and western Missouri. More of Cade's work can be found on Flickr at: https://www.flickr.com/photos/137428825@N06/ 
⇒ Cynthia Sperko

Cynthia L Sperko is a vintage railroad (and fine art landscape) photographer. Transportation photography began with her father, Ed Sperko, who photographed cars for the General Motors Corporation. Capturing the spirit of vintage railroading is what she loves to do. Visit her website, Cynthia L. Sperko Photography and her Photo Journal. Email her at csperko@comcast.net
⇒ John Springer

John's dad hired out as a towermen on the New York Central in 1953 and took John to work with him on Saturdays at Woodlawn tower JO in the Bronx. It was their special time together. Later on his dad worked at North White Plains at NW tower and he would go there on Saturdays. At age 11, John was given  the family pass, and some engineers let him in the cab. When he saw what they did, he made up his mind to become an engineer. In 1970 he hired out on the Penn Central, worked 42 years and retired. After he retired John went to work as an engineer for the Railroad Museum of New England. John says, "I've had a great childhood, working life, and now retirement." He also enjoys fly fishing and singing in karaoke bars.
⇒ Jason Stamper

Jason Stamper has been a lifelong lover of trains, and history.  As a photographer Jason likes to tell stories about the people and places he meets in his travels.  Many of his pictures are taken while on vacations with his also train loving wife and two young sons.  Jason is also a traditional woodworker (and collector of antique tools), a model railroader, and writer.  He maintains a small Etsy shop with pictures of railroads, nature, and other interesting subjects.  See more of Jason's work at https://www.etsy.com/shop/JStamperCreations?ref=hdr_shop_menu
⇒ Kevin N. Tomasic

Kevin is a native Pittsburgher who lives with his miniature schnauzer, Zinc, in the Mt. Troy section of the city. He is an industrial furnace estimator which gets him into various facilities—most times with his camera. Writing has mostly been his forte and he has written for Rails Northeast, Railfan & Railroad and Trains magazine, plus has helped with the online publication The Photographer's Railroad Page. Most of his photography is now done in and around industrial plants.
⇒ Brandon Townley

Brandon Townley grew up in central Ohio and has been behind a camera for as long as he can remember. Trains have always been an important subject in his photos. Love for travel has given him the opportunity to photograph a vast array of landscapes and railroad environments. He has two books published: Norfolk Southern in Action and CSX in Action. A sampling of his photos can be found here.

⇒ Fred Wolfe

Fred Wolfe is a semi-retired CPA and lives in Huntington, West Virginia.  He spends most of his free time capturing images of waterfalls and landscapes in and around the New River Gorge.  He is also an avid rail fan and has traveled extensively capturing railroad and rail related images.  You can find his images on Facebook under Wolfelight Images or on his web page at http://www.fredwolfe.zenfolio.com/
⇒ Vic Zolinsky

Vic got involved with railroads when he was a boy of 4 years old in Keene, New Hampshire when he tried to throw a switch. This started his railroad life and until he hired out on the New Haven RR in 1956, Vic went all over New York City and surrounding areas in towers, watching and riding trains. He hired out on the New Haven RR and was a Towerman, Ticket agent and Yardmaster. He was promoted to Trainmaster and served in Grand Central Station and then with Conrail on the Atlantic Division until 1989. Vic says, "It was a great life. I miss it."