Nestled in the heart of South Central Minnesota lies the German influenced town of New Ulm. This town was founded in 1854, and the Chicago & North Western Railway arrived in late 1871. New Ulm became a significant station point for the C&NW, and included a crossing of the Minnesota River. By 1899, a line relocation made the river crossing redundant, and the original mainline was reduced to a branch. The line was purchased by the Dakota, Minnesota & Eastern Railroad in 1986; which was in turn purchased by Canadian Pacific Railway in 2008.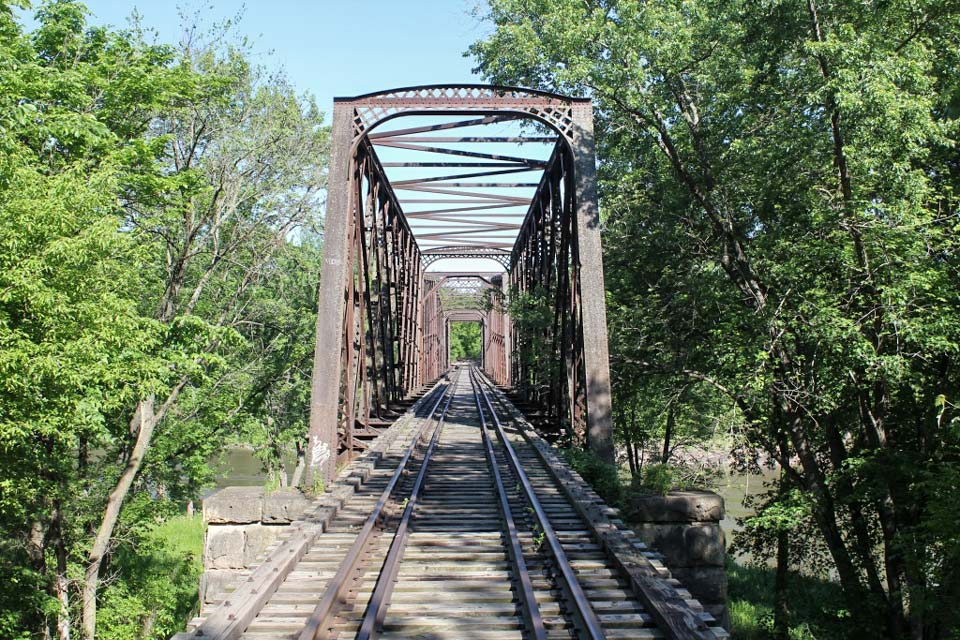 The Redstone Bridge lies just east of New Ulm, along the original mainline. It is named after the town of Redstone, a long lost town along the banks of the Minnesota River. The bridge is hard to access, but is a treat for anyone that visits. A serene and quiet spot surrounds this very historic swing bridge, which is a little known secret. The bridge was originally built in 1880 to replace a wooden swing bridge. The bridge was built under the direction of the Chicago & North Western Railway, with the Leighton Bridge & Iron Works of Rochester, New York erecting the structure.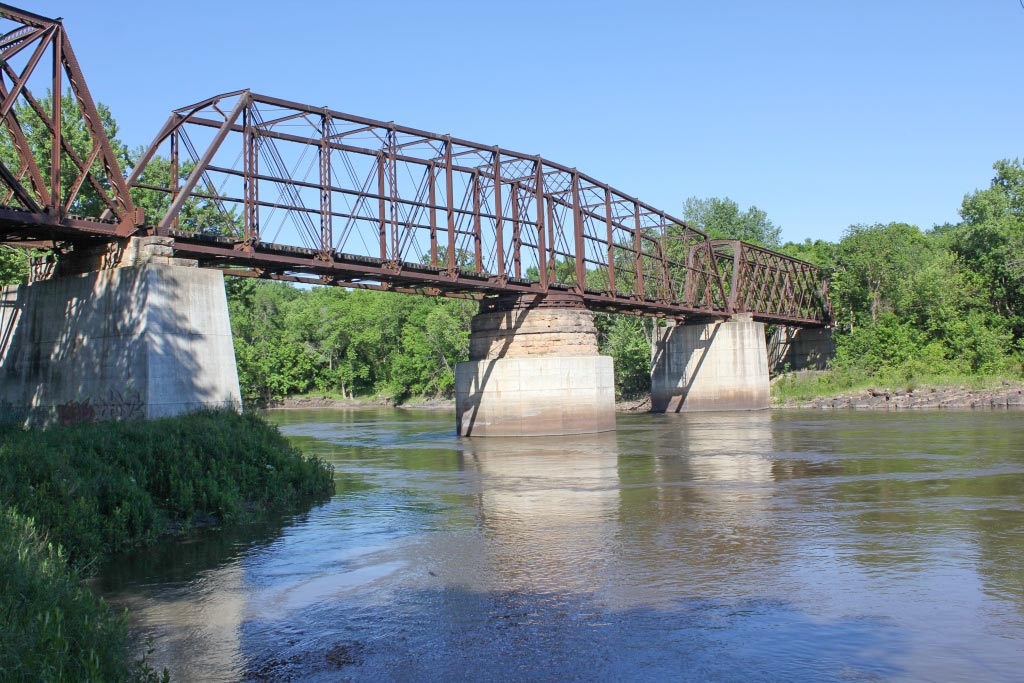 The center swing span is a 206-Foot-long Iron Swing Span, of Camelback Through Truss construction. The span is set on iron rollers, on top of a round stone pier. The span uses a unique system of U-Bolts to hold the structure together. The swing system is still fully intact.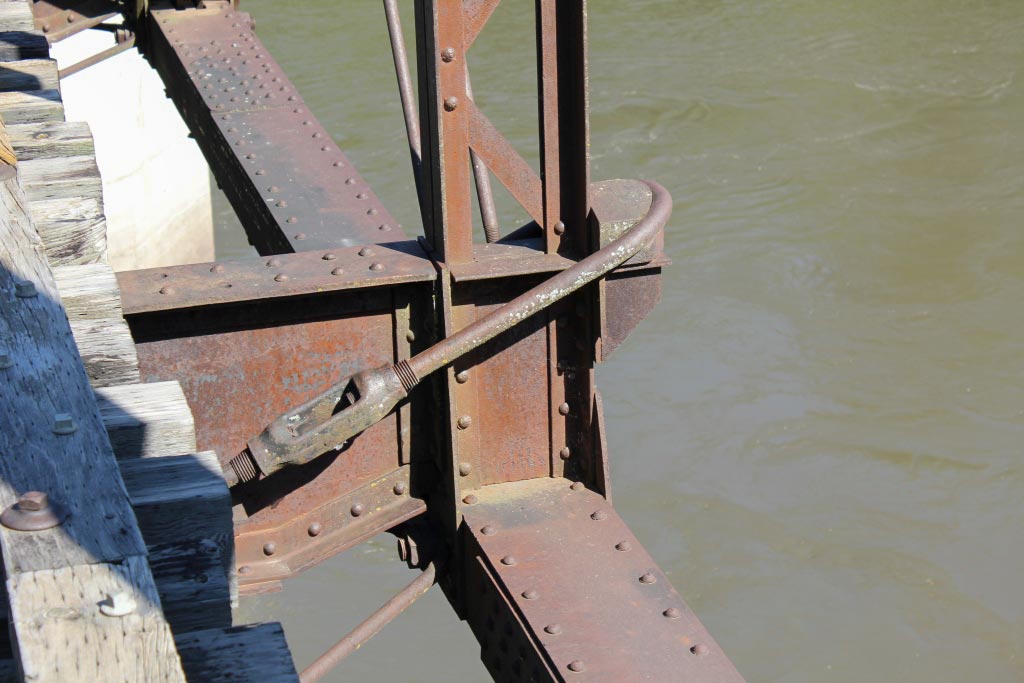 The swing span is approached on either side by a 130 Foot Quadrangular Through Truss, of iron construction. This design is exceedingly rare in certain parts of the United States, although it is very common along former C&NW lines. Post Tension Rods connect pieces on these spans, allowing for heavier loads with less material.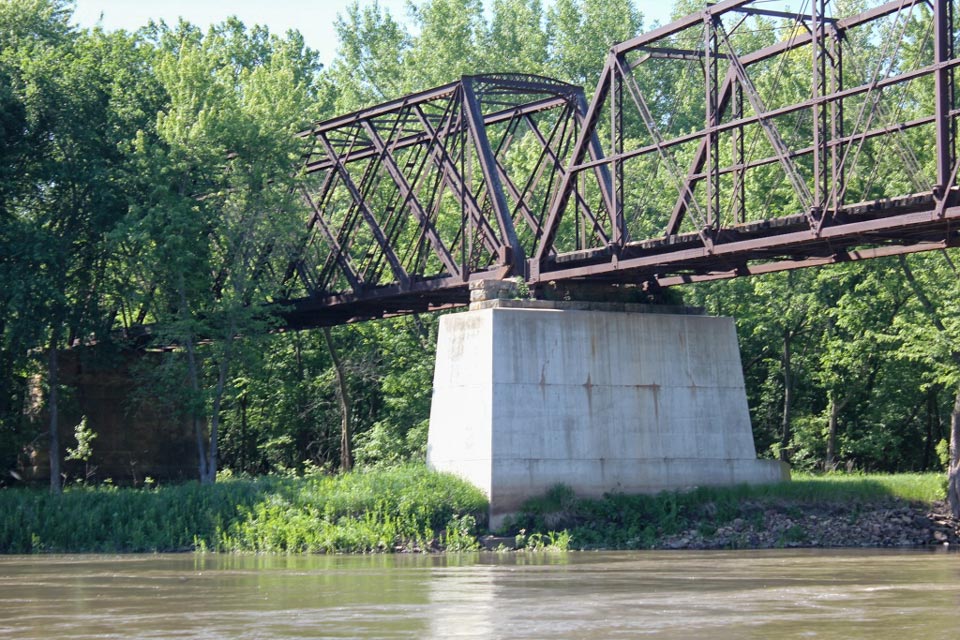 In addition to the main through trusses, the bridge also has a wooden trestle approach. Stone piers are also used for the trusses, although all but one has been encased in concrete. Presently, the bridge serves a quarry to the east. Various agencies hope that if abandoned, this highly significant bridge can be preserved in the form of a trail. Access to it is walk in only, from 171st Avenue.
The bridge serves as a reminder to a past time, when riverboats and trains crossed paths. While the Minnesota River became non-navigable this far upstream in 1884, the bridge undoubtedly had to swing at least once. The bridge also serves a reminder of the heritage of the community of New Ulm, which was brought up along the railroad. With an excellent retention of historic integrity, the bridge is commonly regarded as one of the most significant railroad bridges in the State of Minnesota. Despite its relatively unrecognized status, the bridge is also one of the more significant railroad bridges in the United States. Hopefully it can retain this status through preservation for years to come.
John Marvig – Photographs and Text Copyright 2016
See more of John's work at John Marvig's Railroad Bridge Photography