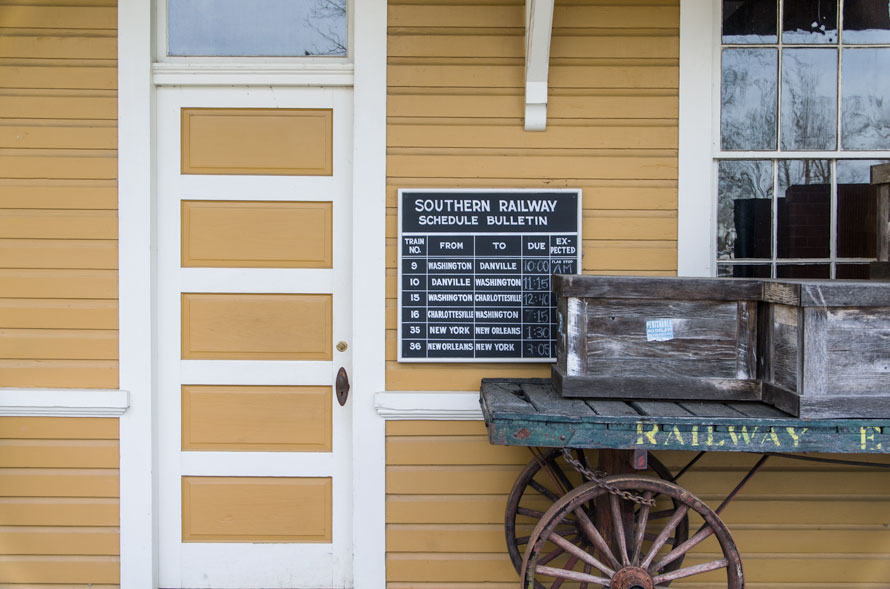 April 18, 2019 – Manassas, Virginia is best known as the site of two key Civil War battles, but the town was built around two railroads, and the railroad played a major role in the town's history. John Cowgill explores this Railroad Town and the tracks that run through it.
April 11, 2019 – John Springer takes us back in time to Saturday afternoons spent with his father at New York Central's JO tower. Railroads, interlocking machines, fishing, TV, late night pizza—it's all there in this story of a boy growing up on the railroad with his dad – Saturday Afternoon at JO.
April 9, 2019 – In this month's Editor's Notebook, a short review of Trains: Photography of A. Aubrey Bodine. Bodine was a feature photographer for the Baltimore Sunday Sun and in the 1950s he documented the transition from steam to diesel, particularly at the Western Maryland Railway.
April 4, 2019 – Photographing railroads isn't always about clear days and bright sunlight. Mary McPherson takes a different approach and explores the possibilities of early morning light and clouds at Sunrise.
March 28, 2019 – SR Bush went to work on the railroad in 1976, and he liked it! Now retired after logging three million miles, he remembers those years on the rails through a gallery of 21 outstanding black and white photographs.
March 21, 2019 – Ride along with Steve Goch from Moscow to Vladivostok on the Trans-Siberian Express as he travels  Around the World in 16 Days.
March 14, 2019 – Two trains, two photographers, two eras and two perspectives. Join Oren Helbok and Matthew Malkiewicz in a small Pennsylvania town to see Reading, Blue Mountain & Northern #425 in action, with a very different take on photographing railroads.  – Two Trains, Two Photographers
March 12, 2019 – In this month's Editor's Notebook, we continue the discussion of printing your work with some thoughts on home printing vs. photo lab services, and touch on another very important advantage of a printed photograph.
March 7, 2019 – Step aboard the Joliet Rocket with Paul Flaherty and travel behind Nickle Plate #765 to an earlier time. There is no telling who you might meet while Riding the Joliet Rocket.
February 28, 2019 – In the conclusion of Bob Hughes' transcontinental rail trip, he rides the eastbound California Zephyr to Chicago in the final days of long distance train travel. Less than a year after his 1969 adventure, the California Zephyr made its farewell run. For Bob, there was truly No Time to Waste.
February 21, 2019 – People make the railroad run, and William Jolitz takes us Back in the Day—to the winter of 1964, for a glimpse into the "grunt work" that kept the trains moving through difficult conditions.
February 14, 2019 – Danny Johnson traces the tracks through the small towns and timeless countryside of the Mississippi Delta, and finds A World Apart, A World Within.
February 12, 2019 – Is there a place for photographic prints in the digital age? In this month's Editor's Notebook, we take up that question and look at why you may still want to have a photograph that you can hold in your hands.
February 7, 2019 – Matthew Malkiewicz and Martin Hansen experience a steam excursion on The Oregon Coast Scenic Railroad from the cab and behind the lens in Anatomy of a Photograph.
January 31, 2019 – All that is left of the Kingston & Pembroke Railway is a rail trail, but with photographs and memory, Eric Gagnon pieces together the waterfront industries and the railroad that served them from  Traces on the Waterfront.
January 24, 2019 – Opportunities for railfanning pop up unexpectedly and it pays to be prepared. On a recent business trip, Kevin Tomasic discovered that there is a place for cell phones in railroad photography. It was a Cell Phone Revelation
January 22, 2019 –  In this episode of our video series, we look at the Farm Security Administration photographers who documented the Depression in 1930s America. Their work includes the railroad as part of the visual and cultural landscape of that troubled time. Legacies #2 – Including Railroads
January 17, 2019 – We recently had the opportunity to talk with John Sanderson whose work has appeared in many print and online publications. His photography has been featured in both group and solo exhibitions, including "Railroad Landscapes" a major solo exhibition at the New York Transit Museum in Brooklyn, New York. We talk his life as a photographer and his love of railroads in the American landscape. Join us for Trackside Interview #6.
January 10, 2019 – Bob Hughes continues his 1969 transcontinental trip, leaving Vancouver and riding down the west coast through Seattle, Portland and on to San Francisco on Union Pacific, Burlington Northern, and Southern Pacific in No Time to Waste – Part Two.
January 8, 2019 – In this month's Editor's Notebook, we make a New Year's resolution to improve our photography in 2019 using the MDM Principle.
January 3, 2019 – It is easy to be caught up in the noise and excitement of a train roaring by, but sometimes the railroad whispers the poetry of place and time,  a quiet spirit that Eric Miller finds along Lyric Rails.
December 27, 2018 – In the third and final installment of Richmond Division Recollections, Frank Scheer explores the C&O Peninsula Subdivision, Rivanna Subdivision and Virginia Air Line Subdivision circa 1970.
December 24, 2018 – Holiday Extra! – Danny Johnson remembers Christmas Eve in a small Mississippi town on the Illinois Central mainline, and the Last, Best Christmas.
December 20, 2018 – Childhood memories of an American Flyer under the Christmas Tree are brought to life and filled with special meaning as Steve Crise tells the story of Christmas Then and Now.
December 13, 2018 – Jason Sailer tells about chasing the Canadian Pacific Holiday Train across Alberta, Canada, with twenty-six beautiful photographs of the train as it makes it way to the foothills of the Rocky Mountains, bringing holiday excitement to the stops along the way.
December 11, 2018 – The year is drawing to a close, and in this last Editor's Notebook for 2018, we wrap up a few loose ends.
December 6, 2018 – Doug Bess worked for the Southern Railway in Atlanta, Georgia, and writes about the history of the buildings the railroad occupied in A Brief History of the Southern Railway's Atlanta Office Building.
November 29, 2018 – Frank Scheer takes us back to his days on the job along the Chesapeake & Ohio's Piedmont subdivision in Part Two of Richmond Division Recollections.
November 15, 2018 – From a small spark of interest, to the dramatic spectacle of a burning cane field at night, Alan Shaw tells about his discovery of Australia's cane railways. It's the story of  One Sweet Conversion.
November 13, 2018 – In this month's Editor's Notebook, we say a few words about the relationship between photography and story-telling. Even our bad images have a story to tell.
November 8, 2018 – Built in 1915, ALTO tower served the Pennsylvania RR and subsequent railroads for nearly 100 years, changing and adapting to each new configuration of the line. Mike Brotzman details the tower's history and how its operations changed as The Evolution of ALTO Tower took place.
November 1, 2018 – In 1969, the handwriting was on the wall for railroad passenger service and Bob Hughes realized there was No Time to Waste. Join Bob as he travels by train across the U.S. and Canada in the days before Amtrak and VIA.
October 25, 2018 – In 1969, Frank Scheer drew his first railroad paycheck. In Richmond Division Recollections, Frank tells the story of his railroad days on the Richmond, Fredericksburg & Potomac and the Chesapeake & Ohio.
October 18, 2018 – As a boy growing up in the 1960s, John Springer spent many happy hours with his father, who was a tower operator on the New York Central. John remembers his father, the railroad, and the people he met on those Saturdays and Sundays at NW Tower.
October 11, 2018 – The East Broad Top Railroad interchanged with the PRR at Mt. Union, Pennsylvania. The EBT yard is still there, a full sized outdoor museum slowly rusting away in a place frozen in time since 1956. Kevin Tomasic recently visited Mt. Union and photographed what the Wrecking Ball missed.
October 9, 2018 – September saw a flurry of exciting new camera announcements. In this month's Editor's Notebook, we consider where all the new technology might lead . . . or not.
October 4, 2018 – It may be a very small railroad or a very large model layout, but it is definitely a Tiny Town in Colorado. Jason Stamper was there in 2017 and brought back A Tiny Rail Tale.
September 27, 2018 – In the 1970s, Danny Johnson got to know the people in an obscure IGC freight office in Mississippi and learned how the railroad operated as a business. He writes about the experience and how it changed him from a train watcher to a railroad enthusiast in Brookhaven Out.
September 20, 2018 – Interlocking towers are fading from the scene, but at one time each railroad had their own distinctive architecture. Dan Maners presents examples of towers from six railroads, and shows how the railroad could be identified by its Tower Architecture.
September 18, 2018 –  Experience the 19th century steam technology that was shared with the steam locomotive in a nine minute video  from a day at the Steam and Gas Pasture Party in Somerset, Virginia. From small stationary engines to massive steam tractors, it is all "Live Steam!"
September 13, 2018 – On Friday, May 19, 2018, the Amtrak ticket agent in Topeka, Kansas watched the Southwest Chief depart. It was The Ticket Agent's Last Day, and Cade Smith was there to record the loss of a job, and the end of personal service at the Topeka Depot.
September 6, 2018 – One of photography's greats, Jim Shaughnessy, passed away recently. Dennis Livesey remembers Jim, and ponders his influence on railroad photography. "I photographed what I saw"
September 4, 2017 – Some thoughts on the role of photography in historic preservation in this month's Editor's Notebook
August 30, 2018 – Wooden crib grain elevators once dotted the Canadian prairie. John Longhurst tells the story of the demise of an elevator that once stood proud on the Canadian Pacific McMorran Subdivision. The prairie wind is "Blowing the Past Away."
August 23, 2018 – Do you sometimes feel a bit jaded watching another modern locomotive set roll by? Stu Nicholson finds that it pays to stick around, because there are Fallen Flags Still Flying (By).
August 16, 2018 – Last month, Johnathan Riley was on hand to witness the early morning preparation of a 4-8-0 steam locomotive for the day's activity on the Strasburg Railroad. Find out what it takes to bring a "steel horse" to life in "Hostling on the Road to Paradise."
August 9, 2018 – We stand on the shoulders of those who have gone before. The first in our Legacies series of videos features the work of William Henry Jackson who lived from 1843 to 1942 and was one of the first photographers to extensively record the early days of railroading.
August 7, 2017 – In this month's Editor's Notebook, we introduce the first of a new video series on the photographers, both past and present who influence and inspire us.
August 2, 2018 – The old Delaware and Hudson Washington Branch in Salem, New York has been a part of Dan Kittay's life for as long as he can remember. And memories of that railroad connects him to memories of his father. Sometimes, it's a very personal thing that keeps us "Connected to Trains."
July 26, 2018 – A visit to the East Broad Top Railroad is a step into the past. The silent buildings, the locomotives, the tools and machinery in the shops remind us that running a railroad was hard work. The workers are gone, but "Their Work Remains."
July 19, 2017 – The Railroad Museum of New England fired up an old Naugatuck RR GE U23B to make a rare trip  through the Connecticut countryside with the "Torrington Twilight Express." John Springer was the conductor for the first run and writes about the "The old train that does not come to Torrington anymore."—Until It Does
July 12, 2017 – Oren Helbok and George Hiotis put the finishing touches on their two week railfan trip in Part Two of Sunday in the Car with George.
July 10, 2018 – In the July Editor's Notebook, we reflect on the place of color in railroad photography. Although there is an outstanding body of work by famous photographers in black and white, color offer us new opportunities for expression that we are only beginning to learn to use.
July 5, 2018 – One of the joys of being a railfan, besides trains, is the opportunity to explore new areas, meet people, and experience the history that enriches each place. This spring, Oren Helbok and George Hiotis traveled together for two weeks photographing railroads. The last day of their travels found them in Pittsburgh, Pennsylvania, and Oren tells the story of Sunday in the Car with George.
June 28, 2018 – Small towns throughout the country grew up around the railroad. Often few visible reminders of that heritage remain. Bowie, Maryland is one such town, and John Cowgill tells its story in Railroad Town: Bowie, Maryland
June 21, 2018 – The Pikes Peak Cog Railway did not open this season, and after 126 years of operation, its future is uncertain. Jason Stamper was in Colorado last summer to enjoy this beautiful ride on what may very well turn out to be the Last Train to Pikes Peak.
June 14, 2018 – Signal 482.4 is gone. Danny Johnson reflects on the passing of this once familiar part of railroad history in the "magic and mystery" of the Mississippi Delta during The Final Harvest Season.
June 7, 2018 – Take a look inside an RPO car, and learn more about the working conditions of the postal clerks who worked on the trains that once moved the mail. The Railway Mail Service – Part Two
May 31, 2018 – Rusty Rails – Twelve Scenes from the Shenandoah Valley takes a nostalgic trip along an old railroad line that runs through the small towns and farmland of the Valley.
May 24, 2018 – Through his photography, Matthew Malkiewicz is "keeping a window to the past open for us to see." In this wide ranging Trackside Interview, we talk with Matthew about his work, his travels and his passion for steam railroading history.
May 17, 2018 – Jason Paul Sailer plans a trip to Saskatchewan to see the operations of the Great Western Railway, but sometimes things don't quite work out the way we plan. It was "A Quiet Day in Assiniboia."
May 10, 2018 – The Railway Mail Service began in the earliest days of the railroad, and was an important part of the nation's communication system until it was phased out in 1968. This is the story of how mail moved on trains, and the people who made it happen.
May 3, 2018 – Join John Longhurst for a bit of railfanning in Saskatchewan and explore a town that has a long history with the railroad. "A Railfan Visits Swift Current, Saskatchewan."
April 26, 2018 – Fifty years ago, Bob Hughes reported for work at Stamford Signal Station #38 and began learning the skills of a tower operator on the New Haven railroad. According to Bob, it was the "Best Job in the World."
April 24, 2018 – In this month's Editor's Notebook, we attend the Center for Railroad Photography & Art's annual conference, and share some thoughts about the value of being connected with like-minded photographers.
April 19, 2018 – After years away, Kevin Tomasic finds that boyhood memories still linger in his old neighborhood overlooking the tracks while Waiting on a Train.
April 12, 2018 – In Saving the Fredericton Train Station, Steve Boyko tells the story of the slow, lingering death of a train station in Fredericton, New Brunswick, Canada . . . and its miraculous rebirth.
April 5, 2018 – Eric Miller has family roots deep in the coal fields of Appalachia. With sixteen evocative and heartfelt photographs, Appalachia, Thunder Fading, is the story of the war on coal and its effects on the region and the railroad.
March 29, 2018 – From the once thriving mining town of Leadville, Colorado, through the high mountain forests, take in the incredible views aboard the Leadville, Colorado, and Southern Railroad with Jason Stamper.
March 27, 2018 – A day spent in the Shenandoah Valley, and some thoughts on how photography can enhance our understanding of the railroad landscape. Editor's Notebook – A Sense of Place.
March 22, 2018 – Stu Nicholson reflects on the ghosts of memory that still linger "down at the depot" as he writes about "Stations and Old Stories."
March 15, 2018 – Doug Bess remembers the last train to carry mail on the Chesapeake & Ohio and takes us back to 1967 for the "Last Run – The End of Mail Service on the C&O."
March 8, 2018 – For over thirty years, Stuart Klipper has traveled the country with his Linhof Technorama camera in search of the Poetics of Place.  We are pleased to present his story, and a gallery of over forty panoramic images.
March 1, 2018 – Steve Crise is a professional still photographer and lighting designer based in Los Angeles, California. His love of trains led him into photography, and his work has been widely recognized. In Trackside Interview #4, we talk to Steve about his career in photography and his work in preserving railroad history.
February 22, 2018 –  Railroad history is sometimes part of a person's own history. Alan Shaw reports on one family's efforts to preserve a remote signal station in Australia. It's a labor of love for The Glenapp Boys – Keeping the Dream Alive.
February 15, 2018 – Learn how a "good ol' prairie boy makes his train photography unique" in the frozen wilderness of the Canadian Shield. It's -43 degrees, so dress warm and join Kevin Siemens to see what it's like to be "A Trackside Photographer – Canadian Style!"
February 8, 2018 – Jeff Garrison finds a railroad and a bit of history when he stops at Trout Lake in an isolated region of Michigan's Upper Pennisula.
February 1, 2018 – Step back in time as you ride in the dining car behind a historic steam locomotive through the beautiful countryside in Cornwall, England. Join Gary Grady for an afternoon tea excursion on the Bodmin & Wenford Railway.
January 25, 2018  – In "Last Stand on the Topeka Sub," Cade Smith documents the last of the old style signals that have watched over their assigned block for decades along the former Santa Fe Topeka Subdivision.
January 18, 2018 – The passenger train era was drawing to a close in the 1950s, 60s and 70s, and Gordon Glattenberg was on hand to record the vanishing stations along the Santa Fe mainline between San Diego and Los Angeles with period photographs depicting the Surf Line Stations.
January 11, 2018 – A little love for the most familiar and mundane aspect of the railroad landscape, the lowly Grade Crossing.
January 4, 2018 – Words, music and photographs come together in a moving tribute to the Maine Central and the railroaders who made The Pine Tree Route what it was.
December 21, 2017 – Time to take the family and head out on The Georgetown Loop. Come along with Jason Stamper for a ride on this famous railroad in the beautiful mountains of Colorado.
December 19, 2017 – In the December Editor's Notebook we talk about what it is that connects us so strongly to the railroad, and the Center for Railroad Photography & Art
December 14, 2017 – Fred Wolfe's exploration of West Virginia's New River gorge has been one of our most popular features in 2017. The New River Gorge – Part Six is the last installment of this beautifully photographed trip through a scenic and historic railroad landscape.
December 7, 2017 – Michael Froio is a photographer who focuses on the history of the industrial era and its relation to the modern landscape. In Trackside Interview #3 we talk with Michael about his work, his career as a professional photographer and teacher, and of course, railroads.
November 30, 2017 – A "slipped pinion" on a disabled D&H EMD SD40, a thunderstorm, and some creative thinking–it's all in a night's work for Chris MacDermot. His first-hand account, "The Union and Me," is an up-close look at working on the railroad.
November 21, 2017 – A few thoughts about Thanksgiving in the November Editor's Notebook.
November 16, 2017 – Jason Paul Sailer chases the Forty Mile Railway and photographs "Wheat Kings and Pretty Things" along a prairie branch line in Alberta, Canada.
November 9, 2017 – Michael Cougill recently revisited a restored PRR depot in Richmond, Indiana and writes about his Dad, memory and The Power of Place.
November 2, 2017 – While traveling in New York, Kevin Tomasic came across Alcos in the wild. Ride along with him for "An Afternoon on the Buffalo Southern" and chase an Alco RS18 through the lovely autumn countryside.
October 26, 2017 – This summer Jason Stamper and his family visited the Cumbres and Toltec Scenic Railroad. Join them for a ride on "A Steam Powered Time Machine."
October 19, 2017 – We are pleased to present Trackside Interview #2 with Dennis Livesey. Join us for an in-depth look at his lifelong love of railroads, his career in photography, his new book, Smoke Over Steamtown, and more.
October 17, 2017 – The heat, the rain, the long wait for a train, it's all part of being a railfan. In this month's Editor's Notebook, we talk about those days when the results just don't make up for the effort.
October 12, 2017 – Once a busy railroad town in the coal fields of West Virginia, Thurmond is now the evocative ghost of a time that has faded into history. Join Fred Wolfe as he explores the town in The New River Gorge – Part Five.
October 5, 2017 – Scattered along the lines of the Canadian Pacific and Canadian National, grain elevators are familiar landmarks of the prairie. Steve Boyko photographs his favorite elevators in ten Manitoba towns, and writes about their history in "Ten Grain Elevator Towns."
September 28, 2017 – This summer, photographer Cynthia Sperko took a Colorado "photo-cation. As she photographed the mountain scenery and traveled to historic towns, she kept her eyes open for railroad subjects, and was not disappointed. Cynthia shares her experiences and photography as she pursued "Railroad Findings in Colorado."
September 21, 2017 – Photographer Tom Nanos believes it pays to look for photographs with the railroad as a backdrop rather than as the main attraction and shares some rainy day photos of the intriguing details that often lurk "Beyond the Train."
September 19, 2017 – A different "photography magazine" – September Editor's Notebook
September 14, 2017 – When Norfolk & Western announced plans to construct a new station for the town of Boyce, Virginia in 1912, the residents had their own idea about the kind of station they wanted to represent their community, and Boyce became a small town with a big city station. Railroad Town: Boyce, Virginia
September 7, 2017 – Years ago, wooden grain elevators dotted the landscape in the grain producing regions of North America. Few are left, and Kevin Siemens witnessed the destruction of one such elevator in Manitoba, Canada. His photographs and words depict "The Fall of a Prairie Icon."
August 31. 2017 – Bob Hughes remembers the friendly and generous men that made the Maine Central's Waterville Yard a fun and welcoming place in the 1960s. Bob was in Waterville to attend college, but he was fortunate to receive "A Maine Central Education." which sparked his lifelong love of railroads.
August 24, 2017 – The arrival of the Austin & Northwestern Railroad in the 1880s brought travelers and prosperity to the Texas towns along its route. In "The Drummer," it's 1910 and Frank Mills tells the story of three Texas railroad hotels, and a traveling salesman looking for a dry place to spend the night before boarding the train for the next town.
August 17, 2017 – In the first of a new feature, Trackside Interviews, we talk with accomplished railfan and photographer Eric Miller about his work, photography, working methods and much more.
August 15, 2017 – Editor's Notebook – What Else?
August 10, 2017 – Join Fred Wolfe as he continues his exploration of scenic railroading in West Virginia. The New River Gorge – Part Four
August 3, 2017 – The classic Pennsylvania Railroad Position Light signals are falling fast. In "They All Fall Down," Mike Froio explores the history of these signals and documents their place in the PRR landscape with two dozen evocative B&W photographs.
July 27, 2017 – The development of modern materials changed the face of railroad signals and related infrastructure, and affected thousands of employees. Michael Brotzman looks back at a time when materials and maintenance were expensive, and labor was cheap in "Materials of Yesteryear."
July 20, 2017 – Kevin N. Tomasic finds the perfect spot to sit around a fire-pit, watch the moon, wait for a train and groove on a "Bayard Summer Night."
July 18, 2017 – Editor's Notebook – Last month, Doug Bess related his experiences as a railfan in Germany during the early 1970s. His story brought back many memories of my own time there during the final years of steam railroading.
July 13, 2017 – The handwriting was on the wall for western Canada's wooden grain elevators in 1984 when Eric Gagnon set out to photograph them before it was too late. Along the way Eric recorded the myriad trackside details that completed his view of Manitoba Trackside: The Scene in 1984.
July 6, 2017 – Clifton Forge, Virginia is a railroad town, but its heyday is long past. The memory of the town and the C&O railroad are being preserved at the Chesapeake & Ohio Railway Heritage Center. Join us for a visit to this Railroad Town: Clifton Forge, Virginia.
June 29, 2017 – Steam locomotives were still in regular service in 1971 and '72 when Doug Bess was stationed in Wiesbaden, Germany. In "My Railfan Experience in Germany," Doug takes us back to one of the last bastions of steam railroading for a railfan's look at the Deutsche Bundesbahn.
June 27, 2017 – The Trackside Photographer is pleased to announce the publication of a new book, A Clinchfield Chronicle: Photography Along CSX Transportation's Clinchfield Route, by contributor Eric Miller. Congratulations, Eric!
June 22, 2017 – It is a tale of railroad and coal, triumph and disaster, fierce competition, and international relations at the end of the 19th century. Jason Paul Sailer tells the story of the Galt railroad and coal empire, and the Great Falls & Canada Railway. "Galt Coal Burns All Night"
June 15, 2017 – Taking to heart the advice of a retired engineer who said "shoot them while you can," Cade Smith continues his journey to record the last of the old style signals that are rapidly disappearing in the wake of PTC implementation in Part Two of "Twenty-Two Hundred Miles and Counting."
June 13, 2017 – Sometimes a single image is not enough. In this month's Editor's Notebook we talk about taking pictures as a way to explore and go deeper into a subject, and we share a personal project in progress along the tracks of Norfolk Southern's Shenandoah Valley Line.
June 8, 2917 – Fred Wolfe continues his photographic journey through the remains of a railroad and coal mining past that is now almost consumed by time and the forest. Join Fred in West Virginia for Part Three of "The New River Gorge."
June 1, 2017 – Christopher May's camera documents the transformation of Denver, Colorado's 1914 Union Station from a relic of a bygone era to the centerpiece of a 21st century public transportation system. The glory days of passenger railroading may be in the past, but there is "New Life for an Old Station."
May 25, 2017 – The book "Stations: An Imagined Journey" by Michael Flanagan is an intriguing story of railroad and place, of memory and loss. In "The Track Comes First," Matthew Kierstead writes about "Stations," and how the book led him to a deeper understanding of the railroad landscape.
May 18, 2017 – In the hills of south central Pennsylvania, The East Broad Top Railroad slumbers, waiting to be brought back to life. The roundhouse is there, the turntable is there, the locomotives are there, but the silence is all encompassing.  Join photographer Matthew Malkiewicz as he takes us "Inside the East Broad Top."
May 16, 2017 – In this month's Editor's Notebook, some thoughts on how the camera can be a tool to  help create an "Expressive Documentary" about the railroad landscape.
May 11, 2017 – Roving correspondent Andrew Morang traveled to Cuba earlier this year and sent us a dispatch on the railroad there. "Our Man in Havana" writes about the 1912 Central Railway Station that is undergoing renovations in Havana, and reports on the "Hershey Train."
May 4, 2017 – In "Twenty-Two Hundred Miles and Counting – Part One," Cade Smith takes us on a journey through the Midwest in search of searchlights, color position lights, semaphores and other signals soon to be replaced by Positive Train Control. He even finds a working "wig-wag."
April 27, 2017 – Railfans standing along the tracks watching trains is a familiar sight. But there are watchers more dedicated than even the most obsessive railfan, and they are not even human. Steve Boyko explains the nuts and bolts of how trains are monitored day and night, in all kinds of weather, by "Robot Railfans."
April 25, 2017 – The Trackside Photographer is pleased to announce the publication of a new book, Trackside with VIA, by contributor Eric Gagnon.  Congratulations Eric!
April 20, 2017 – Keith Clouse relates the story of the 1892 Battle of Homestead. This tragic confrontation between striking steelworkers and Pinkerton detectives was fought around what is now known as "The Pinkerton Landing Bridge", on the former Pittsburgh & Lake Erie Railroad.
April 18, 2017 – In the April Editor's Notebook, we share some thoughts on the rapidly changing railroad landscape and what it means for railroad photographers. "Progress, Preservation and the End of an Era"
April 13, 2017 – The New River Gorge is rich in history and scenic splendor as it winds through West Virginia's coal country. Beginning at Hawk's Nest, photographer Fred Wolfe continues his exploration into a 30 mile stretch of tracks which encompasses nearly the entire history of New River coal. Don't miss  The New River Gorge – Part Two.
April 6, 2017 – The importance of photography in documenting the railroad landscape is heightened by the rapid changes now taking place within the industry. Bob Hughes reflects on "Preserving the Past" as he uses modern technology to bring back to life badly deteriorated slides from the collection of renowned railroad photographer, T.J Donahue.
March 30, 2017 – A three mile section of the old East Tennessee & Western North Carolina Railroad ran through the scenic Doe River Gorge. Jason Stamper, along with his two young sons, walked the length of this long abandoned route, searching for traces of a nearly forgotten line where the whistle of narrow gauge locomotives once echoed in the mountains.
March 23, 2017 – Recently published by the Center for Railroad Photography and Art, David Kahler's new book focuses on the visual and cultural landscape shaped by the railroad in the coal fields of Kentucky and West Virginia. The Trackside Photographer is pleased to present an in-depth look at the The Railroad and the Art of Place, including an essay by Jeff Brouws and ten black & white photographs from this book which is sure to appeal to railfans, artists, photographers and historians alike.
March 16, 2017 – The Coutts-Sweetgrass train station once straddled the international border between Montana and Alberta, Canada. In September, 1916, officials of the Great Northern railroad were surprised to find Canadian Pacific Railway workers on the roof of the station with saws. Jason Sailer relates the colorful history of this station and how it came to be "Sawed in Two."
March 14, 2017 – In the March Editor's Notebook: an anniversary, an electronic magazine for model railroaders, History Day and more.
March 9, 2017 – There was a time when every railroad had its own way of doing things. These days, all railroads are beginning to look the same. "In Remembrance: A Lamentation for the Distinctive" by photographer Eric Miller, includes 22 photos documenting the distinctive features that once gave each railroad its unique identity.
March 2, 2017 – Follow the tracks to the last of the old-time steel mills in western Pennsylvania with Kevin Tomasic. It's a story of steel mills and railroads and "Finding the Lost in Johnstown."
February 23, 2017 – In 1966, Southern Pacific planned a new mainline across California's San Gabriel mountains to bypass the growing congestion around Los Angeles. Gordon Glattenberg was on hand to witness and record the "Construction of Southern Pacific's Colton-Palmdale Cutoff."
February 16, 2017 – "Railroading is a very human subject to photograph." In fifteen beautiful black and white portraits, photographer Christopher May brings the railroad to life as he focuses his lens on "Trackside People."
February 14, 2017 – The Paw Paw Tunnel is not a railroad tunnel, but it has a connection to railroad history. More about that and a new book recently published by the Center for Railroad Photography & Art in this month's Editor's Notebook.
February 9, 2017 – Hike along the "The New River Gorge" in West Virginia with photographer Fred Wolfe. The scenery is spectacular, and better yet, a railroad runs through it. Don't miss Part One of this new series of articles.
February 2, 2017 – The 1866 roundhouse still stands among the remaining buildings of the former B&O Railroad shops in Martinsburg, West Virginia. The tracks still run through Martinsburg, but the railroad is no longer the economic center of this Railroad Town.
January 26. 2017 – Following in the footsteps of 19th century photographers who recorded the construction of the historic rail link between America's East and West, photographer Richard Koenig offers "Contemporary Views Along the First Transcontinental Railroad."
January 19, 2017 – Photographer Matthew Malkiewicz and writer Stephen Piwowarski take us to a museum in Maine where members and volunteers are recreating a railroad that closed in 1933. Through hard work and dedication to historical accuracy, the Wiscasset, Waterville and Farmington Railway is being "Returned to Reality."
January 17, 2017 – Go back in time and take an imaginary ride in the  dining car during the heyday of passenger train travel in this month's Editor's Notebook.
January 12, 2017 – Relics of a bygone age, rusting and overgrown, echo the stories of now lost railroads and the communities they once served. Stu Nicholson reflects on the history left behind by "Railroads in the Weeds."
January 5, 2017 – We start 2017 on a light note, with Eric Gagnon's poetic ode for railfans everywhere who find themselves trackside with no trains to photograph. The clinical term for this heartbreaking condition is "NoTrophy."
December 22, 2016 – Grand Central Terminal is a magical place during the holidays, where travelers from all over the country come together. Ride the train to New York with Bob Hughes and enjoy "Christmas In The City."
December 15, 2016 – In 1973, when Dan Maners began his railroad career with Conrail, the interlocking tower was an integral part of the railroad landscape. Now, the towers have nearly disappeared, and Dan looks back at "A Lost World."
December 8, 2016 – Fred Wolfe is a West Virginia based photographer who is well known for his beautiful and evocative images. He recently traveled to Point of Rocks, Maryland and describes for us his visit to "A Very Special Rail Fan Destination."
December 1, 2016 – Brandon Townley roots his railroad photography in the landscape surrounding the tracks. He explores the diversity of the railroad environment in more than a dozen photographs and explains how he has expanded his vision "Beyond the Tracks"
November 17, 2016 – "I want the viewer to feel the same appreciation I do for them, both as beautiful buildings and as symbols of the men and women who have toiled for generations to feed the country."  Christopher May photographs Colorado grain elevators in "When Documentation Becomes Art."
November 10, 2016 – "Where have all the boxcars gone?" In the small town of Bucksport, Maine, the paper mill closed its doors in 2014 and the busy branch line that served the mill fell silent. In "Trackside Elegy" David Kahler remembers the sights and sounds that once delighted railfans in Bucksport.
November 3, 2016 – In 1881, the heroic efforts of 17-year-old Kate Shelley saved the Midnight Express from certain disaster. She became a legend, and is remembered today both in story and in concrete and steel. Learn more about her life and legacy in The Kate Shelley Story – Part Two.
November 1, 2016 – Several new photographs by Andrew Morang and David Kahler have recently been added to the Trackside Gallery.
October 27, 2016 – "The horrible crash and fierce hissing of steam." On a stormy night in 1881, the heroic efforts of an Iowa teenager saved the lives of the passengers on Chicago and North Western Railway's Midnight Express. John Marvig writes about that night and its aftermath in The Kate Shelley Story.
October 20, 2016 – The tracks still run through this North Carolina town, but today, there are few signs of the railroad's past.  Dan Robie writes about the rich history of the railroad, a history nearly lost, in "Railroad Town" Concord, North Carolina." 
October 18, 2016 – Eudora Welty once said "Place conspires with the artist." We share some thoughts on the role of place in photography in this month's Editor's Notebook.
October 13, 2016 – Michael Froio, a professional photographer who teaches at Drexel University in Philadelphia, writes about his ongoing project "From the Main Line" and shares a gallery of images that explore the landscape shaped by the Pennsylvania Railroad.
October 6, 2016 – On a January day in 1968, Bob Hughes took refuge from the cold and snow in a warm interlocking tower with a friendly operator and the tower cat. Bob looks back on a time now gone, but not forgotten, in Maine Central Remembered.
September 29, 2016 – Alan Shaw, a photographer and railfan in Australia, tells the story of a remote rail line in Queensland, Australia that still operates in the spirit of the 19th century with a touch of Hawkston Humour.
September 22, 2016 – A visit to a deserted train station in Milies, Greece, and a ride on the Piraeus, Athens, and Peloponnese Railway concludes Andrew Morang's two-part article on the Railways of Greece.
September 15, 2016 – Andrew Morang spent part of his years growing up in Greece, and is a seasoned world traveler and photographer. Starting at the Athens to Peloponnese Railroad Station in Corinth, Greece, join him for a tour of the Railways of Greece.
September 8, 2016 – Cynthia Sperko is a landscape photographer who became interested in vintage railroad subjects after a trip on the Durango/Silverton Narrow Gauge Railroad. Since then, she and her camera have pursued "The Adventure of Rail Yard Findings"
September 1, 2016 – We are pleased to present a new gallery of Depression era photographs  by Farm Security Administration photographer Marion Post Wolcott who spent three weeks in 1938 in the coal fields of West Virginia.  The railroad was tightly woven into the fabric of life in Coal Country.
August 25, 2016 – In 2005, Tom Gatermann came across an unused interlocking tower in the central Illinois town of Shattuc. The tower was torn down in 2014, another piece of railroad history reduced to a "patch of gravel." Tom relates the story of Shattuc Tower, and what it taught him in "A Lesson Learned."
August 18, 2016 – In the harsh sunlight of the Colorado plains, Christopher May explores the nearly defunct Missouri Pacific Towner Line and finds a way to tell the story making use of what most photographers would consider "Unfavorable Light."
August 11, 2016 – One hundred years ago, during the First World War, railroads and gunpowder came together to create explosive growth in a small West Virginia town. Doug Bess tells the story of his hometown from the coming of the railroad in the late 19th century to the present in "Railroad Town: Nitro, West Virginia."
August 7, 2014 – New in the Trackside Gallery,  photographs by Andrew Morang of the Central Railroad Station in Rangoon, Burma.
August 4, 2016 – In 1967 a derailment on the Maine Central near Dresden, Maine, brought out the Waterville wreck train to clean up the mess. The crew worked through the night and the next day the railroad was running as normal. Bob Hughes was on hand to tell the story of   "A Job Well Done."
July 28, 2016 – Sometimes the story is not in the big, dramatic aspects of railroading. Photographer Steve Crise finds the beauty and interest in small artifacts from a bygone time. It's a lesson in "Macro vs. Micro."
July 26, 2015 – The Trackside Photographer is pleased to present a new gallery of photographs by Eric Gagnon recording the final years of western Canada's wooden grain elevators. Don't miss "Prairie Elegy." (You may also find Prairie Elegy listed under "Galleries" in the top menu)
July 21, 2016 – In the early years of the 20th century, a town in the Southern Timber Belt grew up around a sawmill and the railroad. The sawmill closed in 1936, but the railroad still runs through this "Railroad Town: Bude Mississippi."
July 14, 2016 – On July 4th, 1874, President Ulysses S. Grant dedicated a new bridge in St. Louis, Missouri.  John Marvig recently visited the historic structure and  brings us the story of this iconic engineering marvel.. After nearly 150 years,  trains still cross the Mississippi River on The Eades Bridge.
July 7, 2016 – In 1971 a major earthquake struck the San Fernando Valley of California. Gordon Glattenberg was on hand to record the damage to the Southern Pacific's infrastructure in the area and shares with us what he found in the wake of the "Earthquake."
June 30, 2016 – One hundred years ago, Winslow Junction was at the center of the busy rail line carrying vacation passengers to the New Jersey shore. Michael Brotzman quite literally gets into the weeds of what's left of this now abandoned railroad. Join Mike and explore the "Ghosts of Winslow Junction"
June 23, 2016 – While babysitting the grandchildren and dealing with the desert heat, Rob Richardson manages to get trackside with his camera in today's article, Babysitting and Railroads."
June 16, 2016 – Few visitors to the town of Arusha, Tanzania ask to see the train station. The last train ran over a decade ago. But during a recent trip to east Africa, Andrew Morang visited the abandoned railroad depot and recorded his impressions of "The Last Train to Arusha."
June 9, 2016 – David Kahler explores the history of a century-old freight depot in Sanford, North Carolina.. In the early years of the 20th century the Atlantic Coast Line, Southern, Seaboard and Atlantic & Western railroads all passed through Sanford. Still in use by the railroad, the old wooden depot is frail, but "Standing Tall"
June 2, 2016 – Thirty year ago, Eric Gagnon set out to photograph the remaining wooden-crib grain elevators strung out along the tracks of the Canadian Pacific and Canadian National railroads in Saskatchewan. Now they are gone, but their memory lives on in Eric's photographs of these "Wheat-Filled Wonders."
May 26, 2014 – Kevin Scanlon has been photographing railroads in West Virginia since the 1970's and in today's article writes about "West Virginia Signs"
May 24, 2016 – The Trackside Photographer is pleased to present "The Victor Zolinsky Collection," over 150 photos spanning five decades of railroading in the middle of the 20th century.
May 19, 2016 – The year is 1968, and the New Haven Railroad is celebrating the one hundredth anniversary of the New Canaan branch line. Bob Hughes takes us there in today's  new article, "Birthday Finest"
May 15, 2016 – Be sure to take a look at what is to be the final edition of The Photographers' Railroad Page. They have been publishing great work since 2005 and we are sad to see them go. There is still a wealth of material in their archive, and it will be well worth it to spend some time digging around there.
May 12, 2016 -. John Carr takes us trackside in the western United States during the 1970s and early 1980s, in today's article, "Semaphore."
May 5, 2016 – Today, a small town in Virginia hunt country, the Norfolk-Southern B-Line, Norfolk & Western's #611, and "Bad Weather"
May 4, 2016 – A local train along the Maine Central in April, 1968 is the subject of a story by Bob Hughes in the latest edition of The Photographers' Railroad Page.