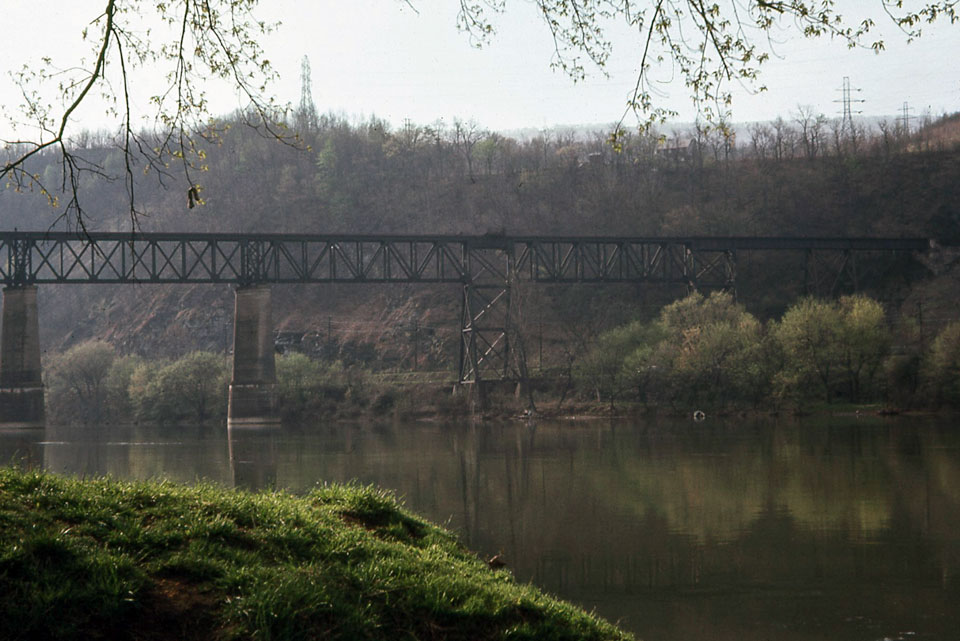 The former Virginian Railway bridge over the New River at Glen Lyn, Virginia was perhaps one of the most spectacular railroad crossings constructed at that time. Designed in 1906 by the Tidewater Railway, the bridge was completed in 1909 after the new Virginian Railway was formed by merger of the Tidewater with the Deepwater Railway which was building eastward from its namesake town in West Virginia. Both the Deepwater and the Tidewater railways were constructed by financier Henry Huttleston Rogers. After the Chesapeake & Ohio and the Norfolk & Western railways refused to give the little Deepwater favorable rates for shipping coal from the mines in southern West Virginia,  Rogers quietly incorporated the Tidewater railway to build westward from Norfolk to the West Virginia state line. In 1907 the Tidewater name was changed to the Virginian Railway (reporting mark VGN) and at the same time the Deepwater Railway was acquired by the VGN. There was a gap between the former roads until 1909 when the "Golden Spike" was driven close to the WV-VA state line which was located about the middle of the bridge over East River.
The four concrete piers in the New River which made up the main part of the bridge stood nearly 90 feet high from the river bottom and with the addition of the steel deck truss, it made the bridge about 120 feet tall to the top of the rail. The total length of the bridge was 2,155 feet. This bridge and the equally tall but much shorter bridge over East River about a half mile west of Glen Lyn were the last bridges constructed that opened the way for trains to move the whole length of the railroad.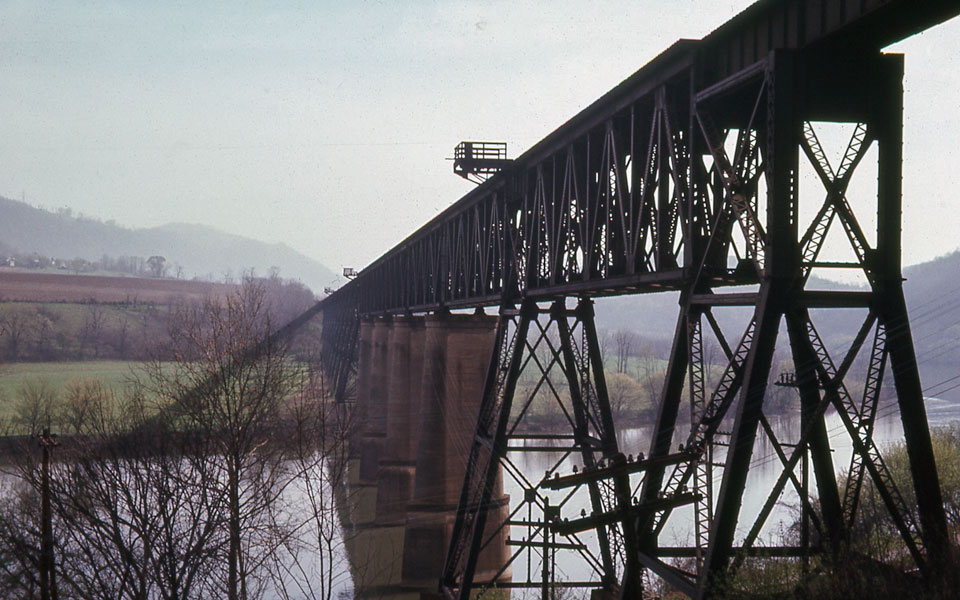 When the states of Virginia and West Virginia decided to widen US 460, the 10 mile stretch of the former Virginian from Kellysville, West Virginia to Narrows, Virginia was acquired by the respective state's highway departments. The connection track, built by the Norfolk & Western Railway at Kellysville in 1960 after the Viginian merger, was reconfigured and a new connection to the former Virginian Railway at Narrows was built over the New River in 1970. Most of the old right of way was used for the new US 460 except the New River and East River crossings. Since these bridges became isolated and served no purpose, they were torn down. Today the massive concrete piers in the New River serve as a reminder of this once mighty structure.
Doug Bess – Photographs and text Copyright 2016
See more of Doug's work at WVRails.net