What remains of the abandoned Bluestone Branch sits quietly above its namesake river as the buzz of cicadas fills the brisk fall air. Through the fog, the sound of a pair of General Electric locomotives interrupts the tranquil setting as they work downgrade through Coopers, West Virginia.
---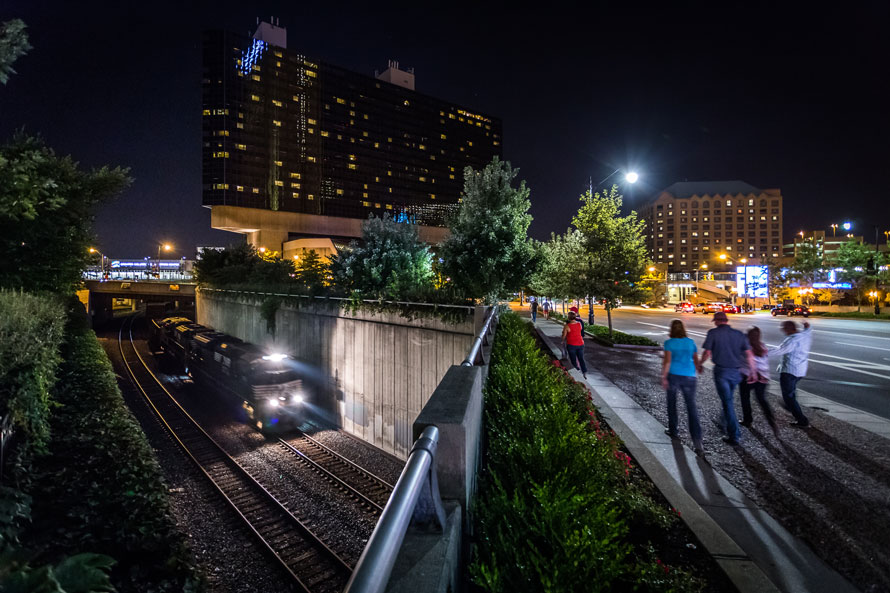 Two-hundred-seventy miles northwest in Columbus, Ohio, the whirring of dynamic brakes grows louder as headlights from around the curve cast light on the rails ahead. At street level, hockey fans are celebrating the home team's win, oblivious to the train entering the scene below. Before the train ducks beneath the road, the crew sounds the horn, startling the people above.
---
While these scenes are miles apart — in distance and environment — they both show the diverse landscapes that railroads travel through across the country.
Capturing the entirety of these scenes is important to me as a photographer. Looking beyond the tracks allows me to use elements from the surroundings to complete the composition.
One of my favorite techniques is making the train seem almost as though it's an afterthought, by using the composition to lead the viewer's eye through the scene.
Another important aspect is connecting railroads to local infrastructure and landmarks, making the viewer feel as if they are part of the story. Whether it be bridges, buildings or grain elevators, these elements make each location unique. They tell individual tales and express the contributions that railroads have made to their communities.
In our ever-changing world, it's important to capture these moments in time through photographs. Trains have not only had a historical impact on our society, but they will continue to carry significance in the future.
Click on photograph to open in viewer
Brandon Townley – Photographs Copyright 2016
Text Copyright 2016 – Brandon Townley and Taylor LaPuma
See more of Brandon's work here.