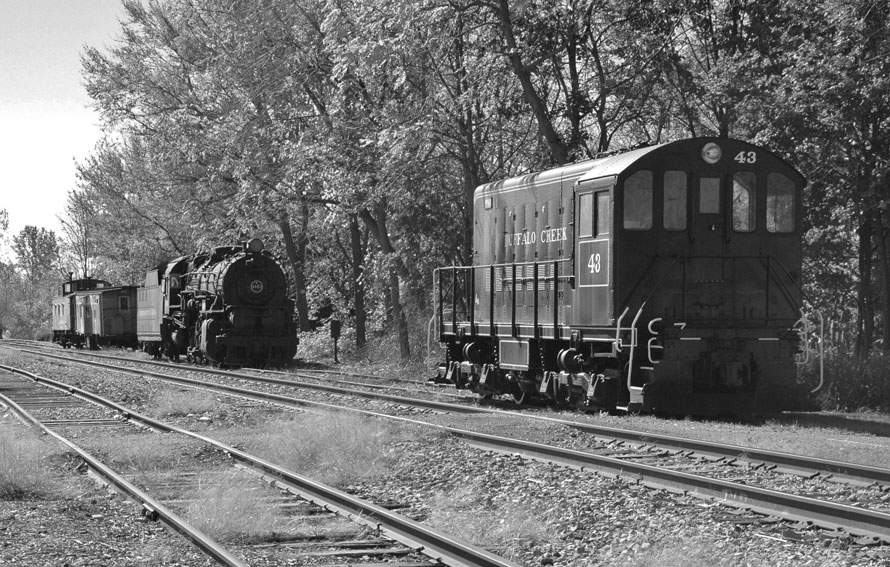 Heading back home in October, 2014 after three days in Ontario, Canada, I decided to drop off the interstate in Hamburg, New York to see if I could scare up an Alco or two. I knew only two things about Hamburg; first, the Buffalo Southern Railroad had a shop there and second, that shop was home to my favorite diesel locomotives—Alco. It isn't a big town, so finding the tracks wasn't hard and they led to a small station, behind which sat a beautifully restored Alco High Hood switcher and an old friend from the Pittsburgh area, a Pennsylvania Railroad decapod (2-10-0), now sitting on display. A few derelict (likely parts sources) 539 powered Alco switchers were there also, slowly rusting away. The Buffalo Southern shop wasn't here, that was for sure, but there was a hobby shop sign on the station door, so in I went, finding a large "O" scale layout occupying most of the space. Three old guys sat in a corner swapping stories and I asked them if they could point me to the Buffalo Southern shop complex. "Yeah, they're down behind the Carmeuse plant, but don't go in there cause they'll arrest you or throw ya out." There were nods all around in agreement to that statement, so I thanked them and headed off to find me some Alco's—I've been escorted out of a few places after simply wandering in like a bumpkin, so it was no big deal to take a chance.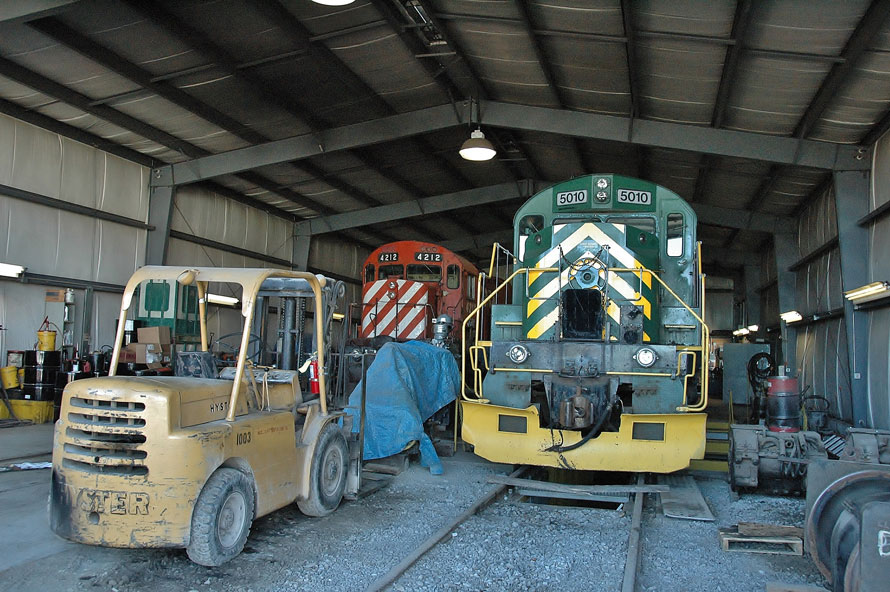 The Carmeuse plant was very big and with a little luck, I found a back entrance that looked quiet, quiet enough that I drove through their parking lot and right up to the Buffalo Southern shop. Not much was happening, except for a guy running a little backhoe cleaning up the parking area. As soon as I got out of the car, he came over and I asked him who I could see about getting permission to be on the property, "That would be me," he answered.
Turns out, I had run into the Chief Mechanical Officer (CMO), Patrick Connors, who commenced giving me both a shop tour and some tutelage on Alco repair and maintenance, with particular emphasis on how to keep a battery box compartment in good working order. We looked over an ex Canadian Pacific C424 he's restoring and an RS36 slumbering peacefully. Outside sat a C420 needing some work and a little switcher next to his home-built drop pit.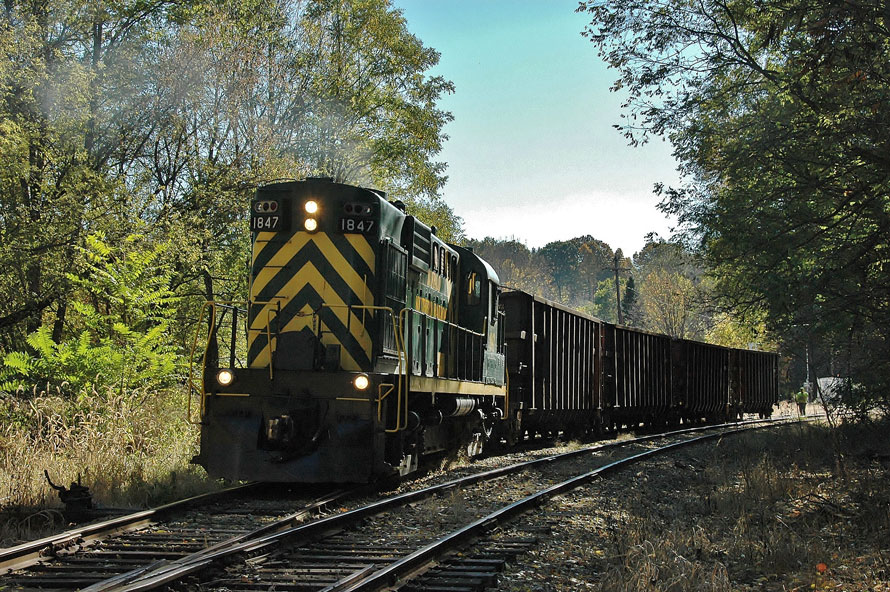 As I thanked him for his time, I asked him about whether there were any trains out on the line that day and he said, "Yes, we're running to the NY&LE at Gowanda today. We only get down there once a month and we've got to get four cars off of them."
Getting out my old crusty New York map, I figured a route down to Gowanda, which wasn't very far away and promptly took off down the wrong road! I realized my mistake halfway down and recalculated quickly. The next few miles were the slow torture of not knowing if I had missed him in the woods. I probably checked 10 crossings in vain, before giving up and making a beeline for Gowanda, the home of the New York and Lake Erie Railroad. I'd been there a few years back, finding sleeping FPA passenger units and a C425 roadswitcher. They were still there and still sleeping, but a Buffalo Southern Alco RS18 was alive there and the crew was doing their air test in preparation for heading north. At least this gave me time to scope out a very nice shot as the train crossed the Genesee River.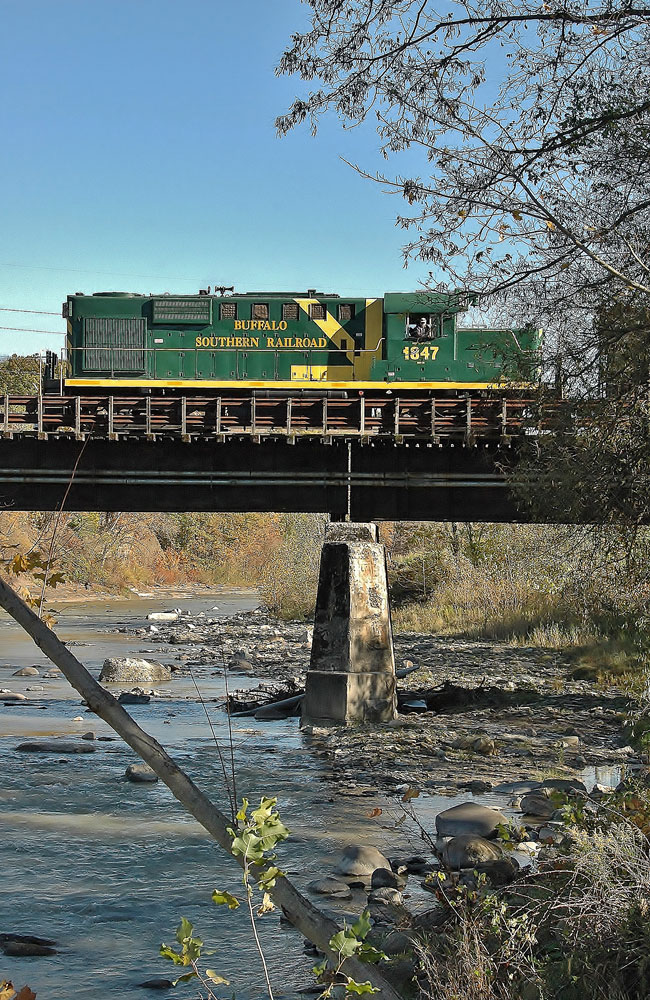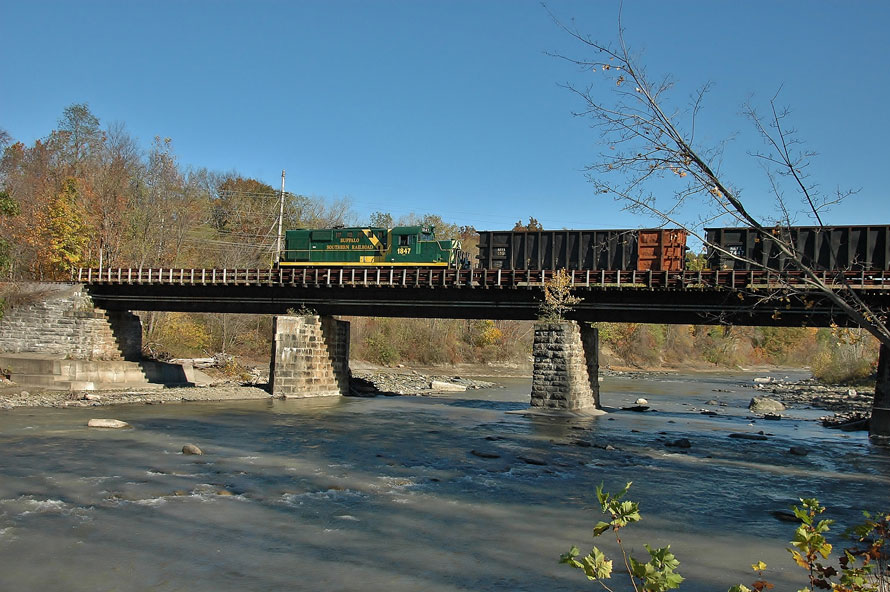 I managed three shots, then went a couple miles up the line and waited and waited and waited. What I didn't realize was that the track speed was maybe 10 mph! It was a long wait, but they finally trundled by. It was late in the day, so I decided to try one more shot before heading for home (I still had three plus hours to go). On my way down, I had found a farm which looked to be a nice backdrop and I went there.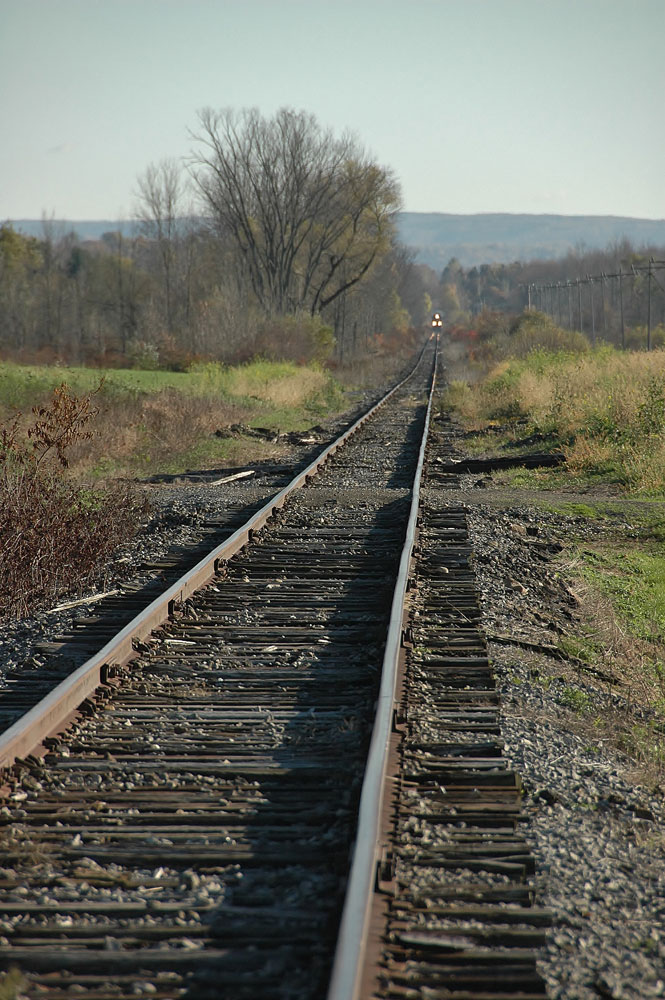 The tracks are straight there and I looked south to see a headlight off in the distance—it took him 20 minutes to make his way to me and I had ample time to explain myself to a suspicious farmer when he stopped to give me a once over. Luckily, he was satisfied by my answer and let me hang out by his property. I ended my day with the unusual sight of the brakeman flagging the short train across the rural crossing.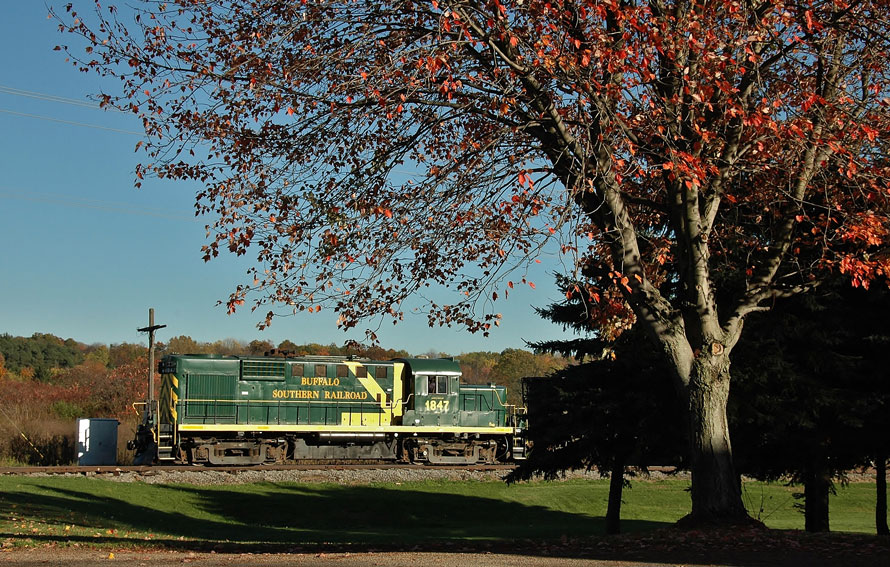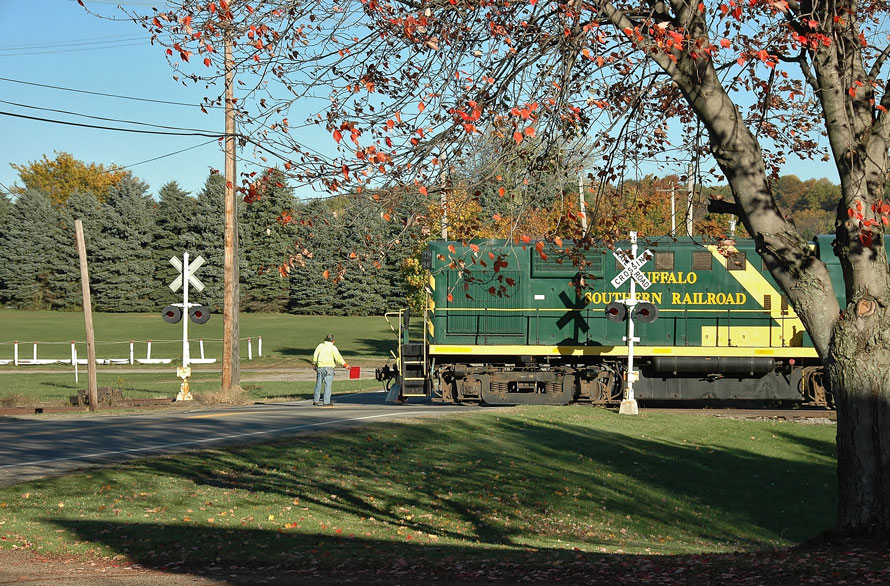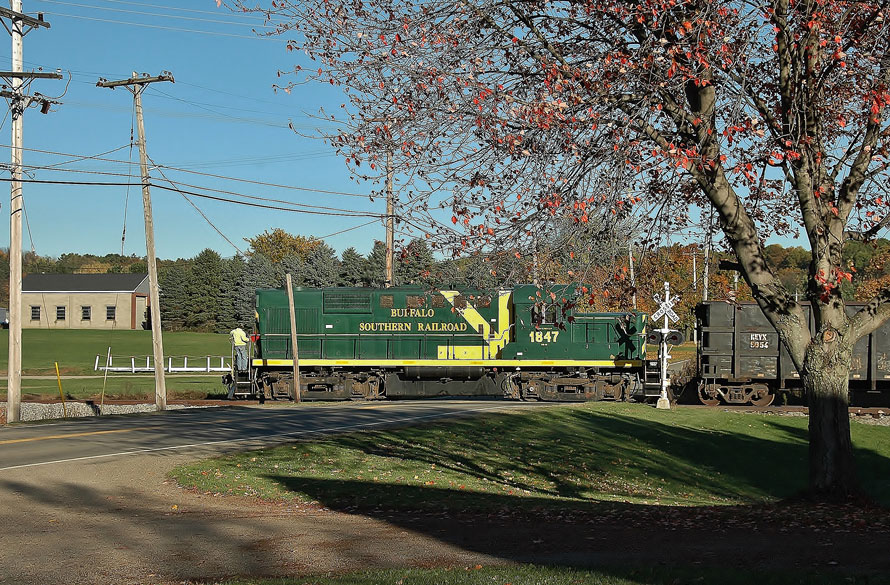 Not bad for a day on a railroad that I knew almost nothing about.
Kevin N. Tomasic – Photographs and text Copyright 2017