Matthew Malkiewicz is a widely recognized photographer who specializes in steam railroading history, or as he says, "keeping a window to the past open for us to see." His work has appeared in both print and online venues, and he is the recipient of the Center for Railroad Photography & Art's prestigious John E. Gruber Creative Photography Award. He is a Hasselblad Masters of Photography 2016 finalist, and has been published on CNN International, The Weather Channel, DPReview and PetaPixel websites. Most recently he was an honorable mention in the 2017 Monochrome Awards in both the professional fine art and landscape categories. His work is currently featured in a gallery exhibition, "The Art of Trains," at Old Dominion University through July 15, 2018. A resident of New Jersey who has also called California and Colorado home, Matthew is the senior resident electrical designer at a petroleum refinery. His entire portfolio can be viewed at the popular "Lost Tracks of Time" website.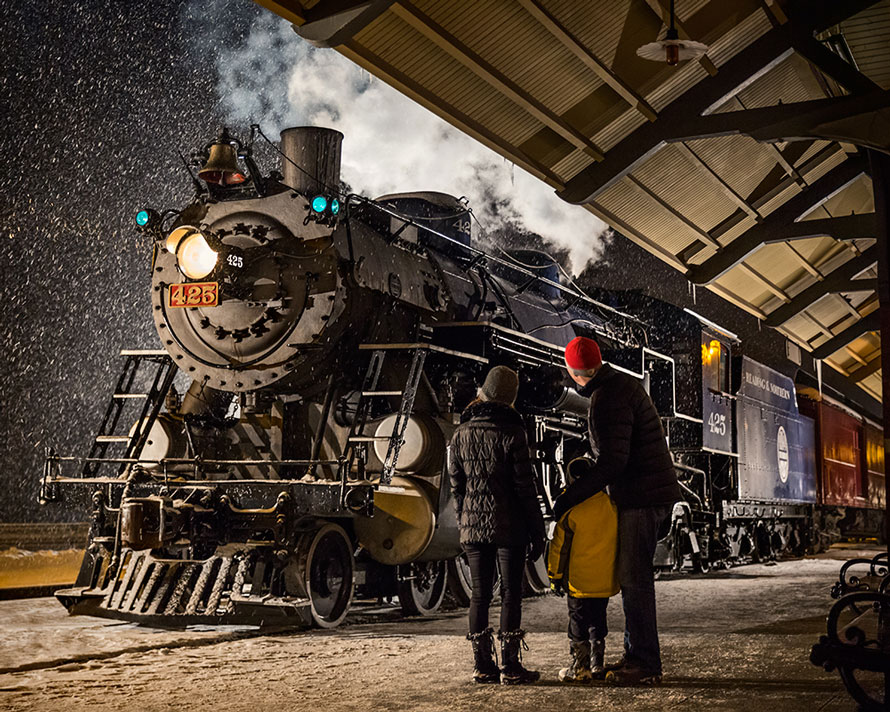 Edd Fuller, Editor, The Trackside Photographer – Matthew, it has been a pleasure working with on your published articles and I am pleased to have the opportunity to talk with you about your work.
Matthew Malkiewicz – Thank you Edd. It's a pleasure to be here among friends. You and I have already partnered before on my "WW&F Railway – Returned to Reality" and "East Broad Top – The Current Chapter" articles for The Trackside Photographer. I'm honored for this interview.
Edd – Let's start by talking about how your interest in railroads came about, and how you got started in photography.
Matthew – My fascination with railroads began at the early age of four months. I have a picture of myself watching a toy train run around the Christmas tree. It must have hooked me good. Growing up I had a model train layout on a piece of plywood where I would sit for hours in the basement. As a teenager, I received my first 35mm film camera and began taking photos of full-size trains. After a long break from trains and cameras, my dual affection reemerged in 2005 while in Colorado, a mecca for railfanning and photography. Soon after, I purchased my first digital camera and started traveling to railways and museums. These days my vacations are spent photographing special railroad related events, private train photo charters and historical venues.
The allure of capturing images that stimulate one's senses is what drew me to photograph steam-powered trains. I want to preserve the smells of coal-fueled engines, the sounds, and the earth shaking as these magnificent machines are in motion. They are alive, each with its own unique personality which changes from day to day. At a state of rest, a locomotive is groaning, sweating, simmering, creaking, hissing, and spitting. At speed, it's a fire breathing monster; the ground trembles, noise deafening.
I concentrate on vintage steam locomotives across the United States. Now they have second lives as tourist operations, the fortunate trains that survived the scrapping after the fleet was retired during the middle of the last century. Modern day railroading, both passenger and freight revenue, are pulled by either diesel or electric engines. My passion gravitates to the machines of yesteryear that seem to be alive whether you have your hand against the polished steel or are two bluffs away looking across acres of prairie grass. I'm intrigued by the process of combining water and fire to produce steam that propels a locomotive machine. Sadly, this technology has all but vanished from our society. I envision how it must have been back in the day and try to create timeless photographs that depict a vibrant yet fading era.
My professional career is in the engineering field while photography is a hobby. What I love most about being an enthusiast is the lack of pressure to meet specific requirements and the ability to produce something that appeals to both myself and others. I don't worry about looming deadlines. I have the freedom to create what interests me most and perfect my work at my leisure. Photography is my vehicle to get my visions out in the world as opposed to making money from it. Through it all, I have traveled to remote scenic locations that I would otherwise not have ventured.
Throughout life we all seek our own way in the pursuit of happiness; to find something that sets us apart from the pack, molds our life uniquely and discovers the sense of it all. The "Lost Tracks of Time" website is how I share my journey and not its destination – the people met along the way, the stories shared and the memories retained. It is these moments I enjoy the most, which take me back to a better vanished time.
Edd – If you had not developed your passion for railroads, do you think you would still be a photographer. And if so, what kind of non-railroad subjects do you find appealing?
Matthew – About the same time I was given my first camera I also picked up a fishing rod. For two decades the sport of angling consumed my spare time. What started as a basic kit for casting out a bobber and worm evolved into me becoming a serious tournament fisherman. Participating on the amateur side of the professional bass circuit, my highest accomplishment was being ranked 19th in the nation. Over time, competing at such a high level started to make me feel the pressures of performing; it took its toll. Congruently I was introduced to saltwater fishing which eventually pushed me away from touring and led me to selling my boat. On the ocean, I felt rejuvenated; commuting far offshore with my partner to wrestle tuna, marlin, shark, and mahi mahi. With the move to California, I continued to fish the blue water, but not at the same feverous pace.
The time spent living in Colorado transformed me from fishing back to trains and photography. I sometimes wonder how things might have been different if I stayed passionate towards fishing. I still am out on the water every once in a while; it has become much more relaxing and enjoyable. The fishing phase was not in vain, for it taught me two very valuable lessons which have influenced my photography. The first is to observe minute individual features and nuances. Take the time to tie a proper knot. Retie the line if it becomes frayed. Hide the hook with the bait. Do not apply unnatural action to the bait. Achieve thoughtfulness and accuracy when accomplishing a task. The results are more rewarding. The same applies to my photography. Be meticulous and consistent, notice the small but important things that other people might not. Wait out the light. The second lesson is not to let photography get to the point where I feel I need to perform when out, reintroducing the pressures I once felt while tournament bass fishing. I refuse to let obstacles block my route of creative potential, hampering the pleasure.
I photograph other subjects as well as trains, just not with the same degree of passion. An example is the "9/11 Tribute in Light". Visible from 60 miles away, twin beams of light emanate from lower Manhattan all night on the anniversary of September 11th as a memorial to the original fallen buildings. Father Mychael Judge confirmed me into the Catholic Church during his tenure in the rural town where I grew up. He was killed in the terrorist attacks while serving as the New York City Fire Department's Chaplain; having perished in the lobby of the North Tower. To pay my respect to him and all the victims lost that day, I spend the anniversary of 9/11 every year photographing the cityscape of Ground Zero. On one occasion I was permitted to enter the parking garage rooftop where the lights originate; to be inside the twin beams looking upwards to the heavens.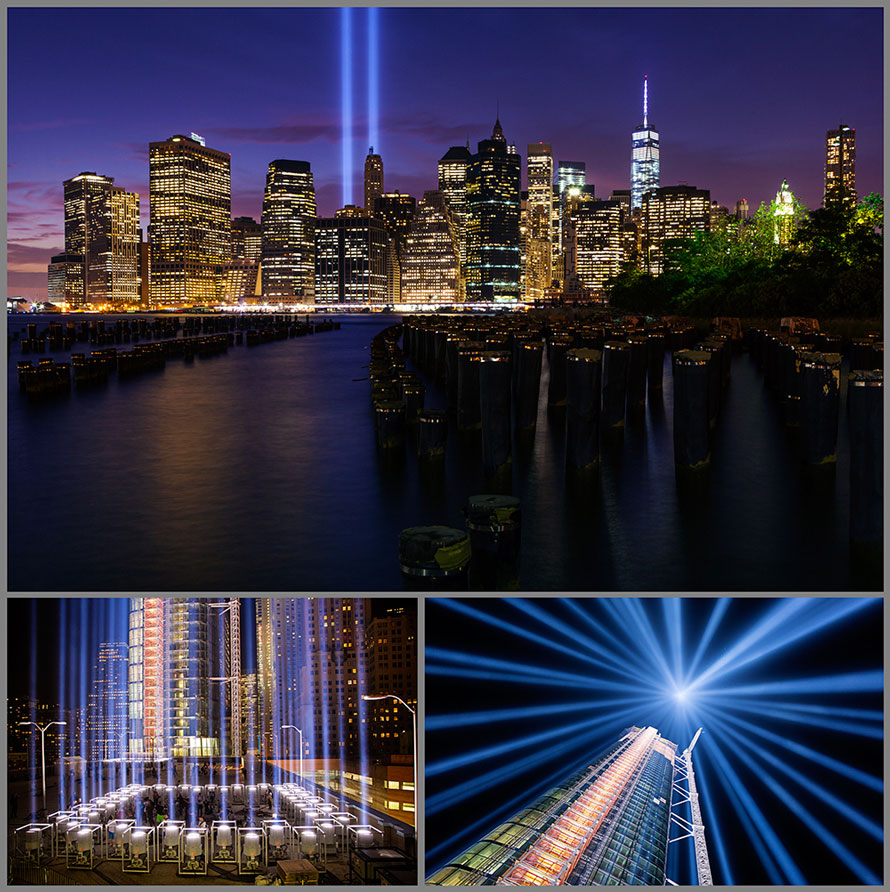 Edd – Where do you turn for inspiration? Among photographers, including photographers not normally associated with railroads, who influences and stimulates you creatively?
Matthew – The definition of inspiration is "the process of being mentally stimulated to do or feel something, especially to do something creative." This is one of the most important words in my vocabulary. It's what drives and motivates me. I list these names in alphabetic order; all key members of my inner circle of support and inspiration. What I admire most about this group is the high standard they hold themselves to. Regardless of conditions, they perform at the best of their ability; coming away with success. I am very happy to know them all. These are the men and women who inspire me the most, leaving lasting impressions. A connection to create the photographs I want to see.
Steve Crise – I was thrilled to learn I would be the next interview after Steve for The Trackside Photographer. I first crossed paths with Steve in Southern California with ATSF 3751. Each year we talk at the annual Nevada Northern Railway winter events where he conducts the night photo shoots. Years ago, he told me there is not enough attention paid to the static and still life aspect of railroad photography. Instead many gravitate to the dramatic steam locomotive struggling upgrade on a cold day while emitting a glorious plume of smoke. His oil lantern series has taught me to look beyond the obvious and iconic; to focus more on the subtleties in a scene. His portrait work, the gritty railroad workers against the plain white backdrop, has pushed me into the realm of the same type of imagery. I appreciate his tasteful use with depth-of-field, using selective blur and sharpness to control where the viewer's eye should land. I hope one day to have my portrait taken by him.
Oren Helbok – We quickly became friends trackside while watching a big Berkshire storm along the Delaware River. I see a lot of myself in Oren. He marches to his own drum, often on the fringes of an event instead of at the heart of it. I don't ever recall seeing his car without a ladder strapped to the roof; he's either standing on the ladder or laying on the ground for a different vantage point. He's like a modern day Indiana Jones with a similar hat and long leather trench coat. Oren has taught me many lessons. To play the small clubs as well as the large stadiums, meaning good photographic opportunities are abundant at all sized occasions. I should sometimes stay in my own backyard; discovering hidden gems close to home. To step back and see the bigger picture. To illustrate that railroads only make up only a small piece of the landscape.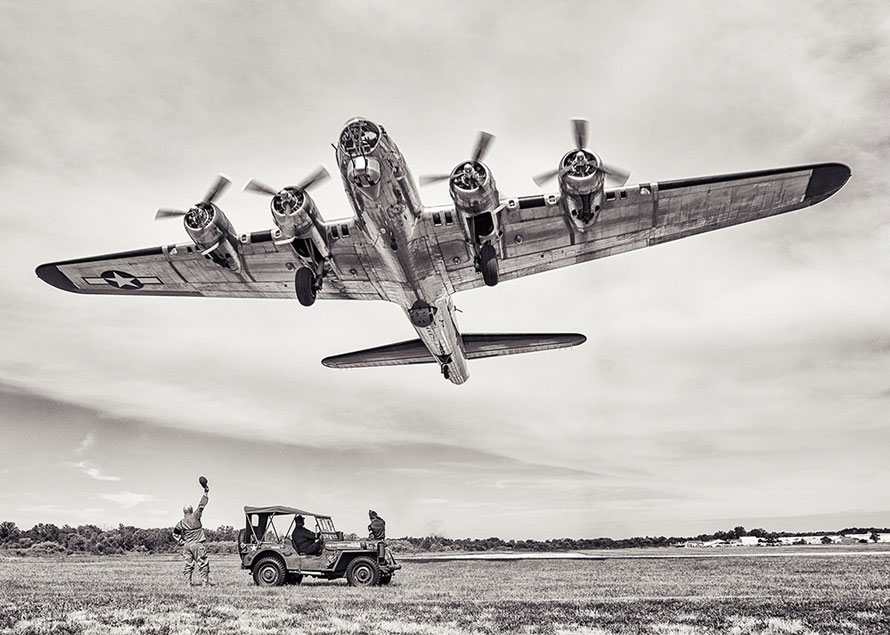 Pete Lerro – From Lerro Productions. Pete is this country's premier private photo charter organizer and operator of railroads, lighthouses, themed-period and landscape workshops. I have been a loyal patron of Pete's events since his first photo charter with Susquehanna #142 in June 2006. A significant part of my portfolio was taken while attending Lerro charters. He has a distinct style that influences other photographers on the photo lines. I am often able to drift away and find my own individual composition. I owe Pete a steak dinner for the many times he has photographically set the table for me. Without ever saying a word about it, he has taught me that sleep is a form of laziness; the photo cannot be taken if I'm not present. Although we have not had a chance to collaborate, I someday hope to have that opportunity.
Jeff Mast & Bryan Pleasant – I met these sharp shooters at the Western Maryland Scenic Railway. Since then, we have teamed up at events with SOO 1003, WMSRR 734 and at the Cumbres & Toltec Railroad. I could be standing right next to either of these gentlemen; they will see and create a photograph that I did not envision. Jeff has an amazing collection of vintage 35mm slides and negatives that he is in the process of scanning. I drool every time he teases us with a few texted images. What fascinates me about Bryan is that he is a Senior Locomotive Engineer with CSX, yet he spends his spare time railfanning the same CSX. I admire both of these men and am blessed to call them friends.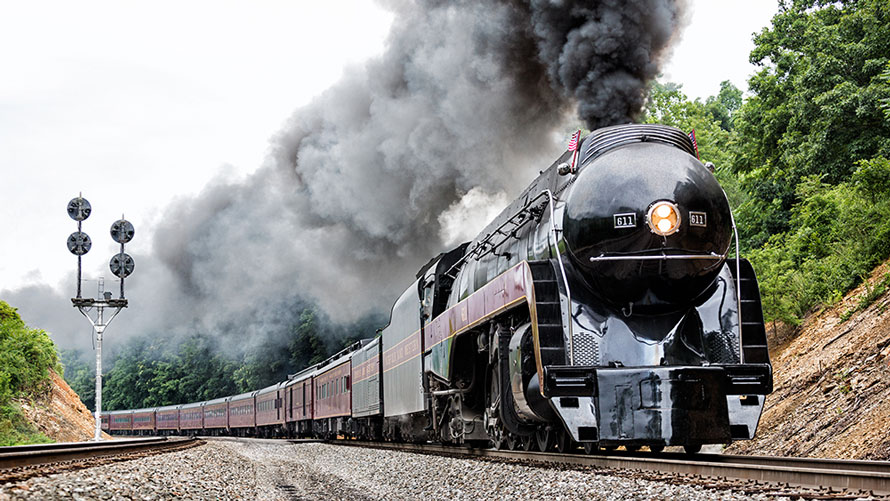 Brian Plant – The man does not have an "off" button. I don't think he knows how to stop. Constant motion in search of light and action. I had the great pleasure to be at his side chasing Nickel Plate #765 at Steamtown and in the Buffalo area as well as Norfolk & Western #611 out of Roanoke. There was no time to rest. We went from sun up to deep into the evenings. After a long day of shooting trains, he would return to his hotel room to process images on his laptop until all hours of the night. He taught me you cannot capture the image if you're not there, and he's almost always there.
Michael Ripley – I met Michael many years ago and he is one of my early influences. He has always encouraged me and complimented my ability to capture images at the precise moment. He helped me to build my confidence and skills as a photographer. Something he said that I will never forget is "The photos taken are just the icing on the cake, mere reminders of the experiences savored. Much more important are people met along the way with the stories they share, the new relationships made as well as the old friendships rekindled with like-minded individuals."
Thomas Schultz & John Birkinshaw – Thomas has a tremendous amount of knowledge pertaining to railroading, both local and abroad. If there is something he cannot answer, he will connect me with the right person. I thank him for introducing me to many of the photographers listed here. John lives in Switzerland and is an amazingly talented photographer. He currently has three books published; the most recent titled "I Will Meet You at the Station." A slightly unconventional collection of images illustrating the interaction of people with the everyday steam railway – their work on it, their journey on it, their crossing over it and, not infrequently, their total indifference to it. I consider it a masterpiece – the finest steam railroading photo book ever assembled. I keep all of his books on my coffee table and refer to them often for inspiration.
Ad Van Sten – Ad is an accomplished railroad photographer who is retired and lives in Holland. He travels the world with his Leica film cameras, sharing his photographs and staying in touch with friends via email. Last month, he asked me about the technique of shooting back-lit into the sun to silhouette a passing steam train, a style I often exploit. I appreciated his willingness to ask and learn and was delighted to offer my help. What started as an acquaintance at photo charters has grown in to a friendship.
John Wagner – I met John while living in California. He is a fine scale modeler of the vintage diesel era. A true friend, we have been at each other's side through thick and thin. Together we have made numerous early morning trips. We've traveled to the Cajon Pass (the gateway to the high desert from the Los Angeles basin), Knott's Berry Farm for their exquisite collection of Rio Grande and Rio Grande Southern equipment and to the Orange Empire Railway Museum. He introduced me to the work of Chard Walker, the legendary photographer of the Cajon Pass. John has an eye for detail, a trait that eventually and thankfully wore off on me. He sees what others walk past without a glance; an attention to the smallest of components which is the foundation of a much larger scene. This has been my most valuable lesson learned. We joke around that it's a sickness but rather it's anything but. Thank you John!
Eric Williams – Eric continually reminds me that photographers have been capturing images of trains for well over a century and that being original is a daunting task. He puts his own unique vision into the subject. This is where he consistently excels. He is also a terrific writer who is able to eloquently mix words with his photographs. Eric sets his bar a high level which in turn keeps me reaching upwards. He has instilled in me to have a voice, and to let it be heard through the life and personality of my imagery. I consider him a master of the craft and find it fascinating to watch him work.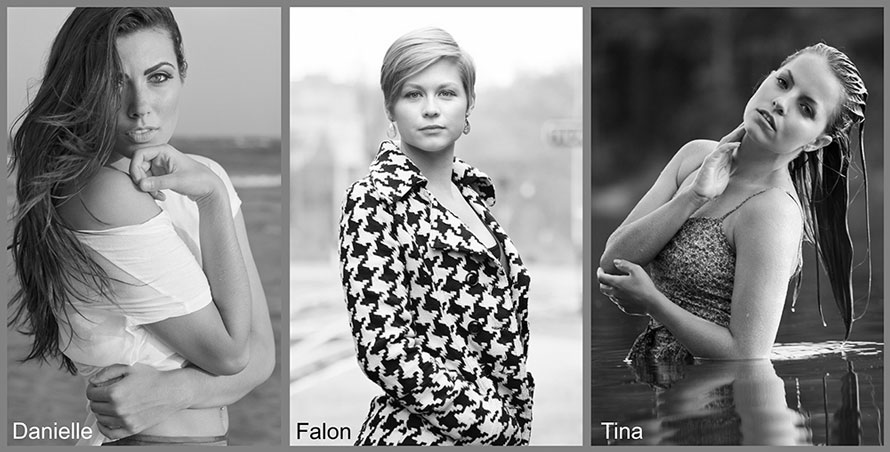 Danielle, Falon, & Tina – These three women are accomplished fashion and glamor models. Each with a unique style, a chemistry exists between myself and them which meshes well with my approach in creating a photo from a clean slate. Collaborating with each on multiple occasions has proven to me that there is not a singular path to seeking a creative life. I use my time with them to experiment with new techniques, or to brush up on old skills not often used.
In addition to these people who inspire me, I am also indebted to the following organizations.
The Center for Railroad Photography & Art – This organization, based in Madison, Wisconsin, is committed to telling railroading's stories through imagery; interpreting the past creatively, connecting it to the present while looking to the future. Their Conversations annual spring conference in Lake Forest, Illinois attracts hundreds to hear renowned presenters as well as meet and develop relationships with those who share an expertise and interest in railroad imagery and its significance. I highly recommend the conference. It's a wonderful opportunity to exchange views, teach, learn, and receive inspiration from like-minded friends and colleagues. The Center's quarterly journal Railroad Heritage recently labeled me as "an activist for preserving the historic legacy of the last extant steam trains," a tag I am incredibly proud of.
WW&F Railway Museum – Their mission statement reads, "Maine's Wiscasset, Waterville, and Farmington Railway was a two-foot narrow gauge common carrier railroad that operated from 1894 until 1933. The Great Depression brought about the railroad's scrapping in 1937. The WW&F Railway Museum was founded in 1989 to restore and rebuild the original railroad. The remnants, stories, and memories of the original railway and those who had the foresight to preserve them have inspired a highly enthusiastic volunteer group to recreate the railway as a tribute to that history. Valuing authenticity, great strides are taken to recreate the original railway's form and function as closely as possible." I am a life member of this organization and draw inspiration from the time and effort they collectively exert to achieve their goals and dreams.
Last year my teenage niece encouraged me to join Instagram, an image-based social media platform. Feeling like I was too old to join in, it has been nothing short of a blessing in disguise. It is now a portion of my marketing plan for visually promoting my brand and building an interactive following. Instagram has led to providing new avenues of opportunity, as well as supplying a healthy dose of inspiration from the talent pool I follow on a daily basis.
I have received a tremendous stimulation of confidence from professional Portfolio Reviews. During these sessions I present my printed book face-to-face to leading photo publishers, directors, editors, collectors and gallerists. These industry professionals are not readily accessible. They help advance upcoming photographers in their careers as well as provide balanced critique and feedback. This has been an intense experience where I have gained much inner strength and connected well to the photographic community.
Edd – You have a gift for getting beyond the obvious and capturing an image that is unique and meaningful, and I don't think that happens by accident. Tell us a bit about how you plan your shoots. How much research on a location do you do before going into the field? Do you develop shot lists, or do you rely more on finding images as you explore?
Matthew – Quite the opposite, I often do little to no planning when heading out. For me, it is an adrenaline rush to be thrown into chaos where I need to think quickly on my feet to eliminate the extraneous elements and to single out what is most important in the composition. Never with a shot list, but if it is to a location I've been to before I will review my previous photos to refresh my memory. I do not investigate the work of others before arriving but treat it as discovery without influence or preconceived wants. I enjoy reacting to what is before me instead of planning for it.
My catalog of work requires me to be outdoors where the weather oftentimes is not in my favor. The natural tendency for newcomers is to head indoors when the weather deteriorates. My best images are taken during extreme conditions, as well as before sunrise and after sunset. Weather and light dramatically alter the mood of the images. Weather is my friend. It adds so much atmosphere and character. Rain, snow, sleet, wind, fog, humidity; sunrises and sunsets. These are the prime times where the majority of my portfolio was created. Being an ambient and natural light photographer, I've learned to expect anything and adjust accordingly. I enjoy the thrill that comes with dealing with things out of my control, weather being one of them. Rarely do I set out with a vision in mind. I let the weather conditions, light, and time of day dictate my approach. Patience and persistence are necessary. The experience of being alone in nature is serene amongst the most beautiful scenery around, caught up in the landscape with magnificent machines billowing smoke. It's surreal and magical.
As much as I enjoy being in the field with a camera in hand, I feel it is only half the craft.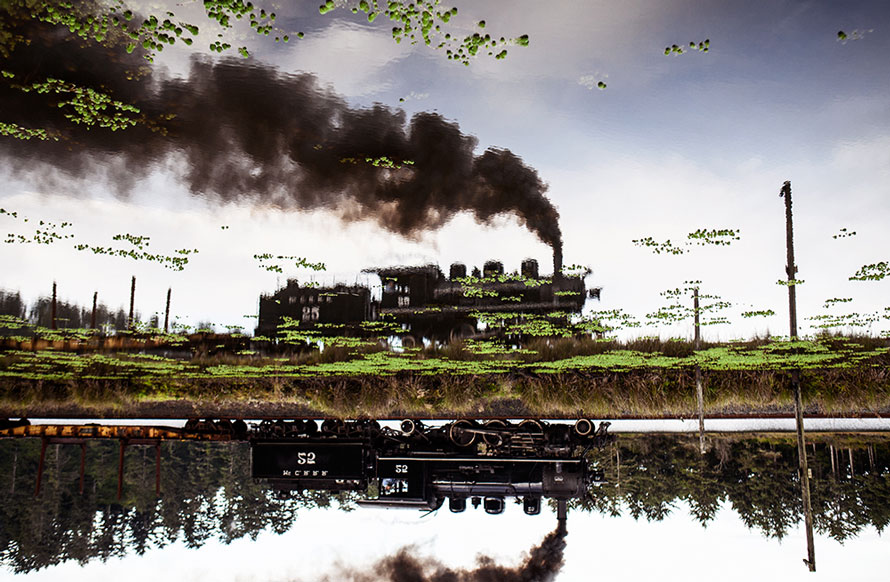 Edd – In 2015, you won the Center for Railroad Photography & Art's prestigious John E. Gruber award with "Beneath Calm Waters." If I may say so, it certainly confounds our usual expectations of what a railroad photograph should be. Tell us how this very interesting and unusual image came about.
Matthew – I constantly view photos of various genres, making mental notes of both what appeals to me and what doesn't. One picture that struck a chord was an 18-wheel truck inverted in a water puddle's reflection. I found it odd yet captivating and noted the concept for possible future use. "Beneath Calm Waters" was captured during a photo charter of former McCloud River Railroad #25 at the Oregon Coast Scenic Railroad in October 2014. Standing on the opposite bank shoulder-to-shoulder with many other accomplished and skilled photographers, the train made multiple runbys. Wanting and needing something different to hopefully be distinguished from the crowd, I tapped into my mind's notebook. Pointing the camera down; the unedited composition is the locomotive coming from left to right with the above-water portion in the upper third of the frame. In Photoshop the file was rotated 180 degrees and flipped horizontally. The most important element is the reflected numbers and lettering properly orientated and readable in the mirrored final product. Only after did I notice the leading line of the smoke plume to the stack is loosely paralleled by the floating vegetation. The comments and feedback for this photo have been most interesting. Some viewers grasp the intention immediately while others need explanation. One of the ways to create visual tension in photography is to ask a question and this photo seems to trigger an emotional response.
Edd – Post processing is an important part of your workflow. Without getting too technical, I wonder what editing tools you prefer and how you approach editing a RAW image to make it match your creative vision?
Matthew – As much as I enjoy being in the field with a camera in hand, I feel it is only half the craft. The other portion comes after with editing in the digital darkroom, which I truly embrace. I often lose track of time engrossed in front of the computer, sometimes deep into the night. My current workflow is to first process the RAW files in Iridient Developer, which handles the Fuji X-Trans sensor conversions exceptionally well. I tend to flatten out the image; boosting shadows, lowering highlights, and reducing contrast. The modifications done with the RAW editor are minimal, just prep work for final tweaks in Photoshop CS6. After importing the file into Photoshop, I work 100% non-destructively so with a few clicks I can revert back to the original view. Running an automated batch routine creates commonly used adjustment layers, my main tools of modification. Photoshop is a very involved and intense program. I dive in deep by making luminosity masks, blending modes, color channels, frequency separation, actions, and dodging/burning commonly used features.
The processing approach I use varies depending on the subject matter. In a documentarian role such as at the East Broad Top, I am meticulous not to disturb anything when photographing. This mindset carries over in Photoshop. Other than very basic adjustments, I leave the scenes unaltered. When I am after a timeless look and feel, I look for a composition with the camera that will hide as much current-day features as possible. At times, minor items need to be removed digitally such as trash, airplane contrails or a stray person. In all my years, I have only digitally added two items to my photos – a canoe and an airplane. Compositing is in my bag of tricks, but I don't create a scene which does not exist. Rather, I use the technique to blend a Photoshop image containing multiple luminance variations of the same RAW file. The use of monochrome fascinates me; stripping away color accentuates patterns, shapes, details, tone, contrast, highlights and shadow. I can often visualize the final image posted to my website as I am releasing the camera shutter button My use of Photoshop helps me to achieve the vision in my mind's eye.
In looking back at my work, I notice a correlation between the feeling a group of images portrays and the mood I was in during the editing phase. When I'm feeling grumpy, the results are colorful, vibrant photographs. However, when I'm happy and cheerful, images are represented in dark monochromatic files.
I am currently studying for the Adobe Certification Exam which focuses on both the key and new features of Photoshop. I want to expand the digital horizon by furthering my understanding and knowledge of this graphic editor application.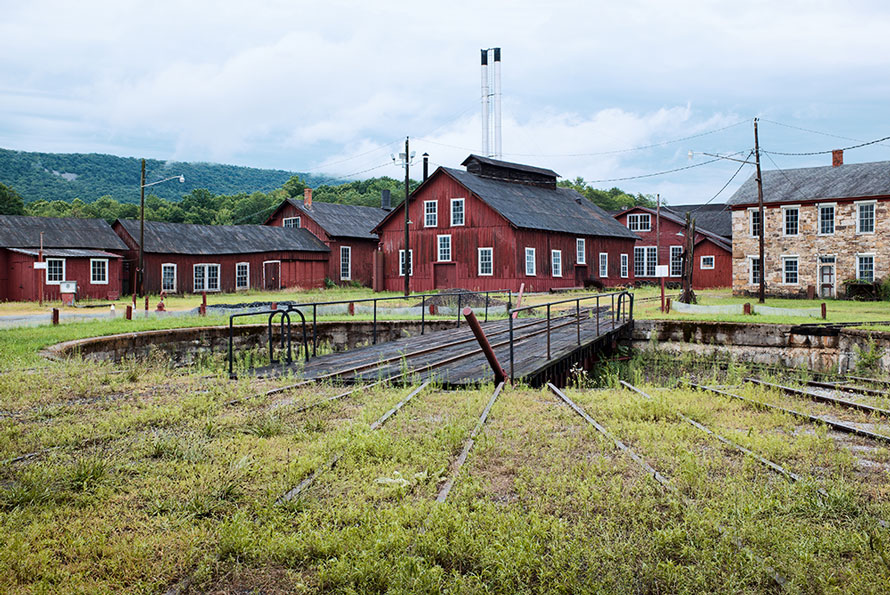 Edd – You have a close association with the East Broad Top and your love for that silent railroad really shines through in your photographs. What is it about the EBT that keeps bringing you back?
Matthew – The EBT is the ultimate time machine. It is arguably the most intact and preserved steam railroad in the country, possibly the world. Every component to the bygone era of a coal and industrial revolution remains. Regardless of season, weather conditions or hour on the clock, it is my mission to photograph the facilities as they exist present day. EBT management and ownership has graciously granted me access to the railroad complex. It is my obsession. A labor of love. The romance of what was and what still is. I am freezing an intimate moment in time between the fleeting and the final which cannot be reproduced. It's a permanent historical record. Capturing the mundane as time continues. The everyday, not the epic or the glorious. At this point in my life, I have come to realize that I'm not only going to a different place, but also a different state of mind. I'm going into a different dimension of thought. A different dimension of what I'm about to experience. It's always been in front of me, clear as day; I only needed the discovery of this long-term personal photography project. Its pull is like no other, it needs to be remembered and documented. The East Broad Top is where I feel I am at my best.
Edd – So often we are guilty of visiting a site for a half day, taking some photos, and calling it done. You take the time to experience a location in depth, and I think it really shows in your work.
Matthew – I am happy to hear you noticed. I do invest the time to become familiar with the subject, to discover what was not seen initially or in a different light. Staying committed serves the useful purpose of intimacy. The goal begins as a single image, that frame above the fireplace. I walk the site and eventually compositions appear from multiple angles. I like to work methodically dissecting and analyzing the scene, observing how the light falls and capturing the differences in illumination.
Blowing the whistle as the train entered town, I said aloud 'I always wanted to do that!'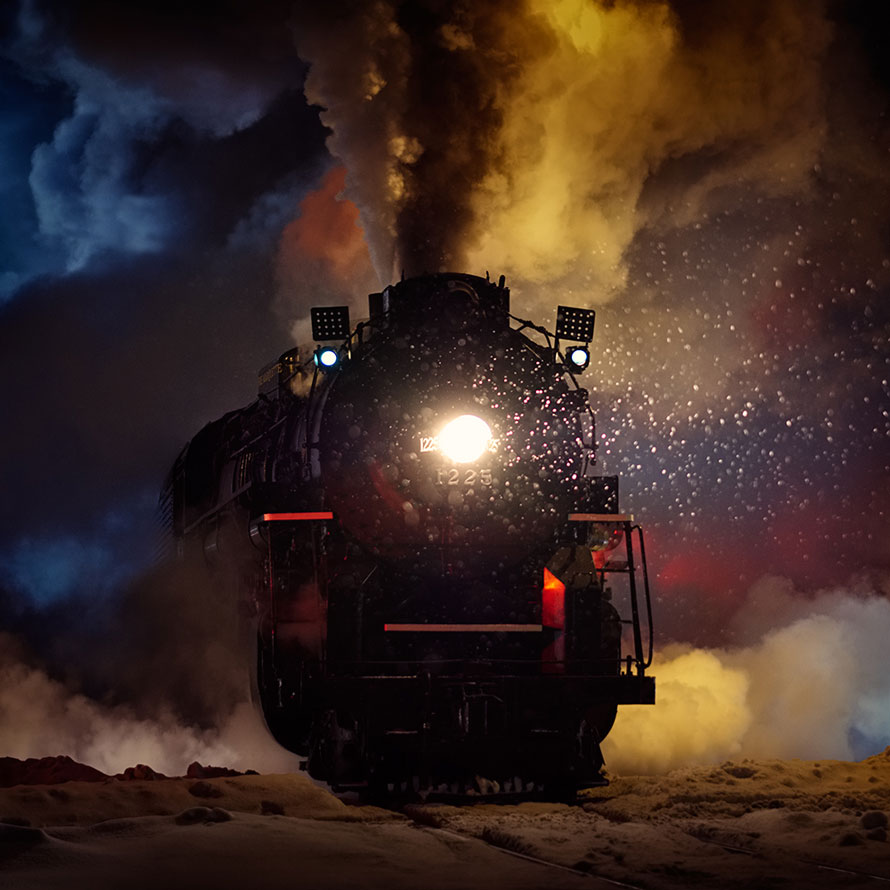 Edd – You have traveled extensively in your pursuit of historic railroad sites. Where have you not been that you would like to photograph? And of all of the places you have been, what place exerts the strongest pull on you to return?
Matthew – To date my travels have keep me within the United States. Being very proud of my Polish heritage, I want to start traveling abroad – starting with the mother country.
The strongest and loudest voice calling to return is Pere Marquette #1225 in Michigan. I make multiple trips per year to the Steam Railroading Institute in Owosso where I volunteer my services as one of their staff photographers. Although anytime spent with #1225 is special with me, being there in December for the annual North Pole Express excursions sets me in the Christmas spirit like nothing else can. How could it not? It is the real Polar Express locomotive! Even though it takes a small army of crew to entertain the five trains of 900+ riders each weekend during the holiday season, it feels like a close knit family. The Steam Railroading Institute and I have a very good working relationship. They grant me full access to the yard and facilities with cameras in hand. As a token of their appreciation, two years ago I was given the first gift of Christmas – a round trip locomotive cab ride to the 'North Pole' town of Ashley. Blowing the whistle as the train entered town, I said aloud "I always wanted to do that!" just like the boy did in the movie.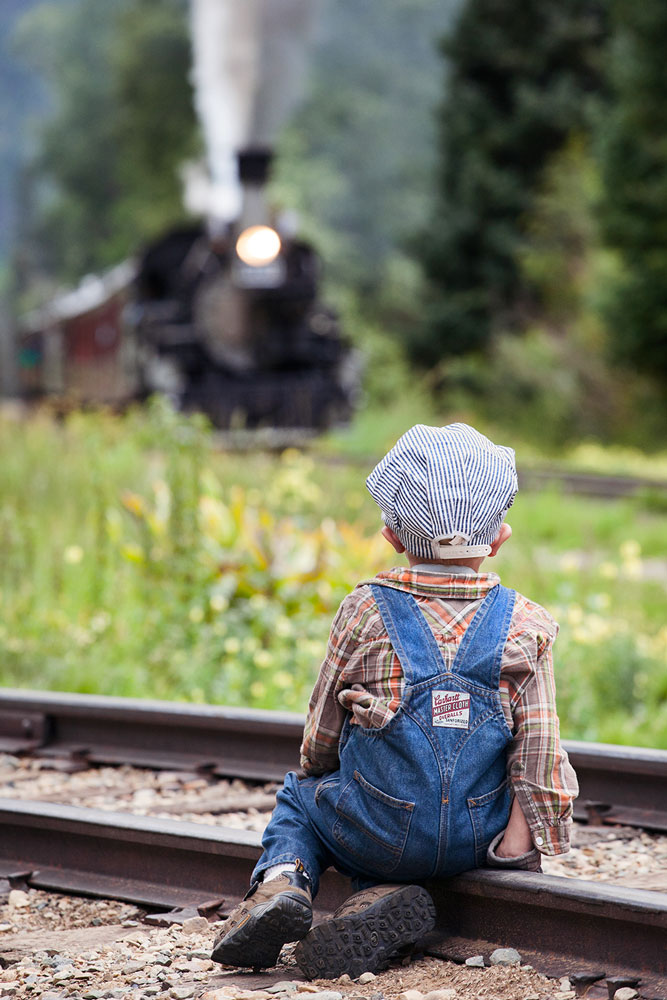 Edd – Do you have a favorite photograph, one that is particularly meaningful to you? Tell us about it.
Matthew – The photo of the little boy watching the oncoming train is my all-time favorite. A pure case of luck, being at the right place at the right time ready with the proper equipment. From deep in the Rocky Mountains of Colorado on a photo excursion, our train pulled on to a siding to let the regular scheduled tourist train pass by. The camera hanging at my side, as always, is preset and ready for anything to happen. Just lift it to my face and shoot. The child was the son of one of our train crew. As the oncoming train approached, the boy, completely unstaged and unrehearsed, stepped in front of me and sat on the rail to watch the run-by. The scene was created on its own. I did little more than set the focus point, snapped a single test shot and captured the final image. It's my favorite photograph because of the spontaneity of it all. Many of my better shots come from either free styling or completely winging it, feeding off the adrenaline rush from thinking quick on my feet. I try to stay open to the surprises the world has to offer.
Edd – As you travel around in pursuit of steam, I am sure you have had many interesting experiences and encounters. Is there one that particularly stands out?
Matthew – Currently, the most vivid and replayed memory is from a visit to the East Broad Top last November. Going back to the days when the railroad was still operating, part of my routine is to wrap up the day with an ice cream cone from the roadside/trackside sweet shop north of town. During a steady rain I sat in my Jeep and enjoyed the dessert of my trip. Out my driver side window and ten feet away is a young boy playing with his Matchbox cars. I assumed he was the child of a parent working inside. Water falling from the roof formed a huge puddle. He was soaking wet and having the time of his life in the mud. A few feet behind him was a small drop-off to the dormant EBT mainline between Orbisonia and Mount Union. I sat motionless and stared. I was taken back to my youth when I once did the very same. My cameras were easily accessible to freeze the moment in time, but being partially blocked by a bench, I would have had to get out of the car to have a clear view. Completely in his own element, he didn't seem to care about the rain he played in. Was he even aware of the train tracks that were behind him? Did he have any idea to the railroading lore that surrounded him? Had he ever seen a real train run? Did he even like railroads? Regardless, I was enthralled.
Edd – It's interesting that you came away without a photograph—there's a lesson in that.
Things don't always go as planned. Tell us about your worst experience while photographing trains.
Matthew – Luckily, I have not had any experiences that ruined a day. There will always be minor obstacles to overcome but being an impromptu problem solver seems to be a trait of mine. Let me tell a dumb move I made and later regretted. I spent the good part of a day riding in the tender of D&RGW #315, my favorite narrow gauge locomotive. The cab straddles the boiler with only enough room for the engineer on one side and the fireman on the other. Anyone else has to stand on the small platform between the engine and tender, which blocks the fireman from shoveling coal into the firebox. I was forced to ride in the locomotive's tender on the coal pile where I was racking up quality photos, and in an atmosphere of swirling coal dust and moisture I made the bone headed decision to change lenses. Bad idea. The camera performed fine the rest of the day, but in changing lenses the sensor was exposed to the harsh environment of coal dust and steam-saturated air. I was able to remove the dust spots in the images with Photoshop afterwards, but over time the camera started to fail. I sent it to an authorized repair shop for cleaning, but unfortunately the irreversible damage was done. It died soon after, but not before teaching me a valuable lesson the hard way. You will never see me changing a camera lens in anything but the cleanest of locations again.
Edd – Much of your work includes either candid or formal portraits of the people that populate the railroad landscape, and for me, this really brings these scenes to life. A particular favorite of mine (among many) is a candid group of workers in the engine house. I love the light and the relaxed workers around the warm stove with the locomotives looming in the background. Tell us about this photograph, and perhaps share a bit about your approach to placing folks in their environment.
Matthew – Like Steve Crise mentioned in his interview last month, I always try to make the human element a part of my work. As much as a steam locomotive is a living breathing machine, the interaction between man and machine lures me into the scene.
The photo of the three men was taken in the engine house at the Nevada Northern Railway. Stealthy, I was hiding in the shadows with the camera on a tripod pointed at the burning pot belly stove. Earlier in the day, I witnessed workers taking a break around the stove to warm up from the cold day. With the light beams coming through the skylights, the composition was pleasing before the men arrived. Once they stepped into the scene the stage was complete. I believe if they knew I was there, they might have had their guard up and the image would have felt contrived.
I practice two types of approaches when utilizing people in photos. One is this candid method using a long lens. The other is to stage the person in the scene, dictating a rough idea of how I envision the pose and then giving plenty of leeway for their interpretation. I have done a lot of work with female models which has provided the experience to calmly coach and direct from behind the camera. I have found that quietly talking distracts them enough from getting nervous, which will show through in their body language and facial expressions as an unnatural situation.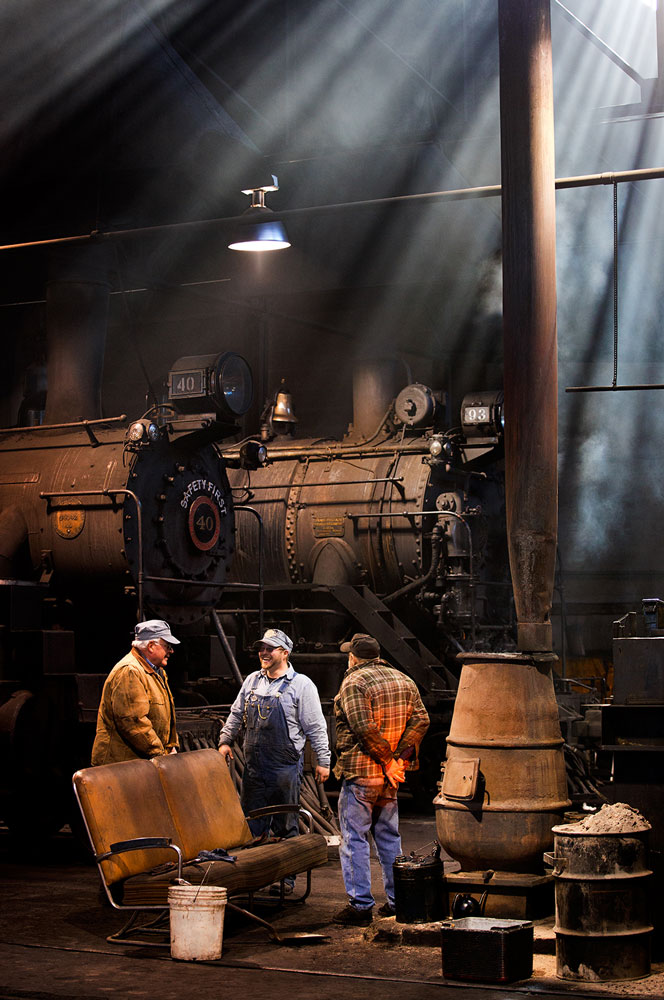 Edd – Your photographs seem to always have a story to tell.
Matthew – I see myself as a photographic storyteller. Someone who tries to create impactful images that have something more to say. To me there is a difference between a snapshot and a photograph. A snapshot's purpose is to capture a specific moment, with a photograph there is a story to tell; which pulls the viewer in. I approach a scene wanting to make just one photo, but it should give a sense of place and time. Concentrating on the details, the simple scenes and its intimate elements. Filtering out the erroneous competing distractions through composition. I try different angles, not afraid of observing from an offbeat perspective. In being a creative I appreciate the esthetic more than the technical aspects. I test various concepts to determine what will help in the quest of communicating an intriguing message. I attempt to engage with the subject combining good composition, action, and feeling. Where possible I include people in the frame. Body language in human beings is a way of communication for expressing emotions. A photograph telling a story does not need to be explained.
Edd – I know you are working on a long-term project that you will hopefully be able to share with us this fall. What can you tell us about it?
Matthew – In addition to my ongoing quest to travel our country shooting former and current steam operations, I have two long-term projects on my agenda. One is to continue to photographically document the East Broad Top as it remains current day. My approach is random and unstructured, often making the decision where to focus that day during the drive in. Eventually I will have hiked the entire thirty-three-mile mainline from the coalmines in Robertsdale to the interchange with the Pennsylvania Railroad in Mount Union; my work is far from done. The title I have given this venture is "The Current Chapter," an open book that does not appear to have a visible end anytime soon.
My other extended endeavor is inspired from National Geographic photographer Todd Gipstein's "X100: 1 Mile, 1 Year, 1 Lens" video (https://youtu.be/_-V8uxO1cNI). Over a one year period, I am using the Fuji X100T camera with an integral 35mm equivalent fixed lens at a one mile portion of a former freight mainline. All the compositions must include the abandoned but still intact right-of-way, the objective being how the surrounding environment matured around the once bustling rail line. I am putting severe limitations on gear, location, and vision. Not carrying a bag, the only equipment with me is the camera, a tripod, shutter cable release, bubble level, spare battery and extra memory card. The focus of the project is monochromatic with landscape orientation, identical crop ratio, same focal length and similar post-processing. Most of the gallery will be created with the camera positioned one foot off the ground. The boundaries are clearly defined; working within the guardrails has become easy, enjoyable, and non-chaotic. I am already applying these new parameters to my steam railway photography. For example, during my most recent trip to the Strasburg railroad, I forced myself with criteria of only a 85mm prime lens at F/1.2, shutter speeds between 1/20 and 1/80 of a second – fueling my creative process and intensifying the experience. Restrictions and parameters are now my creative tools, tied together with a stylistic similarity and theme. Not only has this helped me to improve my seeing but it also taught me patience and the art of observation. I have narrowed my vision, my presentation and voice. These days I absolutely enjoy photography more than ever.
My challenge is to limit the visits to the location once per month. Although I'm capturing dozens of photos, I am selecting only three culled keepers. I'm attempting to tell a short story with these few photos, similar to the fiction genre once popularized by the magazine industry in the late 19th century. Almost a lost art, today's publications are much more text driven and not photography based, with many more words than images. My goal is to flip that around the other way.
To date I'm half way done with the twelve-month photo essay assignment. It is something that is rapidly expanding, so much so that it will spawn a dedicated website and possibly self-published book. I never expected it to resonate so deeply within. It has given me a lot to think about with structure within my own photography. I am my own editor and sequencer; breathing new life into my art making. "One" will have a clear cut beginning, middle, and end. A hardcopy of something I can finally hold in my hands. I want to make the book, it will give completion to my first personal project where I can finally say, "I did it, I finished something". Exciting times. I highly recommend an outlet along these lines to those feeling stuck in a rut on a stagnant plateau.
At the conclusion of "One" I will adopt a "365 Project" with the same X100T; taking a single photo each day for a year of everyday subjects. I want and need to be forced to carry a camera everywhere, to come up with new ideas and hopefully see life a bit differently.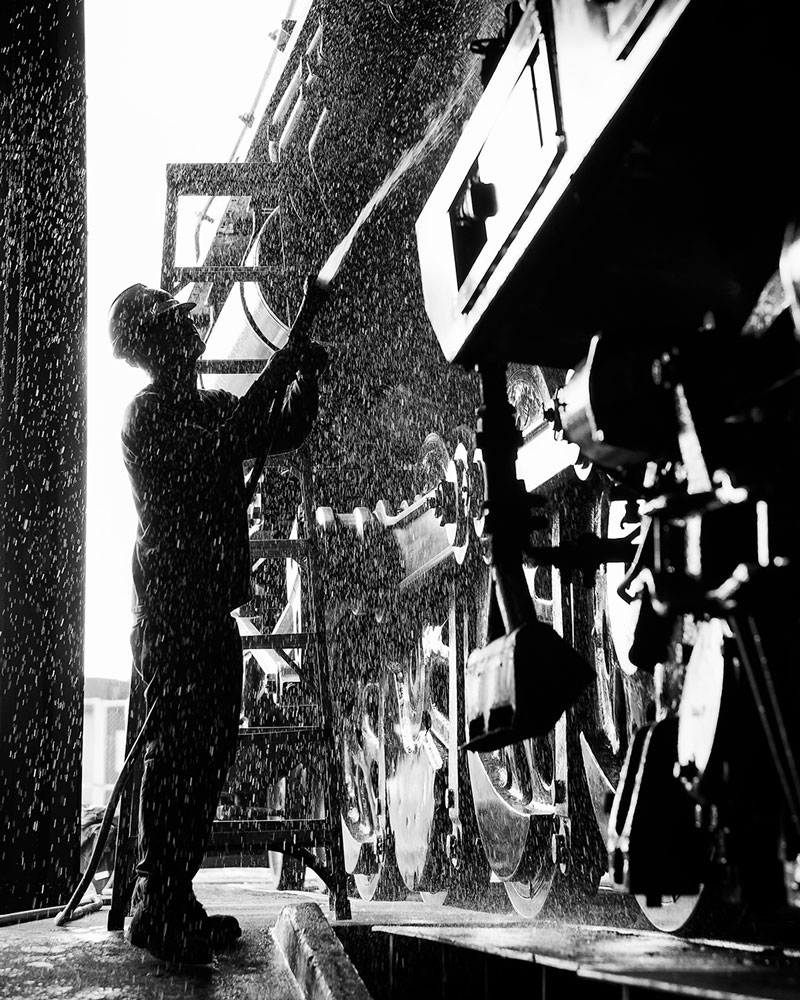 Edd – I  have always believed that working within constraints stimulates creativity, and I am happy to hear your thoughts on that. What else is on you schedule? Any travel plans that you can share?
Matthew – This summer I will be in western Canada to photograph a preserved roundhouse. In October I'm headed to Oregon for a string of charters. December I will continue in my role as staff photographer for the Michigan's Steam Railroading Institute featuring Pere Marquette #1225 at their North Pole Express excursions. Unfortunately I see my landscape of rail photography changing with the recent announcement by Amtrak to no longer insure private charters. This directly affects me because I was once again to be embedded with the Milwaukee Route #261 locomotive crew for their June weekend excursion to Duluth and back. I was also asked to repeat my performance as the official event photographer for Nickel Plate Road #765's Joliet Rocket to Chicago LaSalle Street Station in September. Both trips now may not happen. I will be forced to evolve; seeking new avenues and destinations as well as strengthening my commitment to the railroads I currently frequent.
Edd – You have been involved with some group photo sessions at some of the preservation sites. Have you considered the possibility of conducting on-site photo workshops?
Matthew – Over the years I have attended many workshops and seminars. Later this year, I have been asked by one of the railroads I am affiliated with to conduct a pilot workshop as a test. We want to encourage the younger generation of local aspiring photographers to become aware of the history and preservation of the steam era as well as teach them the skills of becoming better with the camera. I feel the time is right to share information. Conducting an onsite workshop is the proper classroom.
I have mentored a few young photographers, both with the camera and in Photoshop. A memorable moment was with a person who was struggling with camera settings. On the beach of Atlantic City at sunrise, her camera was next to mine on a tripod as the rising sun was taking effect on the sea and clouds. Shooting in one of the camera's automatic program modes, her images were overexposed and washed out from color. She saw the LCD on my camera and didn't understand why hers didn't look like mine. After some quick coaching she finally got it right. Her face lit up with joy. I came away with great pleasure from that moment, a situation I want to make more commonplace.
My greatest advice to anyone getting started is to constantly learn and perfect your skill and never compromise your vision to please others.
And most of all . . . enjoy!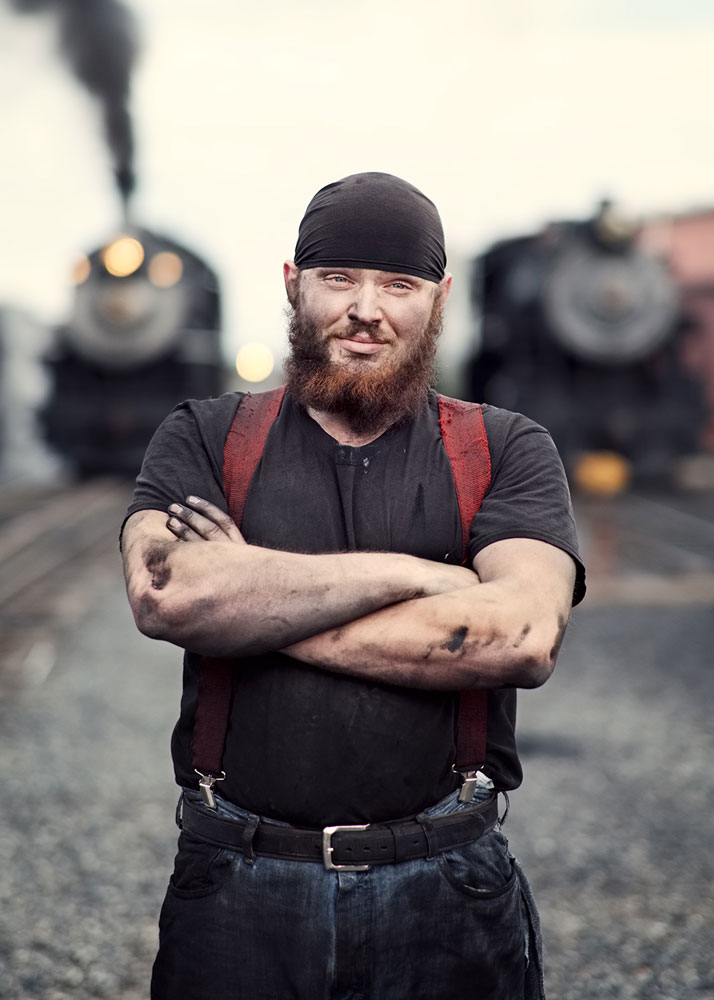 Edd – Now a couple of techie questions, to keep our geek contingent happy. What is in your camera bag on a typical day as you set out to photograph trackside?
Matthew – A lifelong Canon shooter, both with film and more recently digital, eighteen months ago I switched from DSLRs to the Fuji mirrorless system. In my final days with DSLR cameras, I was feeling bogged down and lethargic by the weight and bulk of the equipment. With lighter equipment I have new energy. Creativity is a byproduct of not being exhausted. I sold everything, all 58 pounds of gear including the 4 camera bodies with battery grips and 5 lenses. I made myself a pact not to add any additional cash towards gear; only the money from the sale would fund the new setup. Although size and weight were factors in my decision, newer technology ultimately led me to purchase Fuji's X-T2 bodies coupled to fast prime lenses.
Before purchasing, I rented kits from Sony and Pentax for the purpose of comparative evaluating. I felt Fuji offered the most intuitive features. A throwback to retro cameras, for easy access the X-T2 has the shutter, ISO, and EV dials on the top of the body, the aperture is set via a ring on the lens. An electronic viewfinder, true live view, manual focus peaking, 3-axis tilt screen, real time histogram, JPEG film simulations, and frequent firmware updates are just some of the attributes which do not have me looking backwards. Something I could not live without is the ability to see the image either in the electronic viewfinder or on the back LCD screen before pressing the shutter button. I am previewing the final image as seen live on the sensor. Test shots and chimping are a thing of the past. With the Fuji cutting edge X-Trans sensor technology, an optical low pass filter is not required to reduce moiré and color fringing. The sensor captures unfiltered lens performance, producing a fundamentally sharper image file in both RAW and JPEG outputs. I round out the new camera bag with the Fuji X100T, small and lighter but still with the same powerful characteristics and capabilities.
Edd – Aside from cameras and lenses, what is your essential "go-to" bit of gear when you are working in the field?
Matthew – I am a minimalist who likes to travel as light as possible. Extra batteries, plenty of memory cards, a lens cleaning kit, protective rain sleeves, cable release, bubble level, and a tripod are always on hand. I must feel comfortable in the elements, so protective clothing to match the conditions is paramount. Two items I do not leave home without is a roll of gaffers tape and a clean dry towel; both have alleviated potential situations many times. A valuable tool is the Photographer's Ephemeris on my iPhone, an app which tracks the location of the sun and its angle at a given time on a satellite map.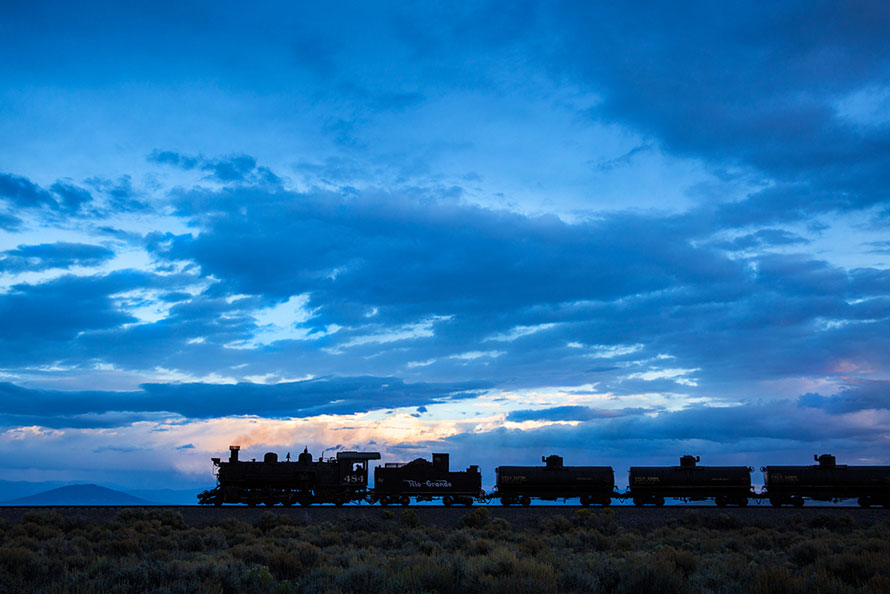 Edd – And lastly, what advice would you give to a young photographer just getting started, or to an old photographer who needs a little inspiration?
Matthew – Study the works of fellow photographers, both colleagues and strangers. The ones who are consistently stepping out of their comfort zone, pushing the envelope to freeze in time what their mind's vision sees. Make mental notes of what appeals to your tastes and what does not. Mold it into your own style. Find inspiration from those not afraid of failing while trying something different; creating the artwork of photography. Be an individual. Trust your instincts. Always shoot first and foremost for yourself. Have outside influences on your brand but don't emulate. Do not compare yourself to others or be in competition with them. Embrace their talents and strive to expand your own set of skills. Seek out feedback and criticism about your work. Adopt a long-term project. My greatest advice to anyone getting started is to constantly learn and perfect your skill and never compromise your vision to please others. And most of all . . . enjoy!
Edd – Matthew, it has been a pleasure talking with you about your outstanding work. Best of luck to you as you continue to pursue your passion. I look forward to seeing where your photography takes you, and thanks for sharing it with us.
Matthew – You're welcome and thank you once again for this opportunity. Through my website and Instagram account I have established a loyal fan base of followers and supporters. In closing, I thank them for sharing my journey. They live vicariously through my travels, experiences and vision. I appreciate the comradery. I was recently introduced to Blair Kooistra's "Remembering Milwaukee Road's Coast Division" video (https://vimeo.com/261066420?ref=em-share) which had an intensely inspiring impact on me. Similarly, I hope that one day my body of work will be memorialized as a dedication in honor of the railroaders of the former steam era. Until then I will continue to throw the camera bag on my back and head out on the next venture . . .
Matthew Malkiewicz – Photographs and text Copyright 2018