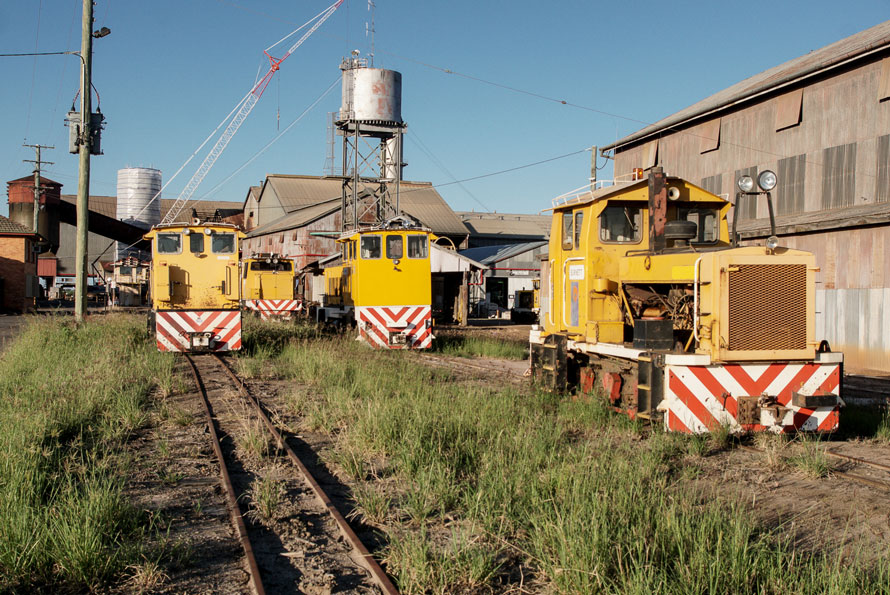 I will get this right out of the way now: until 2014, I never really took Queensland's sugar cane railways seriously. Sure, between them they hauled an impressive amount of tonnage (up to thirty-three million tonnes of cut cane in a good season) and even more impressive because this is all two foot gauge country, but really? Little locomotives, little trains, little journeys, little variety, and nothing but little cane bins that hardly deserve being described as wagons. And all set in sub-tropical coast scenery—cute maybe, but not a setting likely to generate much
. . . drama.
Had anyone asked me for a day or two to explore cane railways I would have politely declined, saving my time and energy for a real railway experience, thank you very much. Heck, amongst the thousands and thousands of slides, negatives and digital images I had taken of railway subjects up to 2014, not a single one is of a cane railway, not even the now-closed Moreton Sugar Mill's railways that operated little more than a couple of hours from my front door.
No, cane railways just didn't interest me. I was after the drama of bigger trains in bigger landscapes. I continued to pursue that interest where and when I could, although with each passing year, especially living in southeast Queensland, that was becoming a less and less satisfying experience. Line closures and a diet of little more than unit trains of either coal, grain or containers on most lines. And everywhere, an increasingly Work Health and Safety conscious working environment meant access to the people that worked on the railway and, almost as importantly, train information, was becoming next to impossible for an outsider like me.
Railfanning in southern Queensland was steadily becoming a less varied and, well, engaging, experience. Some things remained the same—trains in landscapes—but overall the experience was increasingly less satisfying.
All this frustration culminated in Easter 2014, when I was hoping to revisit with a mate some of my favourite haunts on Queensland's Moura line. As it happened, that trip was much less successful than I'd hoped, stymied by information given in good faith that turned out to be optimistic and inaccurate, and really feeling like an outsider. The few trains observed were dramatic enough, but with the crew next to invisible behind tinted glass, the experience really highlighted how disconnected modern railways have become from the landscapes they run through.
On our way home to Brisbane, my mate cut through my gloomy mood and suggested we drop into the Bingera mill operated by Bundaberg Sugar. Reluctantly I agreed (cane trains – huh!) but even though the mill was not operating, I immediately saw the possibility of closer access to the trains than I'd experienced elsewhere in recent years. So that brief introduction ignited a small spark of an idea that perhaps cane railways could offer some of the opportunities for photography that had been steadily eroding elsewhere.
---
. . . the second run in the last rays of sunlight being as dramatic as any train I could remember . . .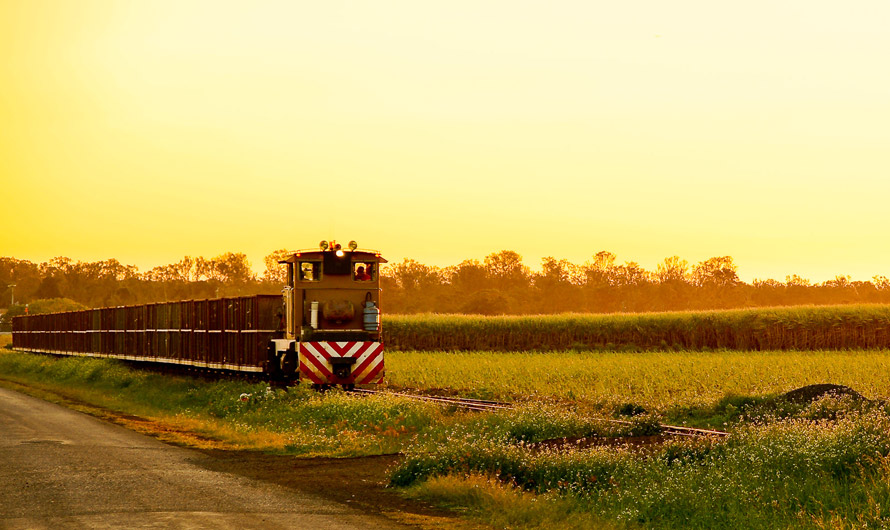 A spark of an idea is one thing, letting it grow is another. Four months later though, I unexpectedly found myself with a lot more free time on my hands. In 2017, Bundaberg Sugar crushed close to 1.7 million tonnes of cane, collected from a number of farms served by about 300km of 2-foot gauge track. That cane was delivered to the mill no more than 6 tonnes at a time, by a fleet of around 2,700 little four-wheel bins, and an active fleet of 16 locomotives, working 24 hours a day, 7 days a week.
The size and condition of the rail network changes as the land does. There are many locations along some of the quieter lines where you will see the light rails covered in dirt or buried completely before crossing a field that is no longer used for cane. It's like the railway is a part of the terrain and crop it serves; growth and regrowth as conditions change. Compared to most other railways which simply pass through a landscape, cane railways are very much a part of the local environment.
After three trips to the Bundaberg area over a couple of months, I had covered a fair bit of distance, and chalked up a few experiences that really challenged my previous perceptions of what a cane railway might be like.
During those trips, I'd experienced the sight of trains of full bins running into the yards at Bingera Mill on the northern side of the Burnett River and Millaquin Mill on the south side of the river, and an equal number of trains of empties heading back to the fields for loading; the very sweet grassy odour that blankets the mills; a constant rattling sound at both mills of the chains that drag the rakes of full bins through the tippler after the locomotive has been taken off an incoming loaded train; train drivers visible, accessible, and mostly happy to share information; passers-by who seemed quite proud of their cane trains running through the landscape; trains in an unexpected variety of landscapes, including the urban outskirts of Bundaberg, the flat coastal area, river flats and most surprisingly to me—a couple of lines running through stands of majestic eucalyptus; losing trains altogether, as a result of the dense network of main lines, branches off branches and sidings to serve growers all seemingly hiding in the tall uncut cane; a train of fulls doubling a hill, with the second run in the last rays of sunlight being as dramatic as any train I could remember; an operating hub on the site of a now-closed sugar mill which retained a kind of grimy down-at-heel aesthetic I hadn't experienced for years; a high-tech solution of the cane railway crossing Queensland Rail's busy 3'6" electrified north coast line by drawbridge, triggered by the driver of a cane train and fully interlocked with Queensland Rail's Remote Controlled Signalling system.
Oh yes, that spark of interest was smouldering quite nicely.
---
What detail there is! There are branches off branches off branches and sidings everywhere.


There's a lot of organization that goes into getting the cane to the mill, and planning for one season's crush really starts at the end of the previous season.
It's a balance between expected growth rates, area under cultivation, when the previous crops were planted and the fact that there are only so many crews, locomotives and sugar bins available.
A critical consideration is that the sugar content of the cane varies over the crushing season, and since growers are paid according to the sugar content, all growers have their crops harvested across the season to ensure that on average, there is no particular advantage given to one grower over another.
Since the sugar content drops once the cane is cut, there's an urgency to get it to the mill within 24 hours, but here's another balancing act, since the mill's capacity is about 500 tonnes of cane per hour. Have too little cane cut and ready to deliver and the mill must stop – which is an expensive situation to be in – but deliver too much and delay the cane being crushed and the sugar content drops. All those trains returning cane from the fields are in effect a moving storage system, timed to provide just the right amount of cane to the mill.
All of which adds up to this: getting the cane to the mill smoothly and efficiently, balancing the crews, locos and bins available to maximise the sugar extracted from the cane with the demand and expectations of the cane growers is a complex and delicate process. And on any given day, added factors can come into play, such as rain, which will halt the harvest.
Train control is overseen by an in-house system based on Mapinfo, and since every loco is fitted with GPS the big screen that dominates the office shared by the Traffic Officers (dispatchers) shows the location of every train, updated every 40 seconds. Detailed views can be brought up on their desktop screens.
And, oh my goodness! What detail there is! There are branches off branches off branches and sidings everywhere. It's no wonder I managed to lose trains in the fields. Considering that all turnouts are manually thrown by the driver's assistant, I wondered whether train drivers ever got confused and took the wrong line, but I was assured that no, they didn't.
---
I was ahead of the crew, with the day's start being delayed because overnight rain had delayed harvesting in the fields.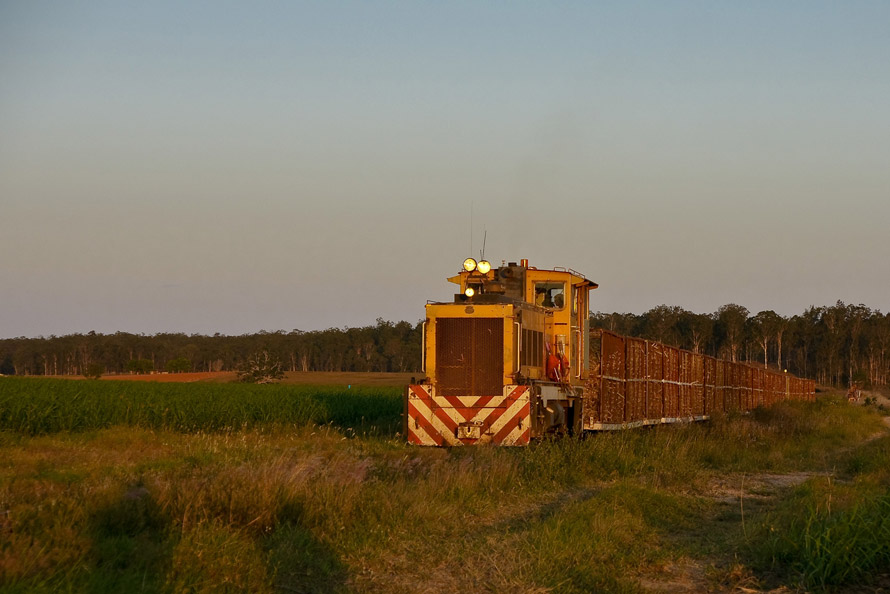 Wallaville is pretty much at the western edge of the Bundaberg Sugar system, and operates as an out-depot of Bingera Mill. Its yard occupies the site of the old Queensland Government Railways (QGR) station and yard. The line to Wallaville from Bingera was originally part of a 3'6" QGR branch line, until it was closed and sold to the Gin Gin Sugar Mill. It was subsequently partly re-gauged to 2 foot gauge for use as a cane railway in 1964. The Bingera Sugar Mill purchased the Gin Gin Sugar Mill in 1965 with closure of that mill coming at the end of the 1974 season. The cane railways around Wallaville were then connected to the Bingera system by the full re-gauging of the former QGR branch line.
Due to the large distance and steep grades between Wallaville and the Bingera Mill, new locos were ordered for this task. Three E.M. Baldwin 26 tonne locos were built with the capability of remote control or slave train operation, a first in the sugar cane industry. The yard at Wallaville was strategically built for efficiently marshalling these so-called slave trains. Smaller locos were then based out of Wallaville to service all the former Gin Gin Sugar Mill branch lines and assemble rakes of up to 100 full bins. It's been several years though since slave trains operated anywhere on the Bundaberg Sugar system
Driving in to the complex on a November morning, I was ahead of the crew, with the day's start being delayed because overnight rain had delayed harvesting in the fields. The locomotive assigned to Wallaville, the Burnett, was locked away in a fenced compound to the rear of the old QGR station building, with a sand dryer to one side. A small fuelling point and the old Gin Gin Sugar Mill traffic office (formerly the QGR Station Master's house) rounded out the facilities.
Not long after, the driver and his assistant arrived and got the Burnett ready. With the day's run sheet in hand, the crew soon got to work, dropping off small rakes of empties and picking up fulls to store in the yard. I followed the crew for the day, watching them work, losing the train a few times, with an interlude following the Miara, which had run up from Bingera to collect all the available fulls, to run down the impressive track back to the mill. That's the pattern at Wallaville: a smaller loco spending the day in the fields, with a bigger loco running a single train to the mill.
It looked intense to me, but the driver told me loads were well down on former activity since deregulation, with a number of growers opting to send their cane to the competing Isis Central mill. In its heyday, up to 900 bins per day would need to be hauled from around Wallaville to Bingera Mill but these days you would be lucky to see 100 bins.
---
It was one of those moments that doesn't last very long but will linger in my memory forever.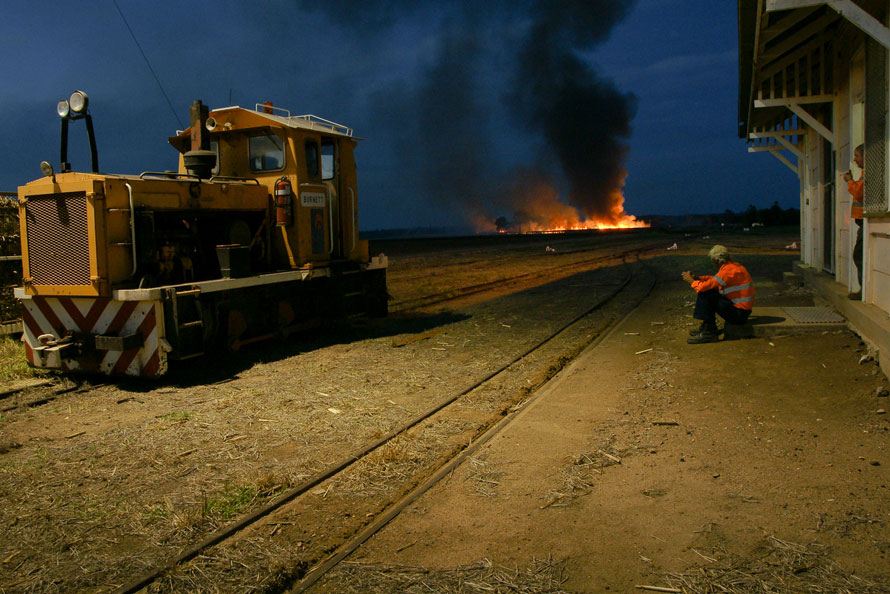 By sunset, after a steak at the nearby pub, I went to watch the crew finish off their work. During a brief break for a chat, a smoke, a sandwich and a cup of tea, our discussion was briefly interrupted by the sight and sound of a field being burnt. For just a few seconds the air was filled with the sound of old cane burning, and a bright orange glow from the flames lit up the sky to the north. The spectacle stopped all discussion until it died down, and work resumed. It was one of those moments that doesn't last very long but will linger in my memory forever.
From having almost no interest in cane railways, I'd grown to admire the work they do in the fields as a part of the landscape they serve, and the people that work for them. Like that cane fire, my interest had smouldered from a small spark into something more intense, leaving me with memories I'll never forget.
Alan Shaw – Text and photographs Copyright 2018
---
See more of the Bundaberg district's sugar cane railways here:
 https://flic.kr/s/aHsk5D6713

"One Sweet Conversion" was adapted from an article that originally appeared in the May and June editions of Railway Digest.