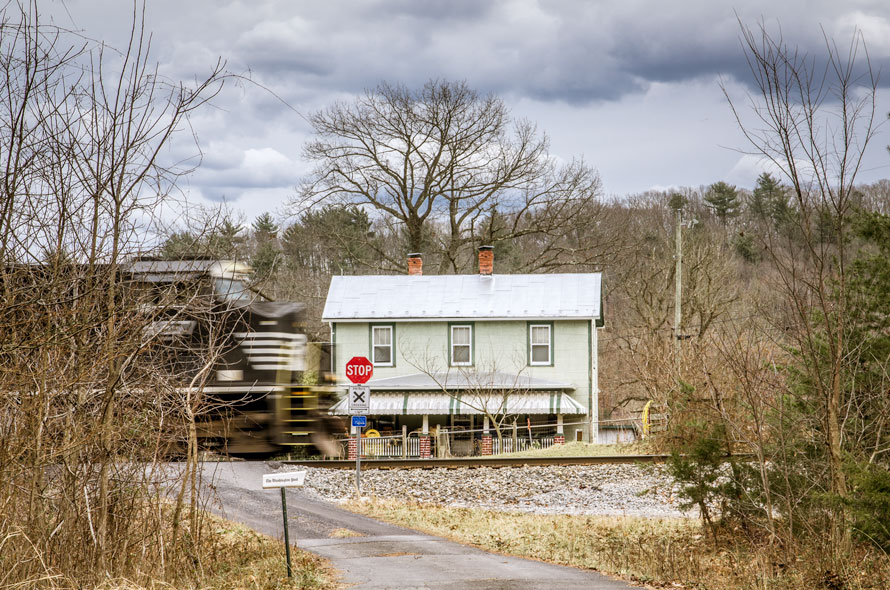 I suppose you get used to it: the dishes rattling in the cupboard, the thundering locomotive, the diesel fumes invading the front porch, the clack of wheels on steel rail, the wait in the driveway for a train to pass.
Life along the tracks. It may be hard for railfans to appreciate that if you live this close to trains, the railroad becomes commonplace, or perhaps a nuisance. The early morning noise, your favorite TV show drowned out by a train—the railroad is an inescapable part of your day to day life.
Track houses fascinate me. When I was a boy in the 1950s, my uncle's house sat on top of a cut above the Norfolk & Western tracks along the James river. In those days, steam locomotives were still common on the N&W and the sound of an approaching train would make me drop whatever I was doing and race to the edge of the bank to watch. As the train passed below, steam and smoke billowed up practically in my face, and I could just see the top of the locomotive through the brush. It was exciting and wonderful. My uncle lived in that house for nearly fifty years and paid no attention to a passing train.
I sometimes wonder what it is like to live so close to the tracks, but I am not sure I want to find out.
---
Click on the photo to open in viewer
---
And, by the way, living by the tracks may be inconvenient and noisy, but it could be worse. From 1956—"The railroad runs through the middle of the house."
---
Edd Fuller – Photographs and text Copyright 2019