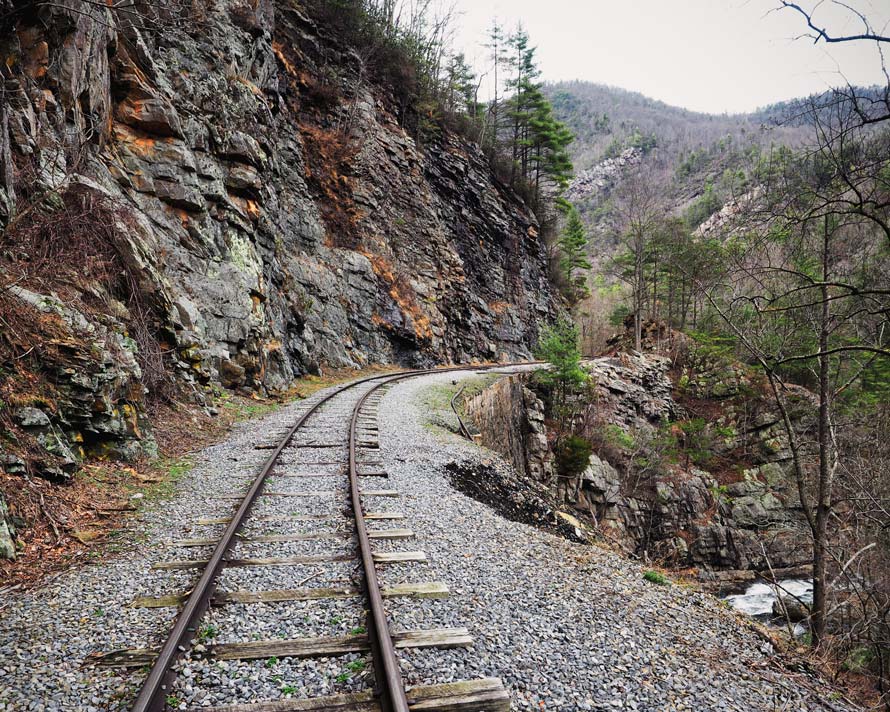 The East Tennessee and Western North Carolina Railroad (ET&WNC) was a mainly narrow gauge line that ran from Johnson City, Tennessee to Cranberry, North Carolina.  The original intent of the line was to haul high-grade iron ore from the mines at Cranberry to transfer points in Johnson City.  The ET&WNC began operations in 1881 as far as Cranberry, and by 1918 the railroad reached Boone, North Carolina.  The ET&WNC was also laid with dual gauge tracks from Johnson City to Elizabethton, Tennessee and  served two rayon plants there.  The little narrow gauge served the people of the mountains faithfully for many years, and become known affectionately as "The Tweetsie."
World War II brought boom times for the narrow gauge as workers were needed at the rayon plants in Elizabethton for the war effort.  The ET&WNC made several daily trips into the mountains to transport these workers.  After the war, however, things declined quickly for the little narrow gauge.  The end  finally came in 1950 when the narrow gauge could hang on no longer due to loss of revenue.  The standard gauge portion remained for many years afterward, but these days serves only as a small switching operation in Johnson City.  Of the narrow gauge locomotives that worked for the ET&WNC, only one remains at Tweetsie Railroad in Blowing Rock, North Carolina.  Old #12 will be turning 100 years old this year, and the best part is Tweetsie Railroad meticulously maintains and runs the old girl.
One of the most scenic portions of the line was the rugged Doe River Gorge.  In a roughly 3 mile section the railroad would hug the side of the mountain along high ledges, pass through four hand cut tunnels, and cross the Doe River twice on steel bridges.  When the railroad ended narrow gauge operations the entire track was removed and portions of the line became a county road.  It is still possible, however, to walk through most of the Doe River Gorge.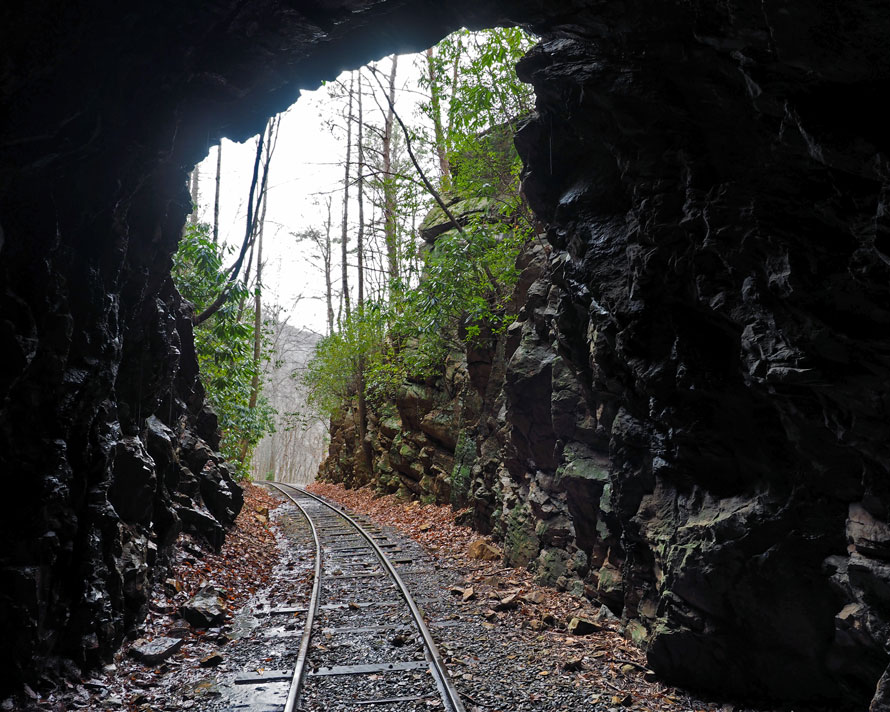 In some of these pictures you will see rails.  These were actually laid in the late 1970s for a failed attempt at a theme park.  Today the ET&WNC Railroad Historical Society runs occasional short rides up into the gorge with a small Plymouth Diesel and a flatcar outfitted with benches.  There is also a Christian camp at the lower end of the gorge, and you have to go by their office to let them know you want to hike.
On an overcast Martin Luther King Jr. day in 2017 I took my two sons for a trek into the gorge.  We ended up hiking nearly the entire gorge for a combined total of 6 miles.  Today the rugged Doe River Gorge is as beautiful as ever and if you listen carefully you can almost hear the shrill whistle of the little narrow gauge locomotives as they wind through the mountains.
Click on the photograph to open in viewer
Jason Stamper
–
Photographs and text Copyright 2017