Part Two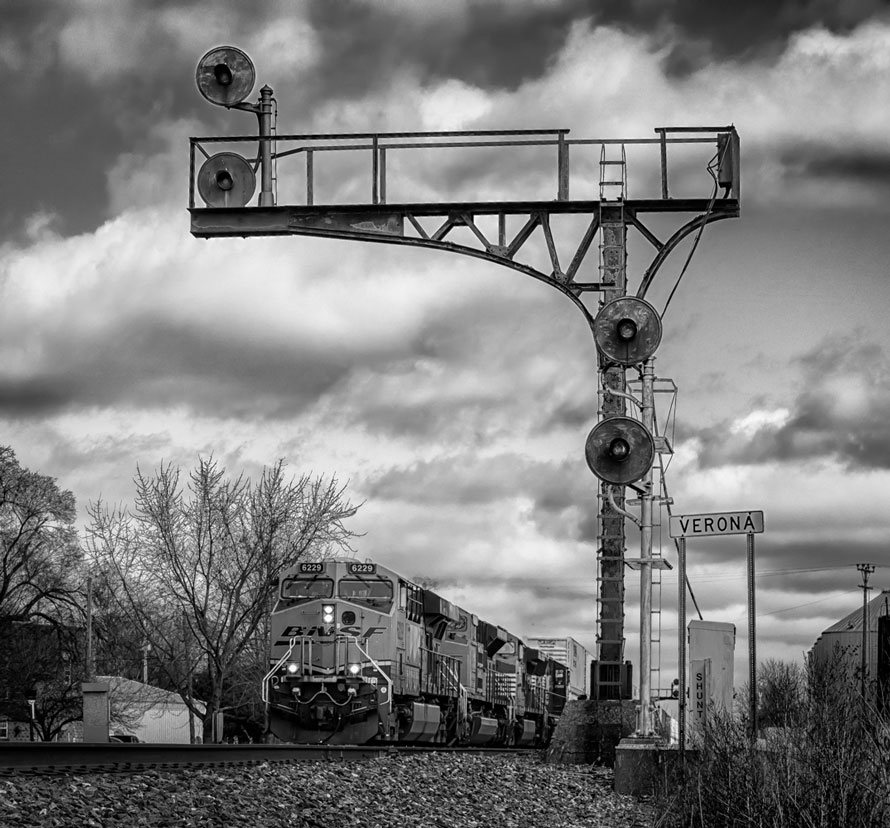 Early on a cold February morning in 2016, I left Topeka, Kansas for Prairie Village; a suburb of Kansas City. I was picking up my Mom and brother to continue my effort to photograph as many of the "old signals" as could be found. On most Class 1 railroads in the country, PTC is quickly taking over and I made it a priority to head east and document a few of the remaining color position lights, cantilever searchlights, and tri-lights before they were gone forever. This would be a continuation of the trip I took in August to photograph the last semaphores in New Mexico, and, as with that trip, the evidence that the end is near for the "old signals" was a constant on most of the journey.
On day one, after departing Kansas City, we headed for the small town of Verona, Illinois on the BNSF's Chillicothe Sub. At Verona, we found two Santa Fe era cantilever signal bridges, each mounted with four Union Switch and Signal Co. searchlights. Once we arrived, it did not take long for the first westbound to appear. As the high priority double stack raced under the signals, I could not help but think of the days when brightly painted Santa Fe Dash-9 Warbonnets hustled high priority TOFCs (trailers on flat cars) under these same signals. After two more west-bounds passed, it was time to continue east. We had many more stops and only a few days to see all that we could. The remainder of the day was spent making our way to Michigan City, Indiana. Michigan City yielded no signals of note. The diamond on the west end of town where the Northern Indiana Commuter Transportation District's South Shore Line crosses Amtrak's Michigan Service Line is now controlled by Positive Train Control (PTC). With day one officially in the books, my attention again turned to the "old signals," as day two would start early in LaPorte, Indiana.
---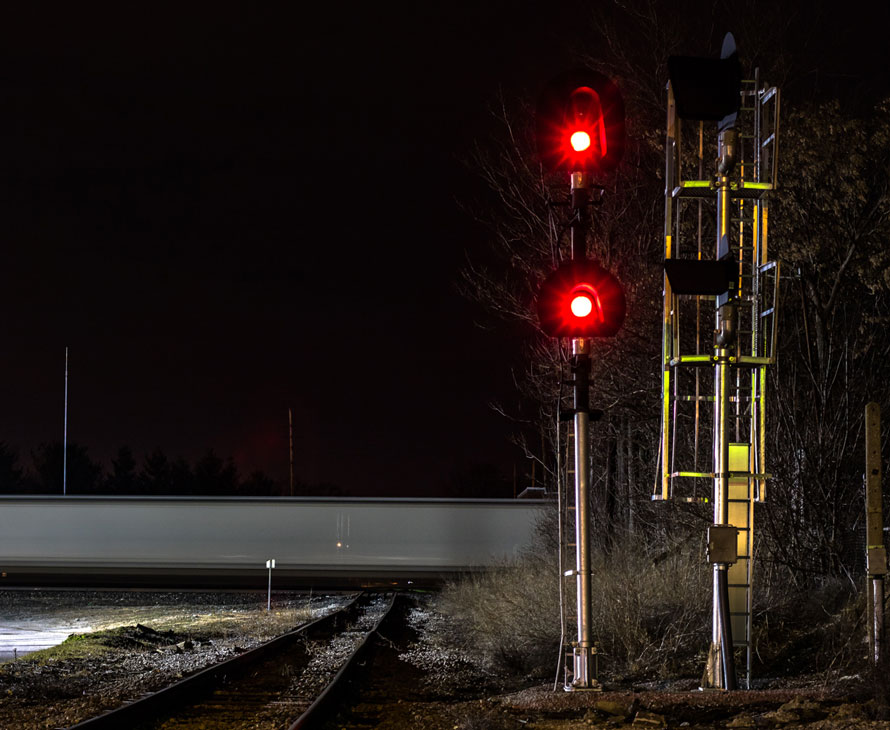 At four a.m. on day two, with a bitter north wind blowing off Lake Michigan, I found my way to the diamond at LaPorte in hopes that the old "tri-lights" that date to at least Conrail were still standing. I found that where the Norfolk Southern's former New York, Chicago, and St. Louis Line, better known as the Nickel Plate, crosses the Chicago, South Shore, and South Bend (CSSB) Freight Service Line at grade, four new PTC signals were in place, but the "old signals" were still active. I noticed immediately that not even "newer" signals are immune from the torch as a pair of "Darth Vader" signals on the CSSB have new PTC signals standing next to them, waiting to be activated. As I snapped a few shots on the CSSB Freight Service Line a Canadian National grain train crossed the diamond at speed. I wondered if the General Railway Signal Co, tri-lights on the Norfolk Southern had been active when the Nickel Plate ran named passenger trains like the Nickel Plate Limited and the flagship of the Nickel Plate passenger fleet known simply as The Limited between Chicago and Buffalo. With little time for nostalgia, it was time to move. The sun was beginning to show on the horizon and we had a date with a cantilever in South Bend, Indiana.
When we reached South Bend, it did not take long to discover a set of tri-lights guarding the Norfolk Southern's Chicago line. Positioned next to the tri-lights were the brand new PTC signals that will soon replace them. While it was nice to come across these remnants of the New York Central, Penn Central, and Conrail era before they disappear forever, these were not the reason we had come to South Bend.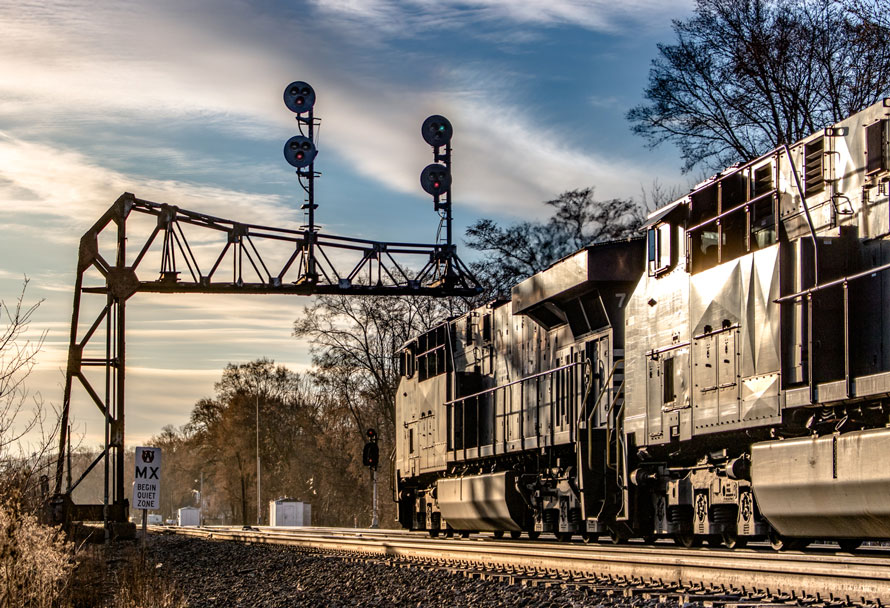 Norfolk Southern's Chicago Line is home to the sole surviving New York Central cantilever signal bridge between Buffalo, New York and Chicago, Illinois. With four tri-lights mounted vertically, these signals stand on the former New York Central's Buffalo Line as a reminder of a bygone era. Shortly after arriving trackside, one of the tri-lights turned green and it was not long before an eastbound Norfolk Southern manifest rolled under the cantilever, followed shortly by Amtrak's westbound Lake Shore Limited. The Lake Shore Limited precedes Amtrak, plying these same rails and passing the same cantilever signal as one of New York Central's premiere trains of the same name from New York to Chicago. Running short on time in South Bend, it was time to drive a few miles east to Elkhart, Indiana.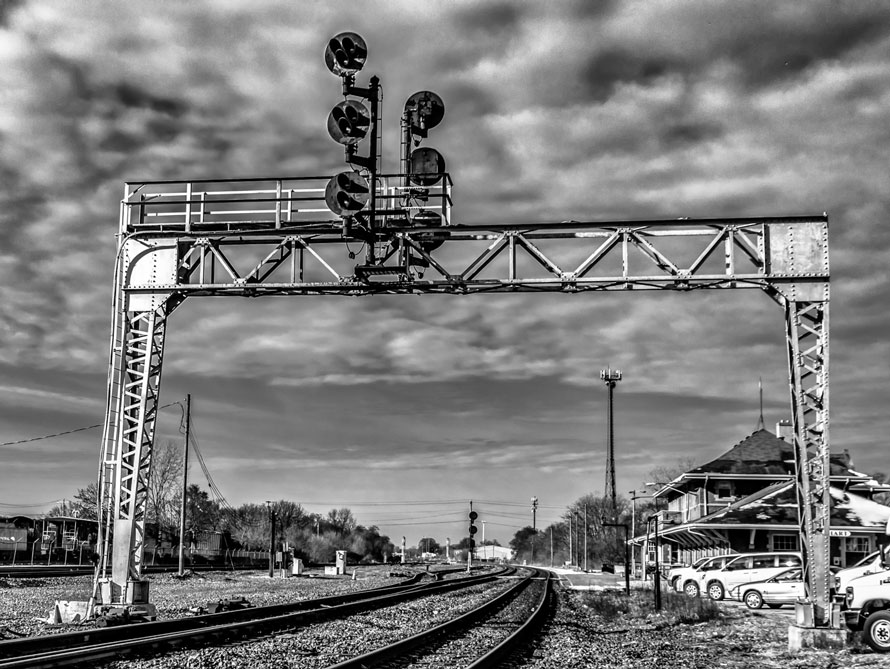 Arriving at the depot in Elkhart, we were treated to a platform full of people boarding Amtrak #29, the westbound Capital Limited. Standing above the train was another relic of the New York Central, having also seen trains of the Penn Central, Conrail, and finally Norfolk Southern along with passenger trains of Amtrak. I am talking about the signal bridge, with three tri-lights mounted vertically, that sits just east of the depot at Elkhart. Photographed by many, this icon of Northeastern Indiana railroading still stands guard over the junction of Norfolk Southern's Chicago Line, Marion District, and the Kalamazoo Branch (leased to Grand Elk Railroad).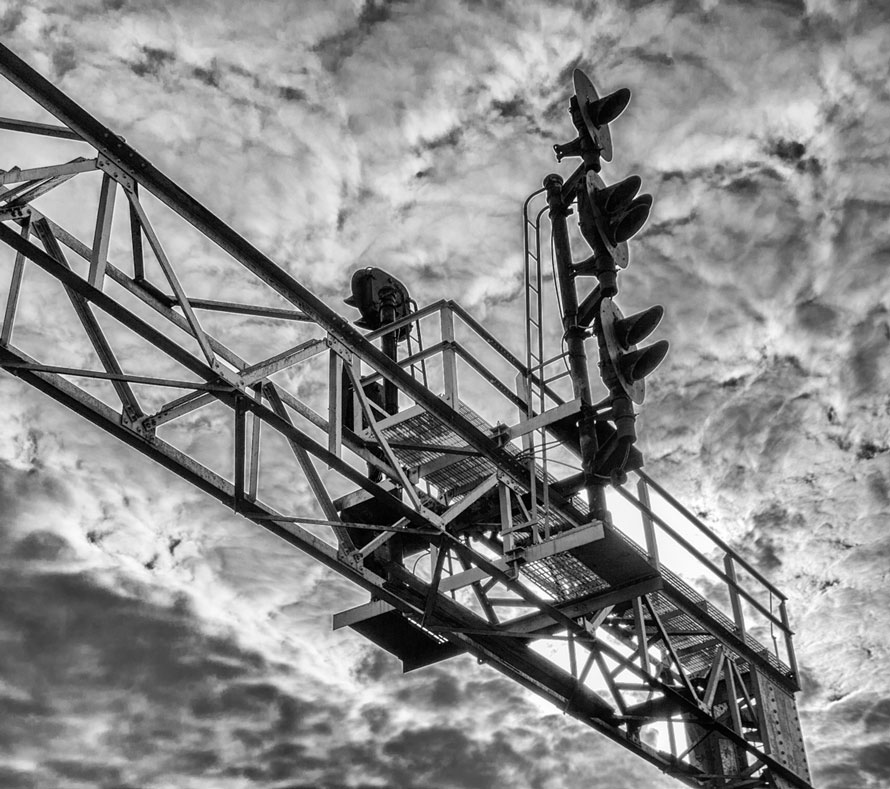 Standing west of the depot was another set of post mounted tri-lights holding an eastbound manifest waiting for the Capital Limited to depart. Once Amtrak made its way west, the Norfolk Southern manifest was given the all clear and the big ACe led its train east. Happy to have seen and photographed this bridge and signals before they are lost to history, it was time to chase a manifest south on the Marion District.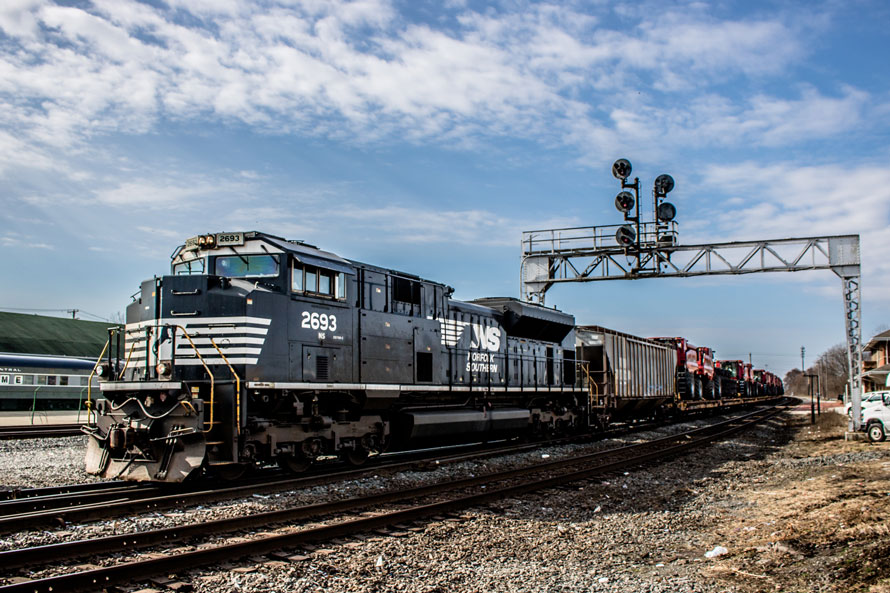 As we worked our way towards Warsaw, Indiana, we passed a few remaining color positions lights, many with the new PTC signals standing next to them, but with little time to spare we were unable to stop as we made our way south.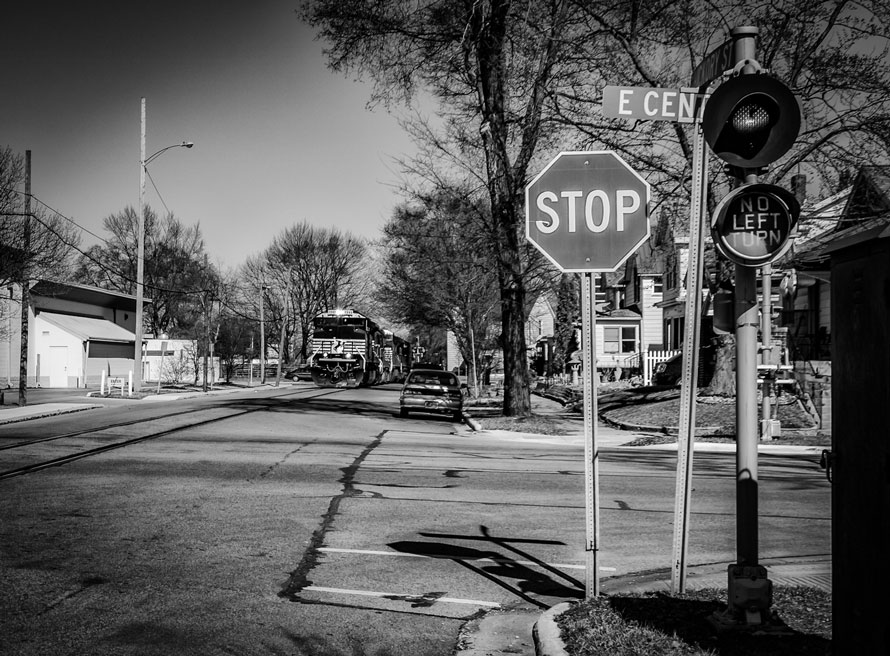 Once in Warsaw, we positioned ourselves on S. Hickory St. next to a traffic crossing signal with a single flashing light and a lighted "NO LEFT TURN" target. It did not take long for the manifest I mentioned earlier to begin working its way down Hickory St. With the click of a relay, the signal began to flash and the sign lit up. As the NS manifest made its way past our location, it passed one of the remaining color position lights on the Marion Branch which guards the crossing of the Norfolk Southern (former New York Central) and Chicago, Fort Wayne, and Eastern (former Pennsylvania RR). Falling quickly, these remnants of the NYC and Pennsy will soon be gone forever.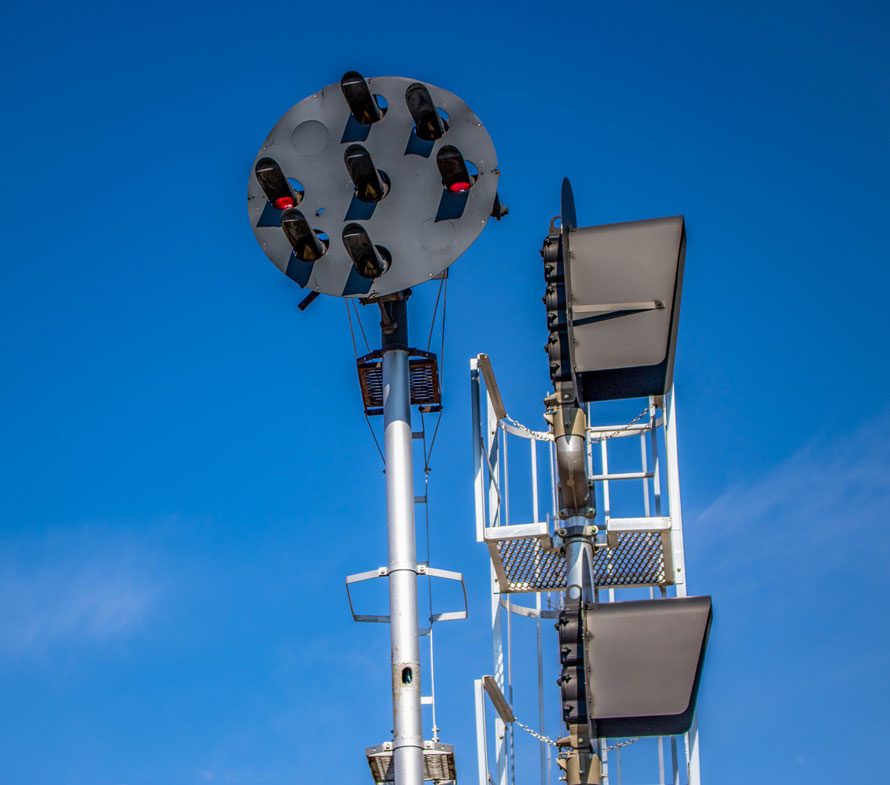 We stayed in Warsaw for a short time and photographed the color position lights before continuing to Indianapolis for the night, in the morning we were heading to Illinois in search of searchlights.
---
On day three we made our way to Tolono, Illinois, where we saw constant reminders of the new "Darth Vader" signals that are quickly replacing the searchlights that stand on the Norfolk Southern's Springfield-Hannibal District. As we approached Tolono we spotted a set of searchlights whose days are numbered.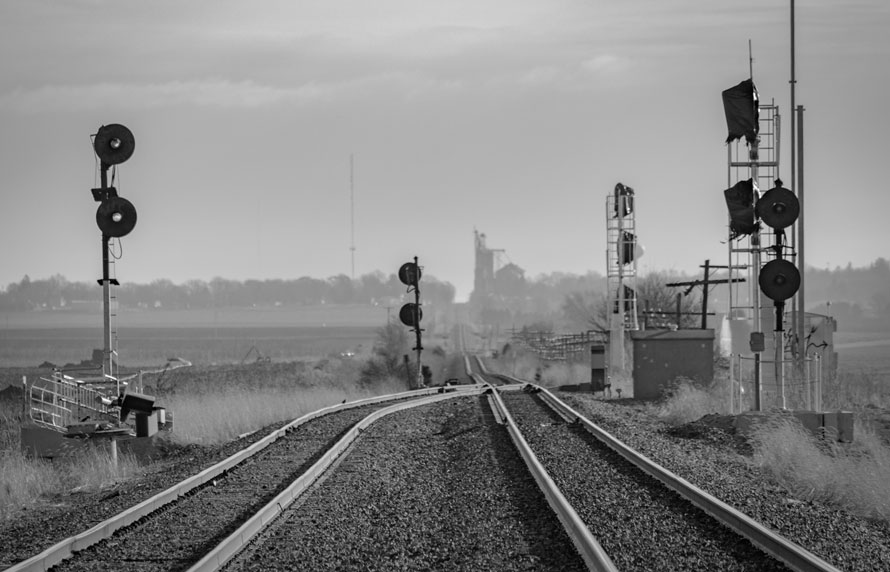 Their replacements are already standing, waiting for the day in the near future when they will be turned and activated, marking the end of a job well-done for the searchlights. Positive Train Control is in place at the diamond where the Norfolk Southern (Wabash) crosses the Canadian Nationals (former Illinois Central Champaign Subdivision), which is the same line that carried the Illinois Central's City of New Orleans from Chicago to New Orleans. We captured a few trains on each line, and decided it was time to leave Tolono. This time we would head to Springfield, Illinois with the hope that we would come across some searchlights. We were not to be disappointed.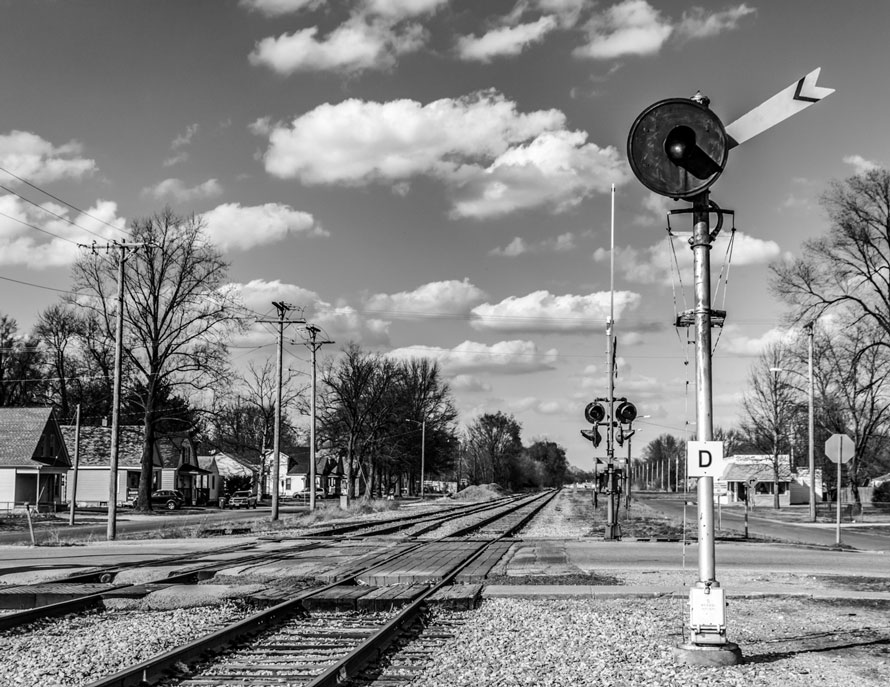 Arriving in Springfield late in the afternoon, we immediately headed for the diamond where the Norfolk Southern crosses the Illinois & Midland (I&M, former Chicago and Illinois Midland). When we arrived we found that all of the searchlights that guard the crossing are still in place, including a single US&S Searchlight with a fixed semaphore just north of the diamond on the Illinois and Midland. We were pleasantly surprised that not only are the searchlights still in place, but Shops Interlocking Tower still stands next to the diamond, though no longer manned.
The tower would have overseen the movements of countless freights, the Wabash's Detroit to St. Louis Wabash Cannonball, and the Chicago and Illinois Midland two-each-way daily passenger trains. I doubt these signals ever stood guard over the Chicago and Illinois Midland passenger movements as service was discontinued in the 1950's. This is Union Switch and Signal country. All the searchlights that guard the four directions at the diamond were manufactured by US&S. After a few quick shots, and a couple of trains, we found a place to stay and I began planning for an early morning at the diamond.
---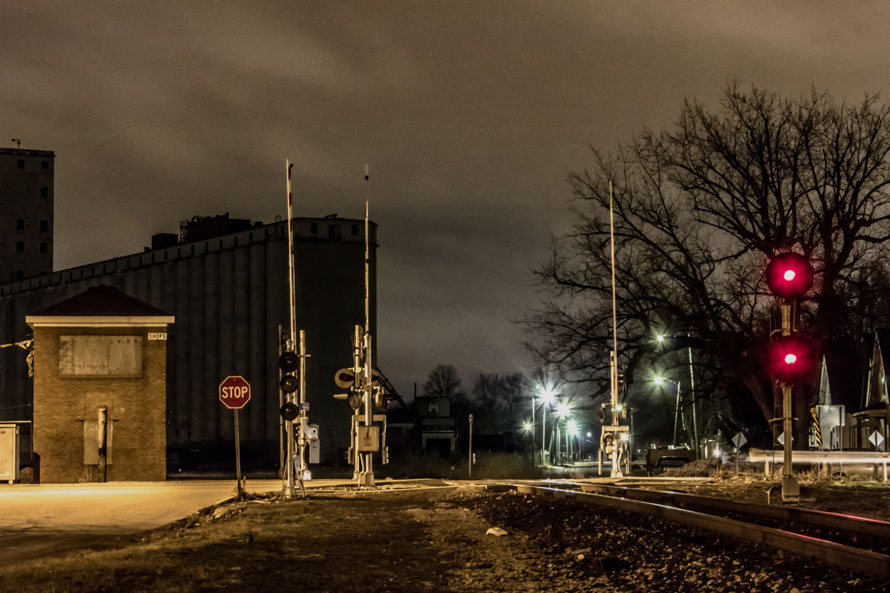 At four am on day four when my alarm sounded, I sprang out of bed, quickly dressed, and made my way to the diamond. I have always enjoyed the quiet of the early morning. While most people are still sound asleep I find it easy to get clear shots of most anything with very little traffic and this was the case with the US&S Searchlights on the Illinois and Midland that stand guard next to Shops Interlocking Tower. I captured my images, took one last look at the venerable old signals, and drove away knowing the next time I am in Springfield they will be gone.
Springfield was interesting. The I&M still maintains a number of searchlights along with many old crossing signals manufactured by US&S, including a unique traffic signal with "NO LEFT TURN," "NO RIGHT TURN," and a single flashing light. As the sun began to rise it was time to make our way home, but first we had to make a quick stop at Bucklin, Missouri. At Bucklin, there stands a Santa Fe era signal bridge mounted with US&S searchlights, and as luck would have it, we caught an eastbound stack train racing through town. What a fine way to end this trip—back on the BNSF, with a stack train, passing searchlight signals on the former Santa Fe.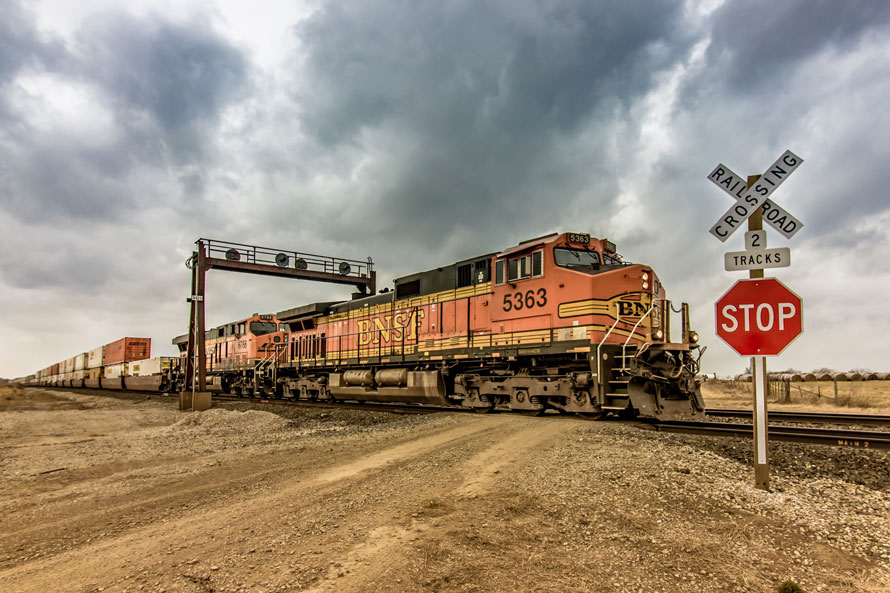 ---
On a separate trip to Indianapolis in January, I was able to capture images of the New York Central tri-lights on the CSX Indianapolis Line, which is the former New York Central Ohio Division. Before sunrise, I arrived on Massachusetts St. and it did not take long for an eastbound train of auto racks to appear. I positioned myself near the signal bridge and as the auto racks passed I was able to capture an image of these reminders of the New York Central before they are gone forever.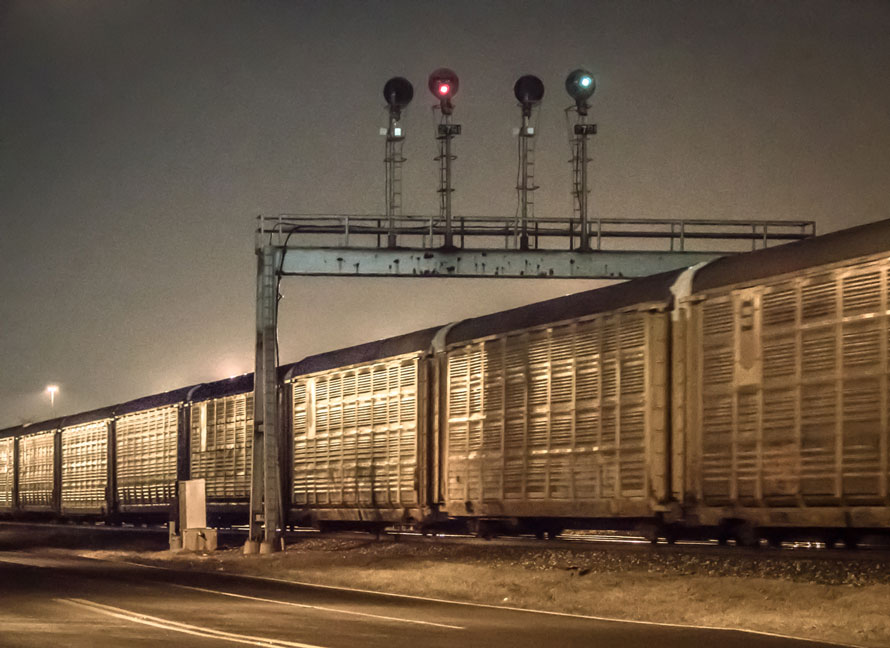 As soon as the train passed, I made my way west for Union Station, stopping along the way to photograph a pair of post mounted tri-lights giving the all clear for another eastbound. When I arrived on the CSX Crawfordsville Branch Subdivision, former Big Four rails, (the Cleveland, Cincinnati, Chicago and St. Louis Railway operated as an independent entity under the New York Central until finally absorbed in 1930,) I positioned myself west of Union Station near the very impressive tri-light mounted New York Central era signal bridge.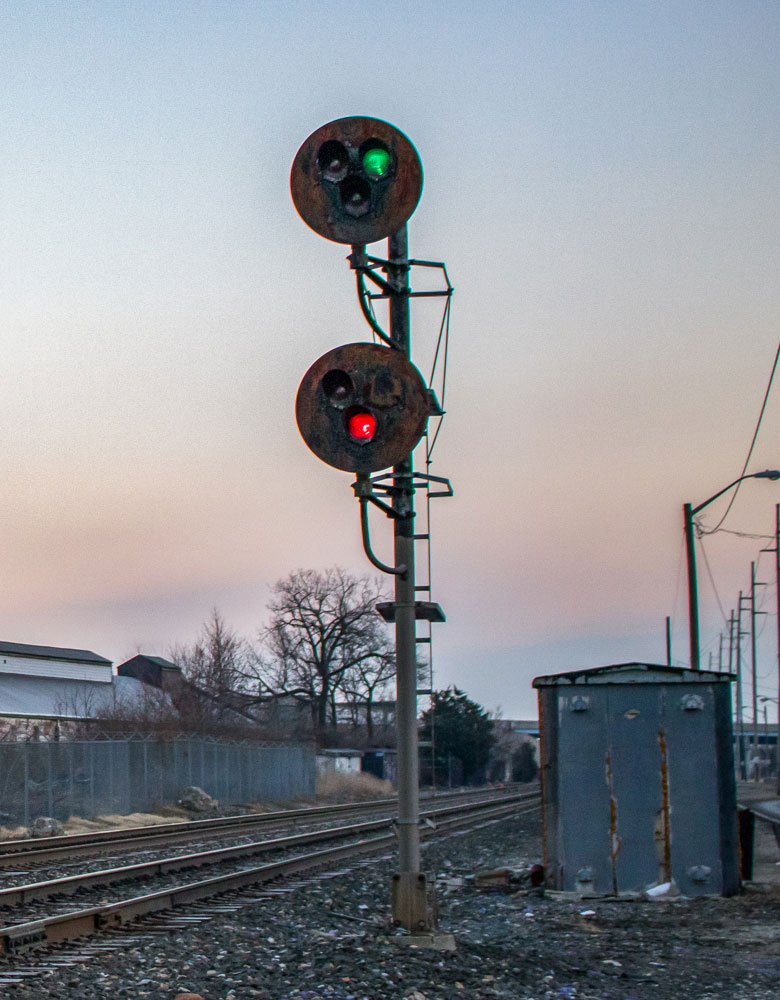 It was not long before an eastbound stack train showed in the distance. Not easily photographed due to a 6' high chain link fence, I was able to reach above the metal obstacle and get a couple images of the "old bridge" as a pair of Kansas City Southern SD70MAC's led their train east. After the final containers were past my location I snapped a couple pictures of the bridge, knowing that the clock is ticking and it too will soon fall.
---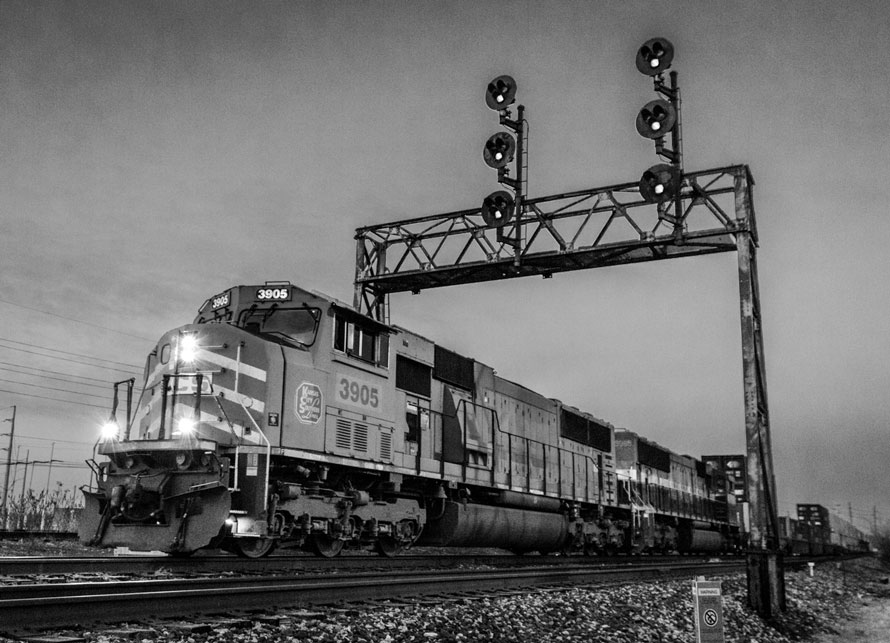 All in all, I traveled over four thousand miles, through nine states, to capture semaphores, tri-lights, color position lights, and color light signals. These signals began their service with many fallen flags including: the New York Central, Pennsylvania, Norfolk & Western, Missouri Pacific, Santa Fe, Wabash, and the Rock Island to mention a few. Some have stood for multiple owners, working through the Penn Central and Conrail eras before finishing their distinguished career with the Norfolk Southern, BNSF, CSX, and Union Pacific. I am glad I took these trips, and especially happy I could share these adventures with family. Whether an avid rail fan like me, or a novice, it was hard for them not to be impressed at the sight of these "old signals." With an appreciation for history, my father, mother, and brother knew they were lucky to see these pieces of railroad history before they are gone forever. I know I am. As I write this I continue to remember the words that a retired engineer told me upon hearing about my first trip, "shoot them while you can." I am glad I did.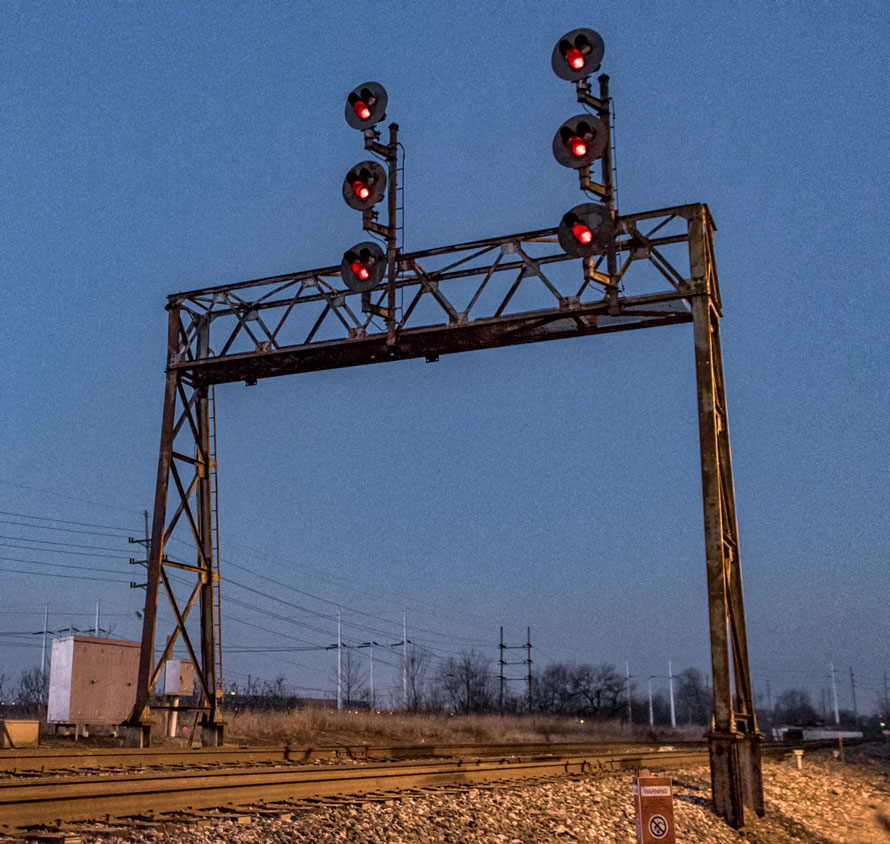 Cade Smith – Photographs and text Copyright 2017