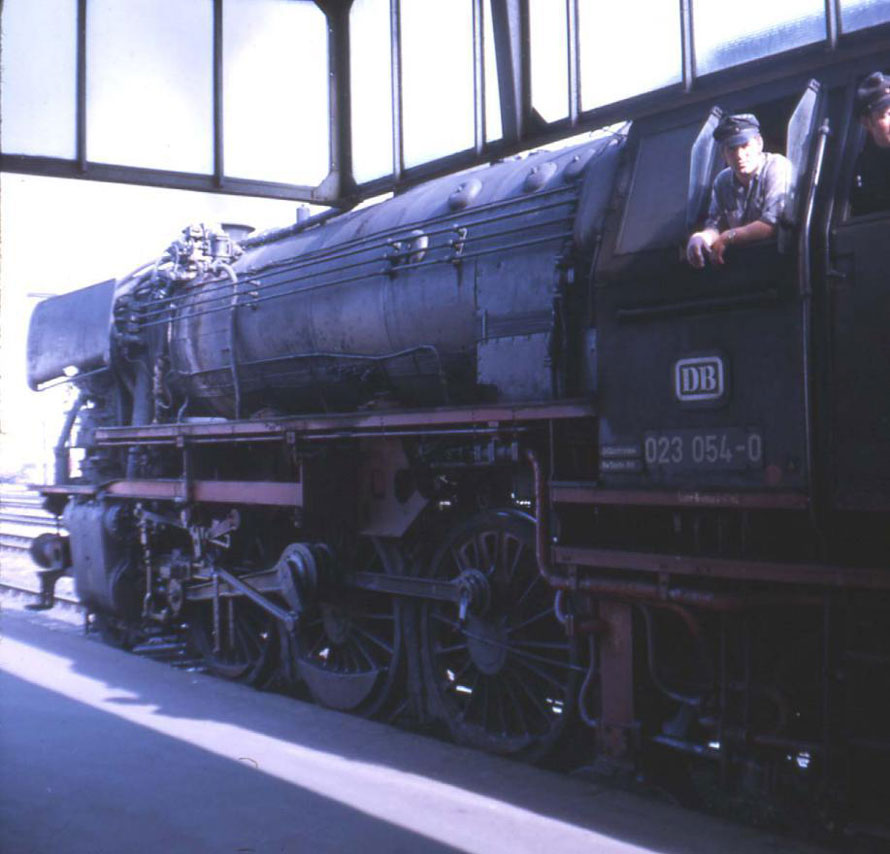 As a US Army soldier stationed in West Germany during 1971 and the first quarter of 1972, I had an opportunity to witness and photograph one of the last bastions of steam in regular service and to observe operations at a major train station.
The German Federal Railway (Deutche Bundesbahn or DB) was formed as the state railway system of the newly formed Federal Republic of Germany on September 7, 1949. The DB was a successor to the Deutsche Reichsbahn-Gesellschaft (DRG). The original DB remained the state railway of West Germany until after German reunification, when it was merged with the former East German Deutsche Reichsbahn (DR) to form Deutsche Bahn AG, which came into existence on January 1, 1994. The DB initials remained but the logo was slightly modified to a more modern style.
The post where I was stationed was located in Wiesbaden and was known as Camp Pieri. It was located near the top of a hill and on clear days you could see part of the city and even the city of Mainz, which was located across the Rhine River.
After being in Germany for a little while, I was itching to get out to do some train watching. I had no car at the time so I depended on public transportation to get around Wiesbaden.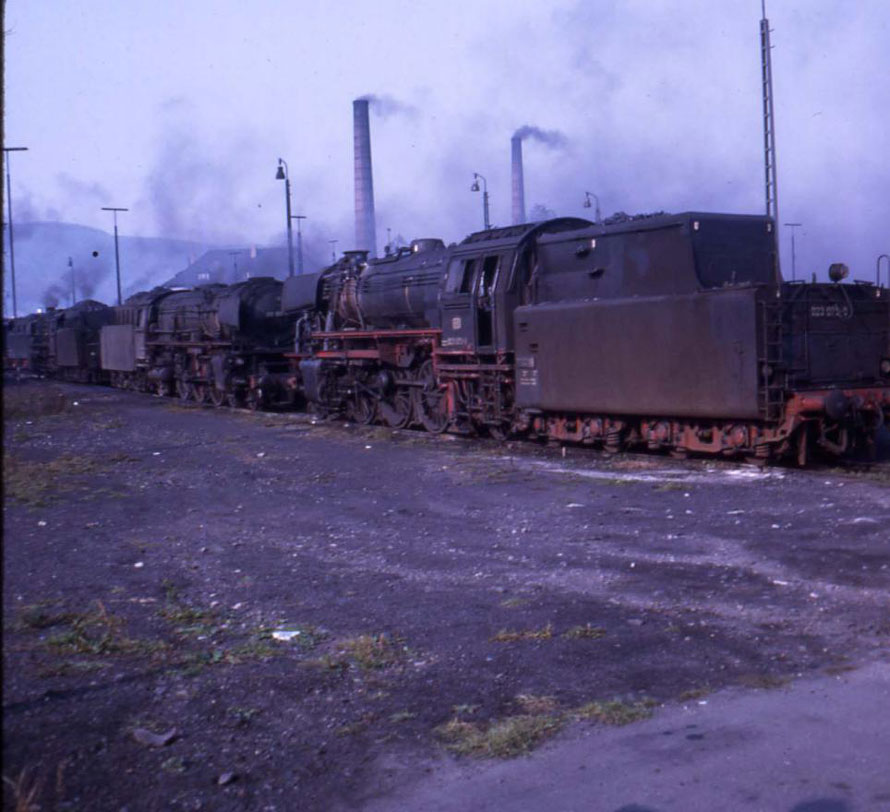 When I was able to buy my first car, which happened to be a 1971 VW Super Beetle, I drove to the city of Trier which is about a two hour drive southwest of Wiesbaden and approximately five miles from the border with Luxembourg. I don't remember how I learned about the existence of steam in this area but I was rewarded in what I saw.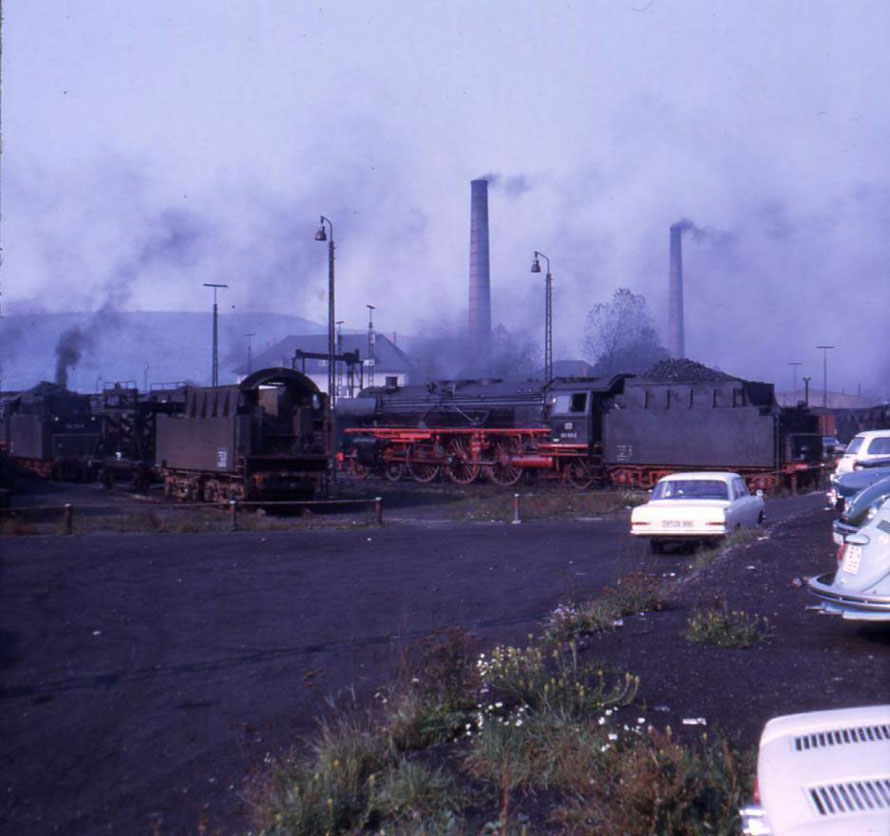 Seeing steam in regular service was quite impressive. I was there for only a few hours as a fellow soldier I talked into going with me was not a railfan and was itching to get going. I'm glad he came because I didn't feel comfortable driving in an unfamiliar area alone.
I didn't realize until I did a little research that DB took delivery of new steam locomotives into the late 1950s. DB ordered two Class 10 (4-6-2) locomotives in 1957 which had a semi-streamlined look, and in 1959 took delivery of the last of the Class 23 (2-6-2) type locomotives. Steam was gradually being phased out by the time I arrived in Germany and by 1976 it was eliminated in regular service. Electrification and dieselization spelled the end of steam. Travel time for passenger trains between cities was reduced by the increased use of electric traction.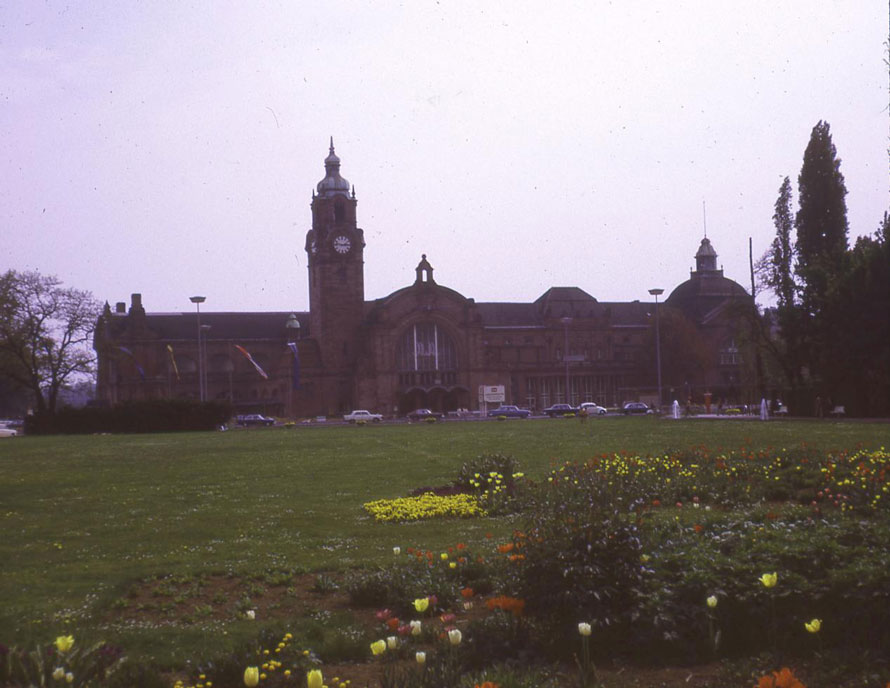 I spent some time at the main railway station in Wiesbaden. The station is quite impressive with its red sandstone block construction and the 131 ft high clock tower. It was constructed between 1904 and 1906 in what is described as a neo-Baroque style of architecture adopted for spa towns like Wiesbaden.
All the action was at the rear of the station building where the train shed is located. It consisted of a five-span steel and glass canopy structure that spanned 11 tracks. Trains come into the covered platform and reverse direction when departing the platform. This is known as a dead end station. Dead end stations are not that uncommon in Europe which makes for an interesting operation. A locomotive that brings a train to the station is uncoupled and another locomotive is coupled on what was the rear of the train to continue its journey.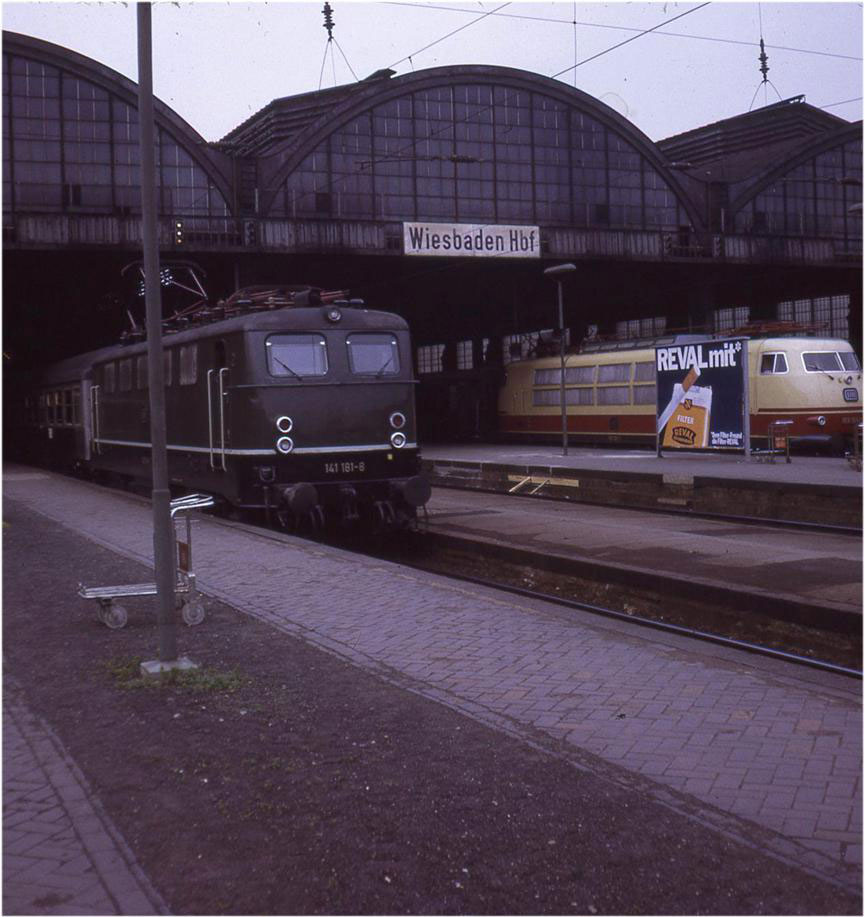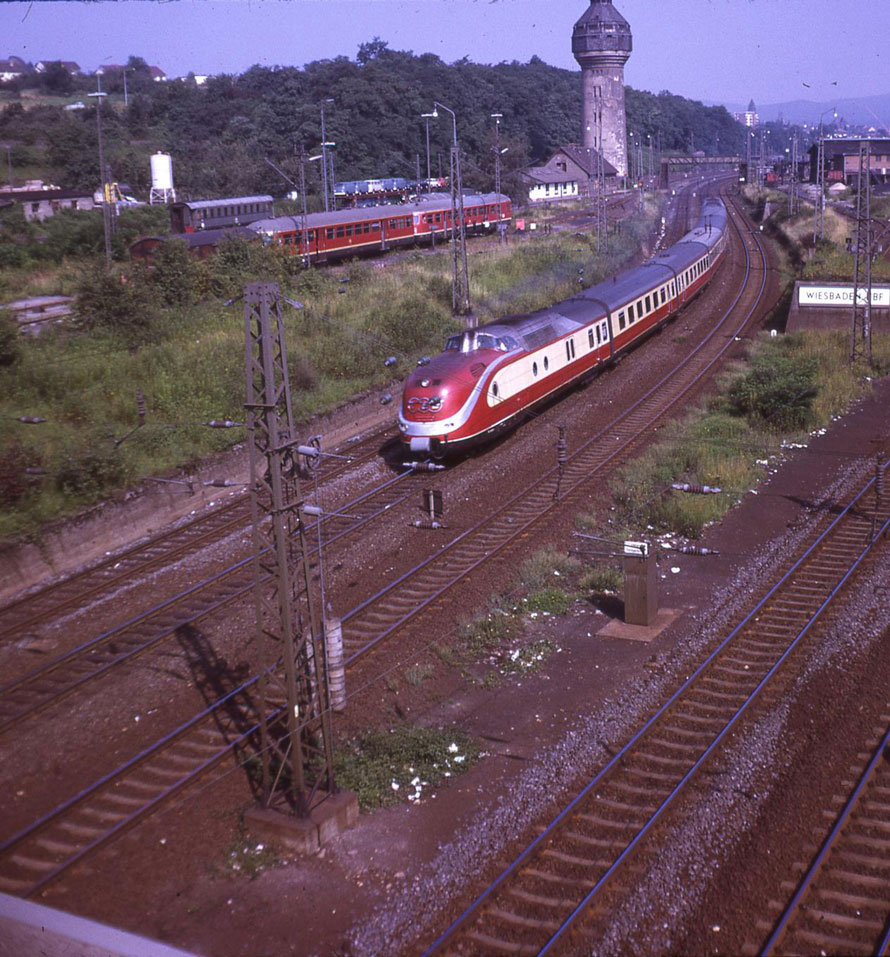 ---
Around February of 1971 I was sent to the U.S. Army School of Europe in the town of Oberammergau for training. Oberammergau is famous for its wood carving shops and is also where the Passion Play is performed in years ending in zero with an exception or two. The town is served by a 14.6 mile single track branch of the DB that terminates there. There is not much train action at Oberammergau but the beauty of the Bavarian Alps and the town made up for it.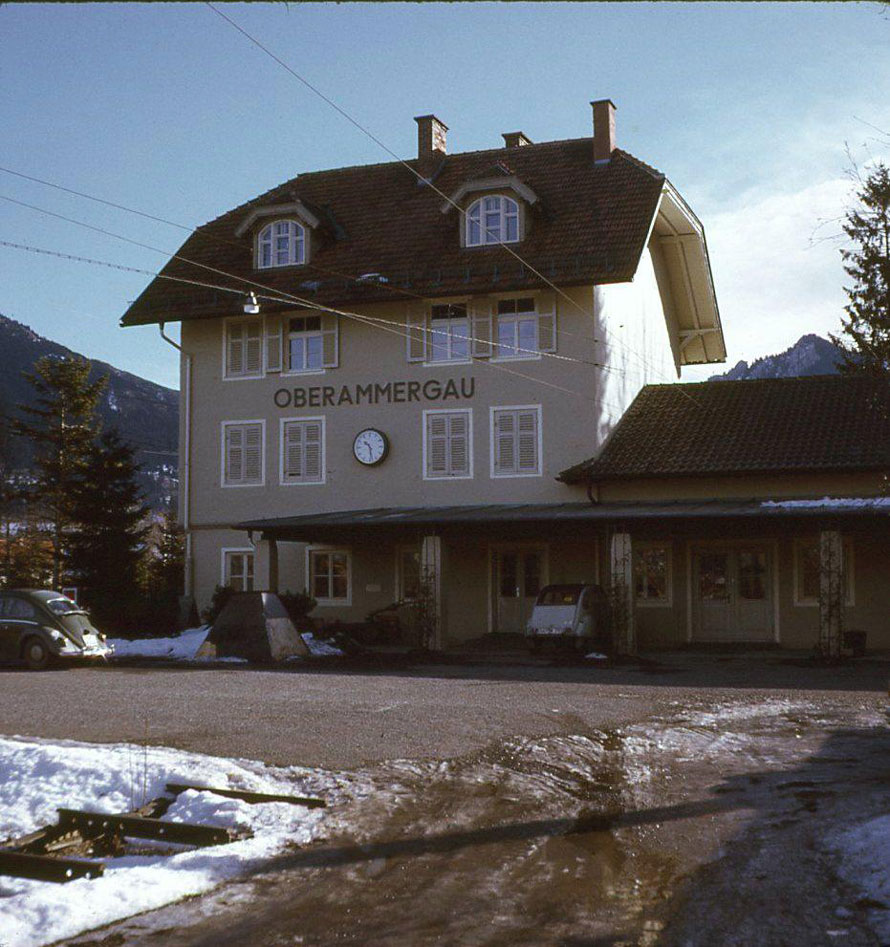 A fellow soldier at Camp Pieri became aware of my interest in railroading. It so happened that he had married a German national and her father worked for the DB. So one day he invited me to go with him to visit his father-in-law and he took us on a tour of the yard at Saarbrücken. I unfortunately did not have a camera with me that day but it was a memorable event. His father-in-law gave me two plates off a steam locomotive that I cherish to this day.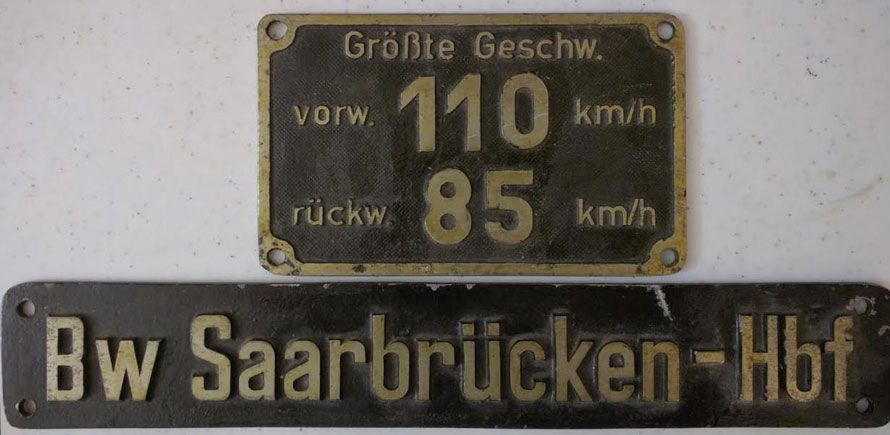 I left Germany in March, 1972 on a early release program from active duty  with the condition that I serve my remaining enlistment period in a National Guard unit. After completing my military obligation in June, 1973 and also my degree in Civil Engineering, I went to work for Southern Railway in Georgia in September of that year.
Doug Bess – Photographs and text Copyright 2017
See more of Doug's work at WVRails