The Scene in 1984
Among my nearly annual visits to the Canadian West, 1984 was a momentous year . At Portage la Prairie, Manitoba, I spent time trackside observing and photographing the many Canadian National (CN) and Canadian Pacific (CP) freight trains, as well as VIA Rail passenger trains that emanated from the provincial capital of Winnipeg, fifty-five miles to the east. At Portage, more lines (subdivisions) spread out. During that June visit, my genial hosts (aunt and uncle!) let me use their Toyota to visit many nearby Manitoba towns.
While the Western Canadian grain industry was contracting—undergoing major changes—I realized that the handwriting was on the wall for Canada's wooden "country" elevators. Consequently, I made the effort to photograph them. While doing so, I noticed myriad trackside details that completed the Manitoba trackside scene.
---
MacGregor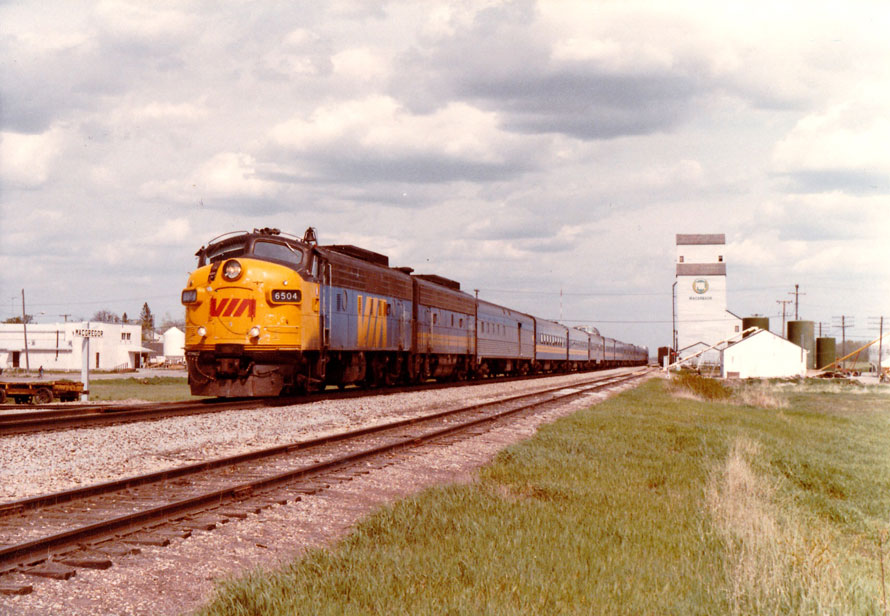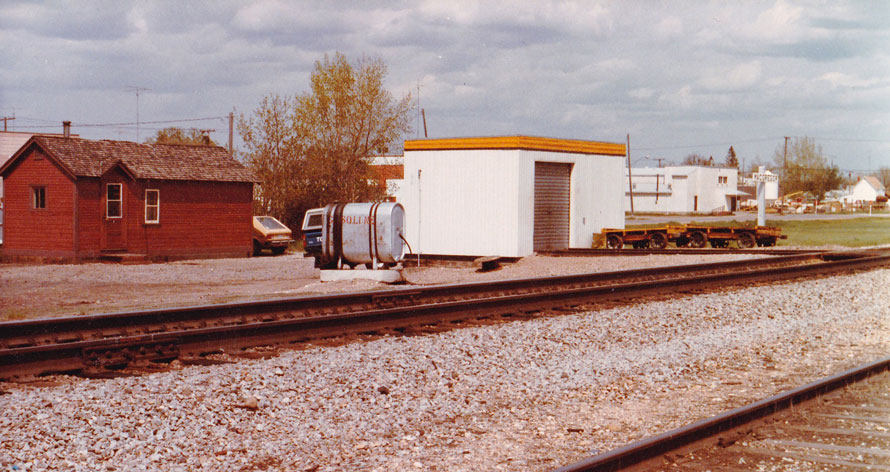 MacGregor was west of 'Portage' on the Trans-Canada Highway. Here existed all the elements of a typical Manitoba trackside view: grain elevator, fertilizer dealer, small station and basic track maintenance (section) facilities. VIA's Canadian, train Number 1 heads west.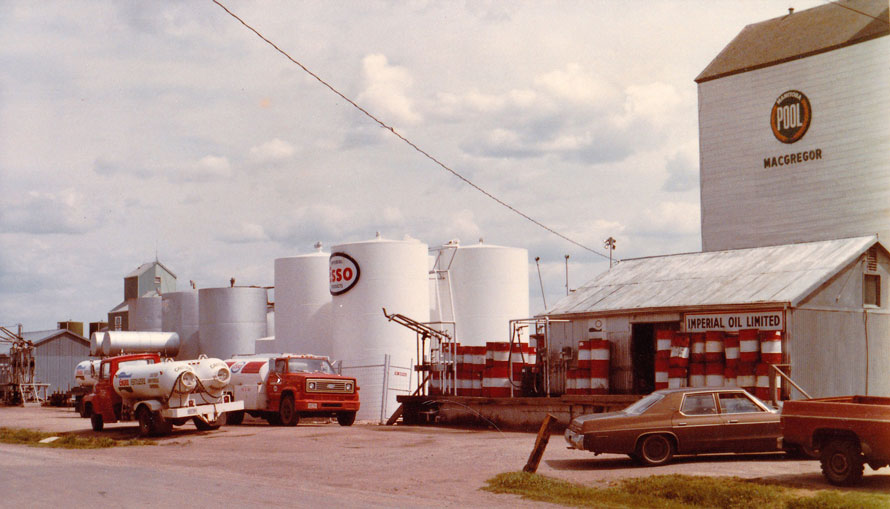 Across the CP tracks, Imperial Oil Limited/Esso oil and fertilizer dealer attended the needs of farmers in this rich agricultural region.
---
Burnside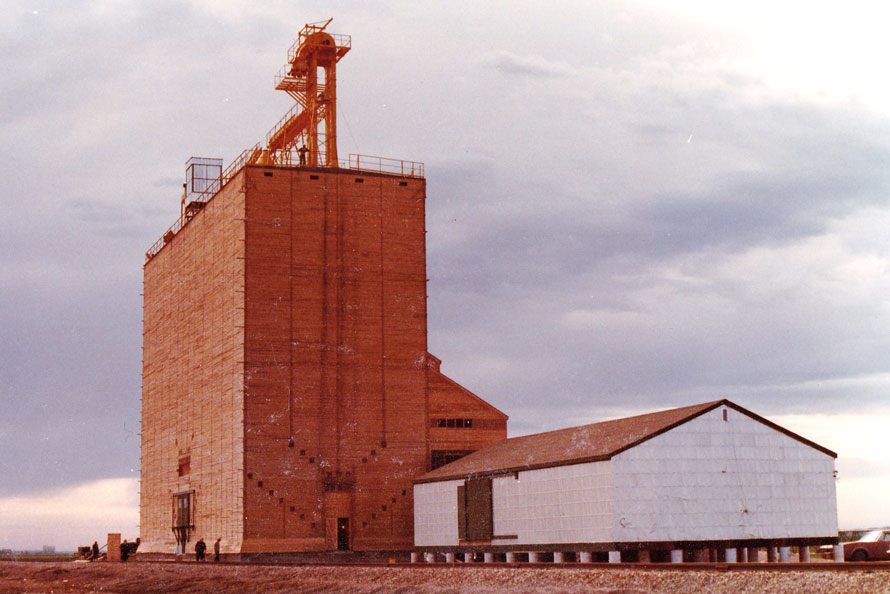 East of MacGregor—a rarity—a brand-new build! Perhaps one of the very last wooden elevators built, Burnside's as-yet-unclad Manitoba Pool Elevator vulnerably laid bare the millions of laid-flat board-feet of lumber used in its construction. Topside grain distribution equipment would remain un-housed. CP's Carberry Subdivision single-track mainline to Brandon to which the elevator track was connected, remains, though this elevator would be demolished in 2008!
---
Rignold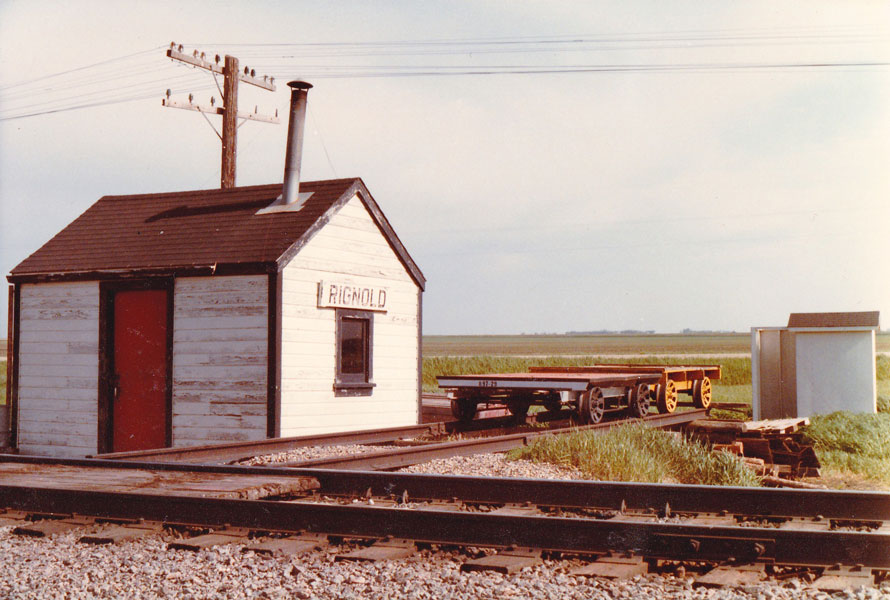 About nine miles north of Portage on CN's Gladstone Subdivision was Rignold. Here stood a small, sign-bearing section building, track car and comfort station: a white-washed privy!
---
Longburn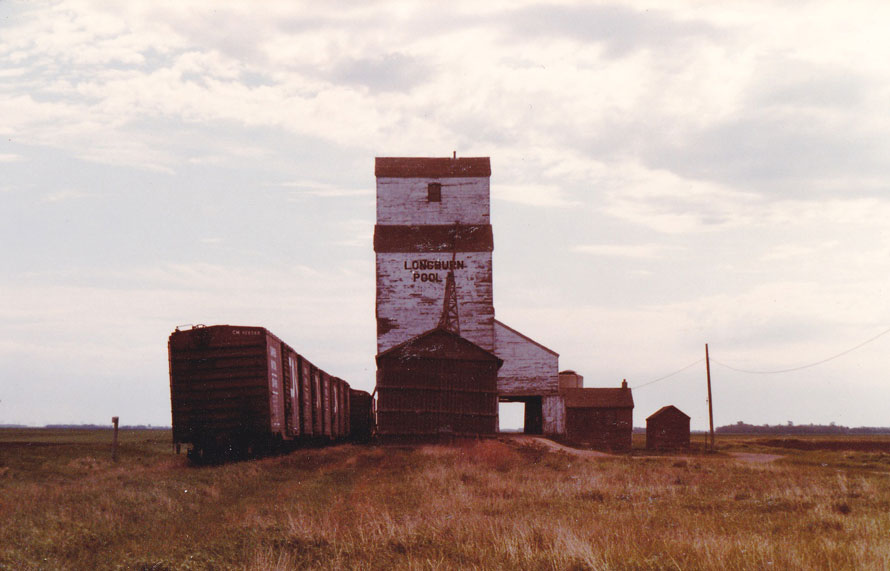 North-west of Portage, CN's Oakland Subdivision veered west through Longburn to avoid Lake Manitoba. One of the last lines consigned to handle 60-ton grain shipments in six-foot-door boxcars, CN would be granted permission to abandon this trackage within two months. The last grain moved off this subdivision in April, 1986.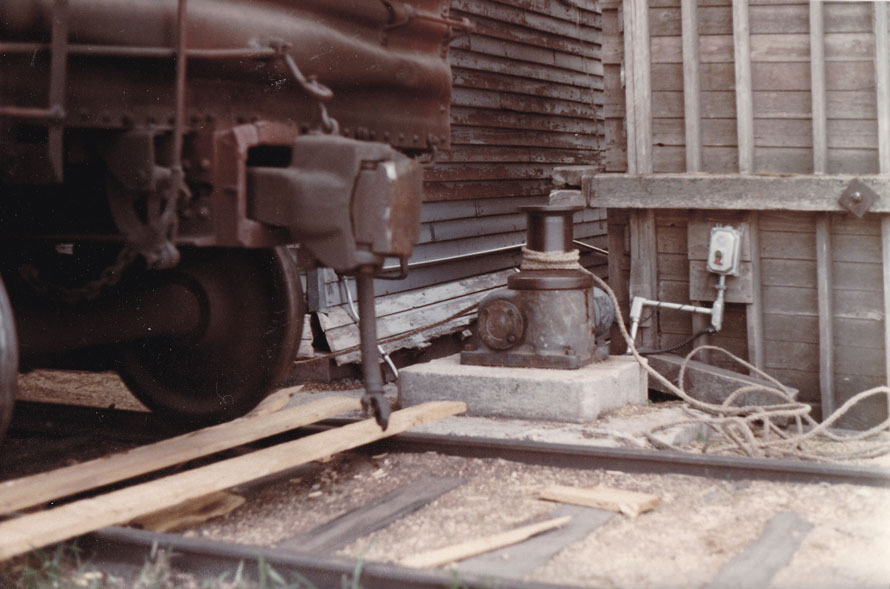 The boxcars at Longburn were held in place with pieces of lumber, moved with an electrically-powered car puller.
---
Oakville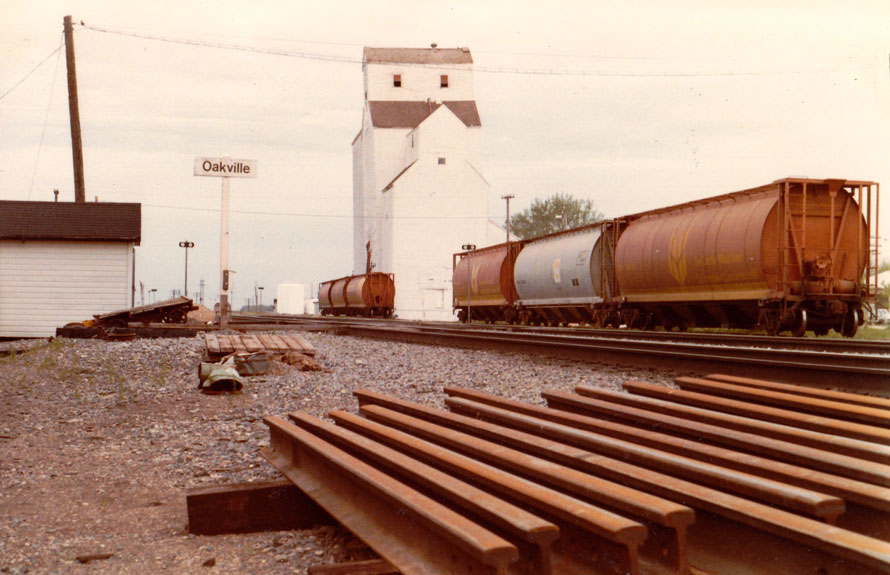 East of Portage on CN's Rivers Subdivision, short lengths of heavy rail at the Oakville section building belie the mainline, decidedly not branch-line, nature of the trackage through town. With three covered hoppers loaded, the elevator agent will load three more, then roll them east by gravity, ready for pickup.
---
Meadows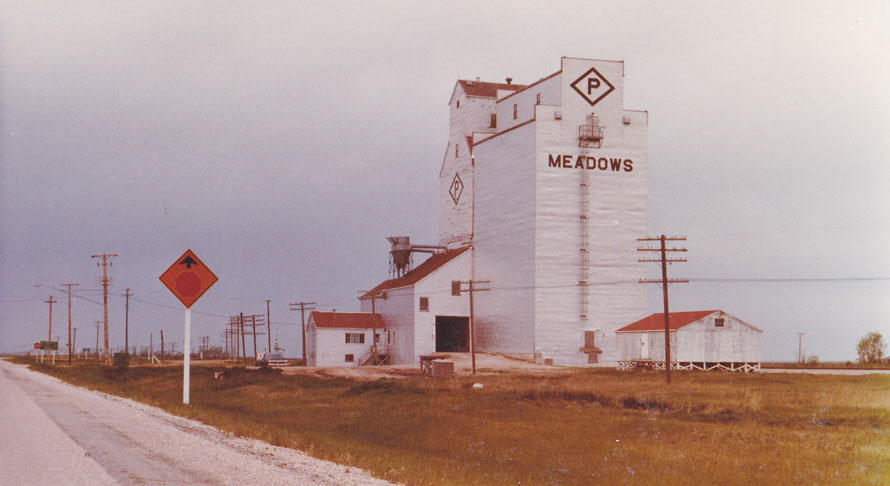 Meadows is east of Portage on CP's Carberry Subdivision. Built in 1948, with an annex added in 1979, this relatively-modern N.M. Paterson & Sons elevator is currently slated for demolition. By the time you read this, this silver-skinned sentinel will likely be no more.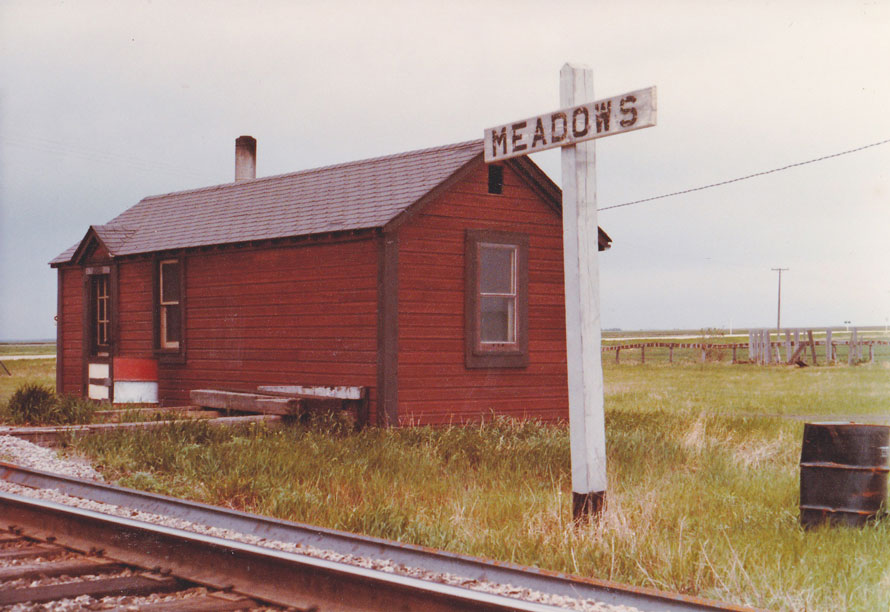 CP's ubiquitous portable station could be picked up by crane and transported to another site on a flatcar. Ties, lumber and barrels are around the station along with this weather-beaten sign on the day of my visit. More lumber was used to build miles of snow-fencing at rear, to reduce snow drifting onto the tracks in the harsh Manitoba winter.
---
Westroc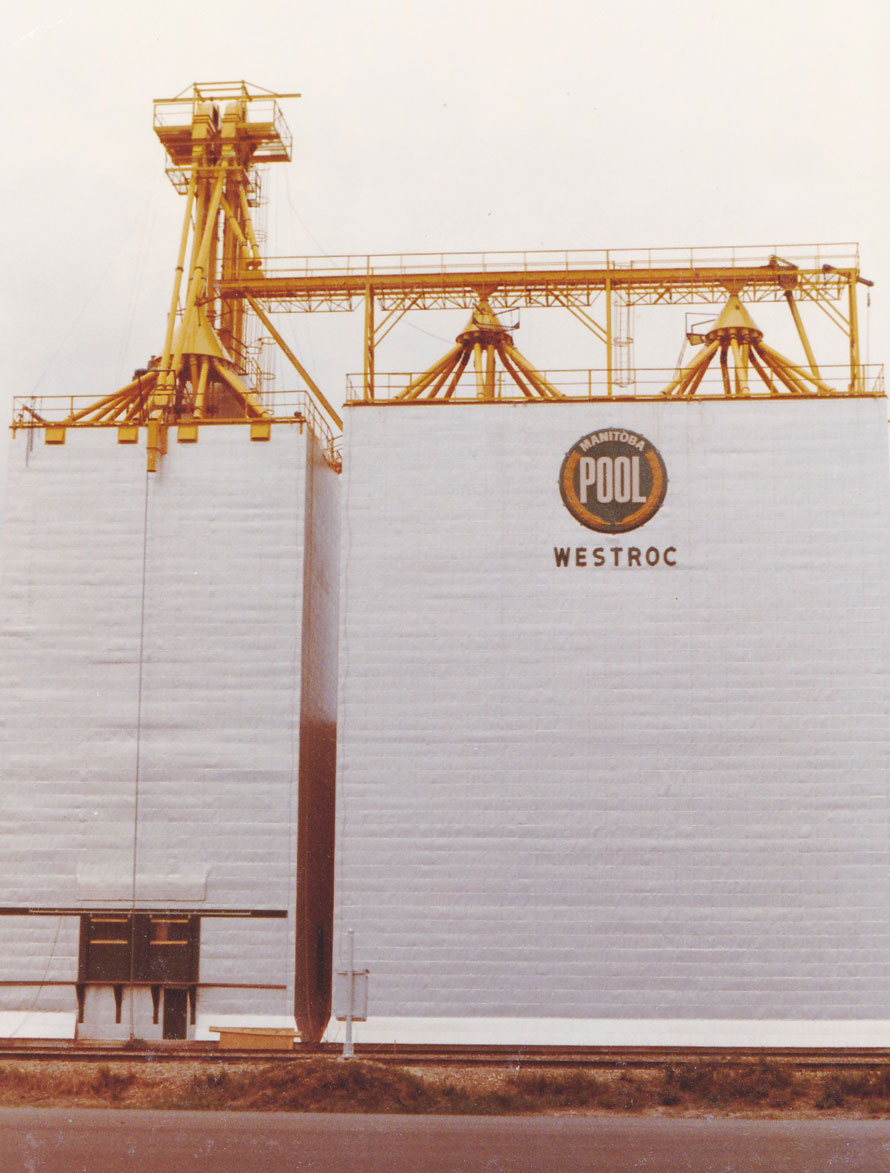 Signs of rationalization. Surprisingly, another new Manitoba Pool Elevators shipping point was taking shape on CP's Minnedosa Subdivision, northeast of Portage at Westroc. An annex was added to an existing elevator moved from Langruth, about 20 miles by road.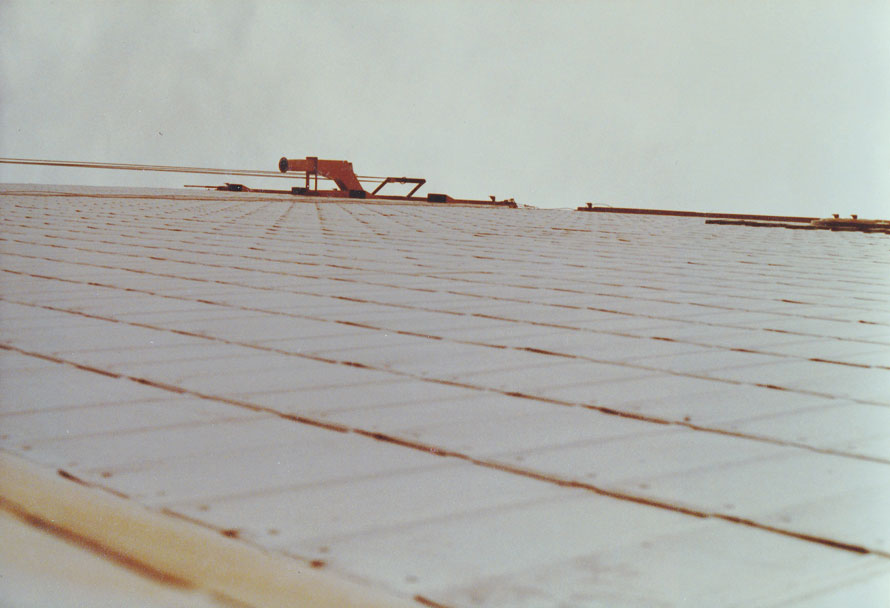 Exposed equipment and new tin cladding are visible from this ground-level view, showing the elevator's front soaring skyward.
---
Portage la Prairie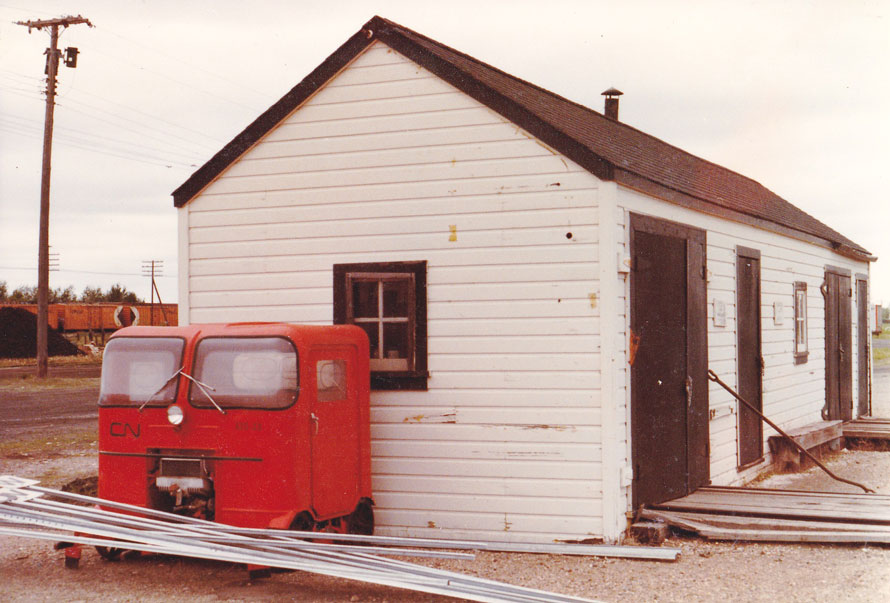 Back in Portage, a CN section car shed (with CP's parallel yard visible in background) held a spare speeder and a quiver of 'W' whistle-posts. Today, speeders have been replaced by hi-rail trucks.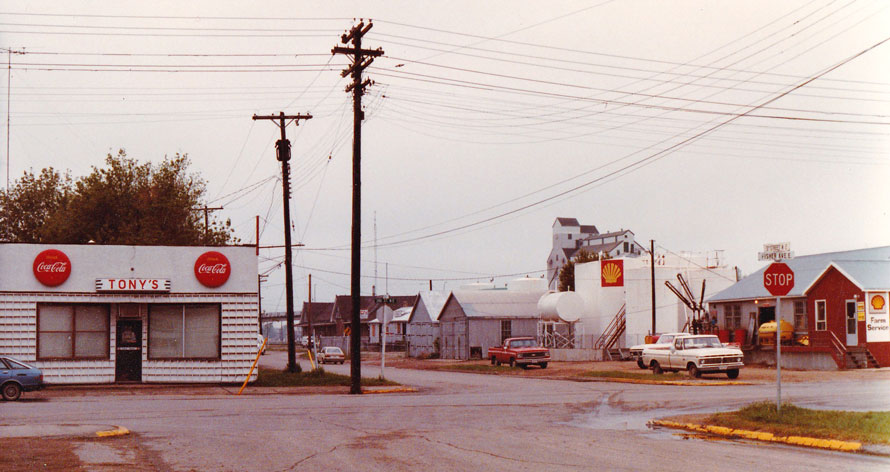 Where town meets track. A Coke-signed café, CN (VIA) passenger station, Texaco and Shell oil distributors are backed by looming Manitoba Pool Elevators Portage 'B' elevator. This elevator burned down less than four months later.
---
Whether by progress, fire, neglect or disuse, Manitoba's trackside scene was indeed changing in the mid-1980's. In retrospect, I was extremely lucky to be a witness. More than that, I was privileged and prescient to play my small role in its photographic preservation.
Eric Gagnon – Photographs and text Copyright 2017
See more of Eric's work, with and without trains at Trackside Treasure.