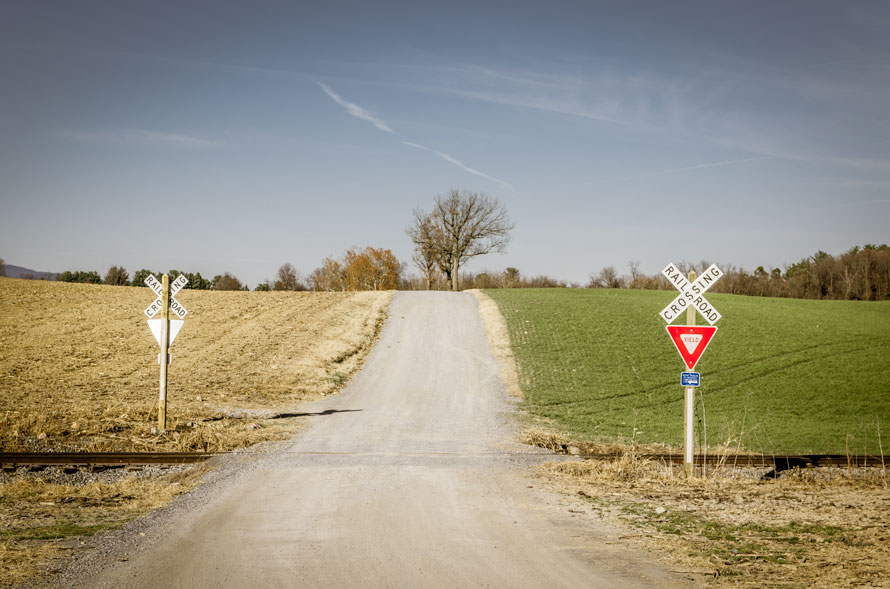 Several years ago, I lost patience waiting around for a train to photograph and started to pay more attention to the landscape that the tracks run through. I became absorbed in the things that surround the railroad, and that the railroad alters and defines as it passes through. So absorbed, in fact, that trains occasionally rumbled by un-photographed.

The shift in focus away from the trains to the railroad landscape has been rewarding photographically, and I enjoy all my time along the tracks, train or not.
---
The challenge is to get beyond the invisibility of the familiar . . .
According to the Federal Railroad Administration, in 2015 there were 209,655 grade crossings in the United States. It is safe to say that every man, woman and child in the country has most likely encountered a grade crossing. People who have never seen a roundhouse, or an interlocking tower or a color position light signal have bumped across the tracks on their way to the store, or to visit grandma.
Grade crossings are the most common aspect of the railroad landscape. The "Railroad Crossing" sign, the flashing lights, the guard arm, the rumble of tires on the tracks–it is all utterly familiar. This intersection of two major modes of transportation is unique, and each crossing, whether in a busy town or along a lonely rural road, is also unique. The challenge then, is to get beyond the invisibility of the familiar, and see the individual character of each crossing as it unites the railroad, the highway and the surrounding landscape.
Edd Fuller – Photographs and text Copyright 2018
Click on the image to open in viewer.