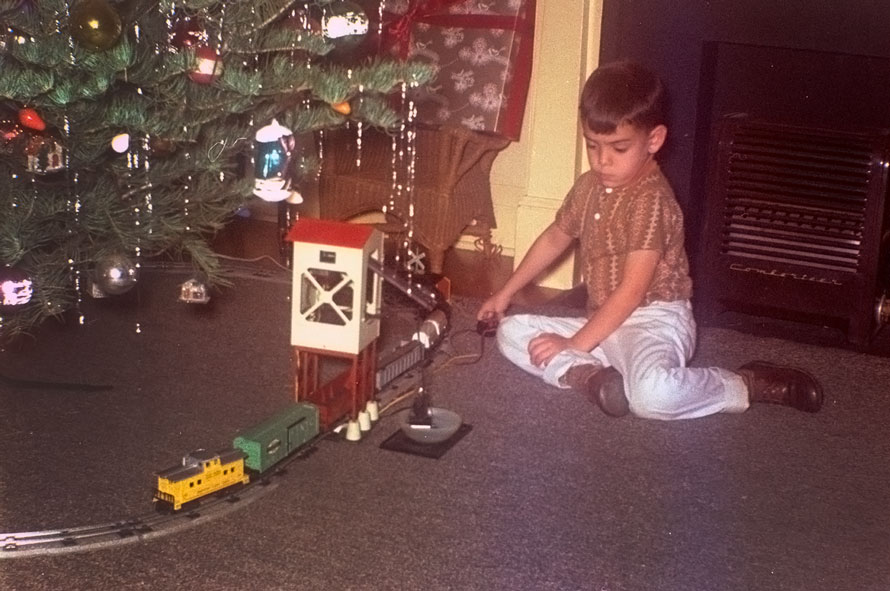 My mother had fallen ill during the Christmas Season of 2011. That horrible demon known as Alzheimer's was slowly tightening its grip on her memory and functions. It was soon obvious that she needed to be institutionalized and have round-the-clock care and treatment for her devastating illness.
The darkness of winter grew longer each day, and our holiday spirits were darkened as well. My wife Yoko and I thought it would be a good idea to brighten up her home once again with a Christmas Tree in the living room to help rekindle the flames of the Christmas season. So for the first time in more than a few years, there was once again a Christmas tree in mom's house.
Seeing that tree set up in the living room made me recall that I had stuffed my American Flyer train set somewhere in the confines of her garage. I poked around for a bit and turned up the missing ornament that made the tree complete. After a bit of coaxing and a good cleaning of the wheels, it was chuffing down the track again for the first time in almost a quarter of a century, making hard left turns at 100 scale miles an hour! And oh, the smoke, the unforgettable smell of that blue gray haze that pumped out of the stack with each turn of the wheels—the train clattering over the crossing bell, lights flashing as my Flyer train went racing by. All evening long it ran, conjuring fond memories of seasons past.
Her gift from that Christmas long ago had a great impact on my life . . .
---
The next morning, as I hurriedly prepared for the day, I rushed by our Christmas tree scene from the evening prior. Out of the corner of my eye, I suddenly became aware of the resemblance of our 2011 scene to one I recalled from a photograph taken many Christmases ago. Back to the garage I went, this time in search of that photo album. I found it! There it was, on the second page of that album, me with my American Flyer set, Christmas 1962! Indeed the resemblance was striking!
"The rest of the day can wait" I thought, "I need to make this Then & Now image right away!"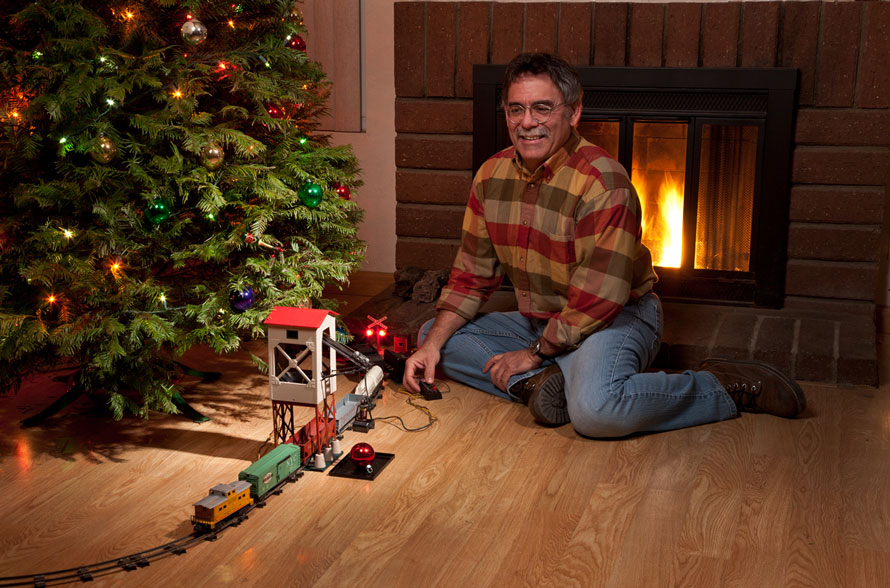 I suppose that by creating of this Then and Now image I was trying to connect with my past. Recalling these happy visions of a six-year-old with his train set running under the Christmas tree turned out to be a very therapeutic experience for me. Somehow, it gave cause and purpose to continue ahead no matter what the future may hold.
A few weeks ago the future caught up with us and my mother passed away peacefully with her family by her side. It was a sad experience indeed, but it came with a great sense of relief as well, knowing that her struggles with an awful disease is now over and that she can finally rest in peace and be with God.
Her gift from that Christmas long ago had a great impact on my life, both professionally and personally. It planted the seed of understanding the meaning of responsibility, to respect and care for your possessions, how to share your joy with others, and a deep appreciation of history. This year her gift will give once again as the Flyer rolls around the Christmas tree filling our home with that wonderful blue-gray smoke, and filling us with many fond memories of a great woman and a wonderful mother. 
Steve Crise – Text and photographs Copyright 2018