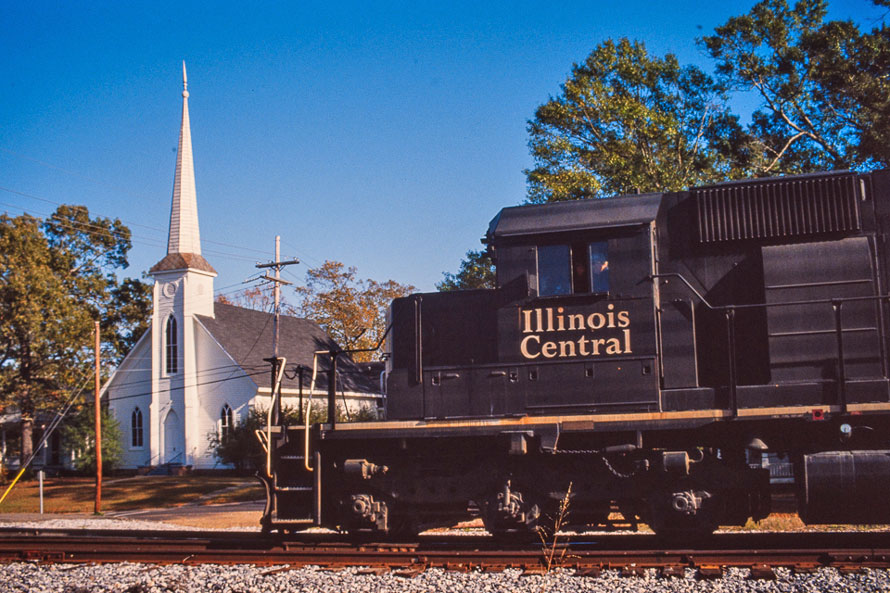 At this time of year, nearly everyone will have recollections of Christmas seasons, recent or distant, when time seemed to stop and it was almost possible to live a lifetime in that moment.
Moments like that are rare. People usually remember them with almost perfect clarity, regardless of whether the experiences are joyful or, maybe, not so joyful. For me, Christmas of 1976 was one of those experiences.
For reasons I still can't explain or understand, I remember very few Christmas seasons with any detail before or since that Christmas Eve. But this one is indelibly etched in my memory, almost as if I was meant to remember it in infinite detail.
I was on semester break from my hometown Community College, thankful to have a little free time away from studying. Since I attended Community College locally, I was able to work part-time jobs in town and live at home while attending classes. After the Christmas break, I would complete my final semester at Community College and leave to spend two more years studying Engineering.
The previous months had been painful for my family, due to the recent loss of my paternal Grandfather and my maternal Grandmother the year before. Happiness and joy were in short supply as my parents dealt with the losses in their own way. My Mom stayed busy helping with Christmas parties and receptions as usual, while my Dad just sort of kept to himself.
One of my part-time jobs was with the local Western Auto affiliate store, where I worked on Saturdays and as needed. At that time, people bought everything locally, and Christmas was always a busy time for us. We sold toys, bicycles, tools, appliances and other products that were always in demand as Christmas presents. We would usually close at 5:00 p.m. on Christmas Eve, and re-open a couple of hours later so layaway customers could pick up their gifts. We never knew how long we would stay open, because we didn't close until all Christmas layaway gifts were safely in their owners hands.
As I approached the tracks, there wasn't a sign of life anywhere around, but lighted Christmas decorations helped warm the scene.
I helped close at 5:00, and I knew that I couldn't go home for supper and return in time for the store reopening. So, I splurged and stopped to eat at the town cafe a couple of doors down from the Western Auto. As I looked through the large front windows of the cafe, the town policeman and the cafe owner, both of them long-time friends of my family, were the only people in the place, sharing stories over cups of coffee.
As I walked in, the owner said he had just let the cook leave, but that he would take care of my order personally. I asked for a cheeseburger and fries and he headed for the kitchen. I sat down to talk to the policeman, who had been my Little League Baseball coach. He and I shared our stories and experiences from several years earlier when I was playing baseball, having a good laugh over most of them. The cafe owner soon joined us, and we had the kind of conversation that is only possible when a young person is in the company of two older friends. The owner just smiled and said "Merry Christmas" as I tried to pay my bill. He was closing up early to be home with his family, so the policeman and I walked out together. We all said our goodbyes, mixed in with holiday wishes, and walked off into the chilly evening air.
I had plenty of time to kill before the Western Auto was due to reopen, so I ambled down the deserted streets, past darkened businesses and toward the Chevrolet dealership. It wasn't even 6:00, but it seemed like midnight. Since my hometown was very small, the Chevy dealer was beginning to feel the pinch of reduced business as people shopped for new cars in larger towns. He didn't have much of a selection, but I wandered around anyway, looking at new and used cars, wondering how I would ever afford to buy one.
The Chevy dealer was the last business on my tour before reaching the railroad tracks that carried the former Illinois Central's Chicago to New Orleans mainline. It was now the Illinois Central Gulf, but it was still the same double tracked mainline that I had grown up around. The chocolate brown, burnt orange and yellow IC E-Units pulling endless strings of matching Pullman cars were long gone, but there were still a lot of black GP models with the IC green diamond proudly displayed under the cab window to tell of the railroad's heritage. The sturdy US&S block signals displayed their bright green indications, looking like emeralds as they helped safely guide trains down the mainline
As I approached the tracks, there wasn't a sign of life anywhere around, but lighted Christmas decorations helped warm the scene. The town's citizens were mostly settled in for the evening, or preparing for midnight Christmas Eve services at one of the three churches in town. I wandered across the two main tracks and toward the old hotel that had been a town fixture for nearly 100 years.
As a parting gift, the last southbound train of the evening sailed through town
Then, I suddenly heard the familiar sound of a locomotive horn just north of town. Within a minute or so, the headlight of a southbound ICG freight train came around the gorgeous "S" curve at the north end of town in a big hurry. The engineer was punishing the locomotives mercilessly, doing his best to get the train crew to their home terminal in McComb, Mississippi, in time to spend Christmas Eve with their families. The crew still had about forty miles ahead of them, and the engineer had every intention of getting home as soon as possible. I stood there, watched the train fly past and wondered how fast it was going.
Quite quickly, almost too quickly, the caboose appeared, windows softly glowing with light from the conductor's desk lamp as he worked on his trip report and waybills. As the end of the train passed, I noticed the rear brakeman standing on the caboose porch, enjoying a smoke in the cool, crisp air. He and I exchanged friendly waves as he and the train rapidly disappeared.
I walked back towards the Western Auto,  past darkened businesses. As I approached, the owner was just pulling up. We reopened the store, adding light to the center of what was otherwise a dark, sleeping town. Within a few minutes, customers began to arrive and I became very busy taking Christmas layaway items out to their vehicles. Before I knew it, the stockroom was empty. All the gifts were safely with our customers and it was time to close. I had a good feeling that only comes from seeing others happy and enjoying the season.
The store owner mentioned under his breath that we were closing earlier than he expected, and that we'd be home by 10:00. I helped him lock up and turn out the lights. We said our goodbyes and headed home. As a parting gift, the last southbound train of the evening sailed through town, easily making sixty miles per hour through the frigid air, the horn sounding almost melodious as it faded in the distance.
---
As I pulled up my jacket against the cold, I didn't realize it, but that would be the last Christmas before my life would change forever. Things would never be the same after that night. The next year, I would be home only for a couple of weeks during Christmas. Most of my friends would be gone, moving on with their lives. Within a couple of years, my job would dictate how I would spend the holiday, through on-call duty or actually away from home, working to help resolve a problem.
But on that Christmas Eve in 1976, life was good and everything was right with the world.
It was truly my last, best Christmas.
Danny Johnson – Text and photograph Copyright 2018