A Sense of Place
"We worked like thieves, stealing images as train riders do, from that passing world unmasked by the railroad whose intrusion helped create it. A corridor of random and disordered beauty, the backs of buildings, a space where nothing is posed. You would walk here as a trespasser, stepping over weeds and cracked pavement, past a rusty fence, a chained dog, a string of white laundry, a man fixing his truck, a woman lying in the sun." – Michael Flanagan,
Stations: An Imagined Journey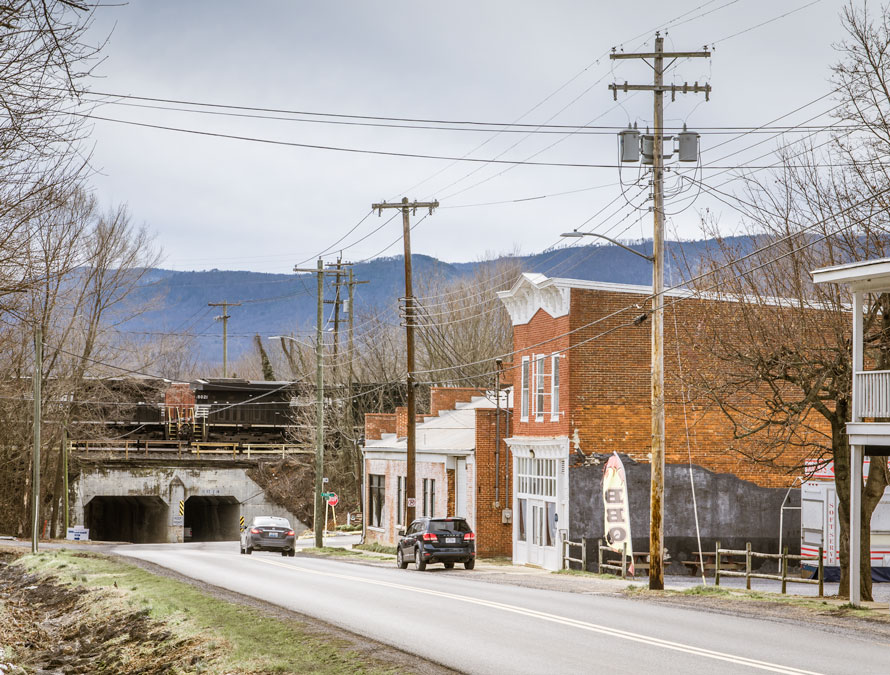 Saturday afternoon found me over in the valley again. Here in central Virginia, "the valley" is understood to mean the Shenandoah Valley which is "over" on the other side of the Blue Ridge Mountains from where I live. A year and a half ago, I began working on a project to photograph a few miles of railroad that runs between Elkton and Front Royal on part of what is now Norfolk Southern's Shenandoah Valley line.
It was a pleasant early spring day. Some snow still lingered on the north facing slopes of the mountains, but in the valley the fields were beginning to turn green, and the trees were just starting to show some spring color. In the Town of Shenandoah, I stopped in the NS yard office and asked if it was OK to take some pictures (it was) and found out that a northbound freight was leaving soon.
Dovel Hollow is an off-the-beaten-path location that I had scouted out a couple of months ago. There is a high trestle in the lovely rural landscape so I quickly drove there and set up the camera. That train getting ready to leave Shenandoah would cross the trestle in Dovel Hollow, but apparently it takes quite a while for a train to leave Shenandoah because I waited for it for nearly two hours. The light was about to fade and I was just about ready to give up when I heard the rumble of approaching diesel locomotives. I got the shot and packed up.
The time I spent waiting was not wasted. The air was spring fresh, and Honey Run flowed clear and full from the melting snow in the mountains. It made a lovely, comforting sound. The lady who lives in a house nearby came out and asked if I was waiting to take a picture of a train; she thought she heard one coming, she said encouragingly. I watched the sun play on the landscape as the clouds moved across the sky.
Along with the photograph, I came away with a sense of this place. I can remember how that afternoon felt when I look at the photo, and I begin to get a sense of how the railroad connects all of the places that I have explored and photographed along this rural line. I have shot hundreds of images along the fifty-some miles of track here, and they are beginning to tell me a story.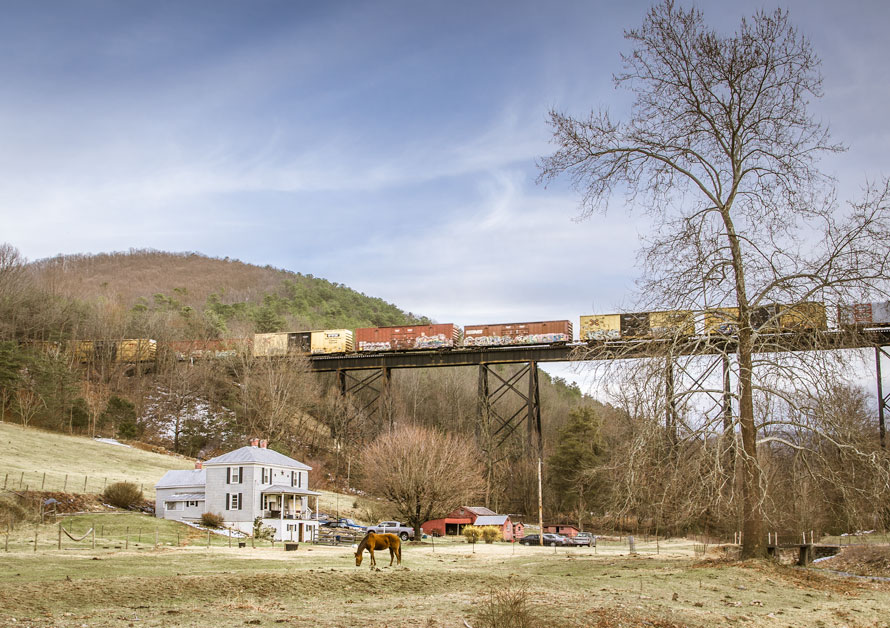 Edd Fuller – Text and photographs Copyright 2018