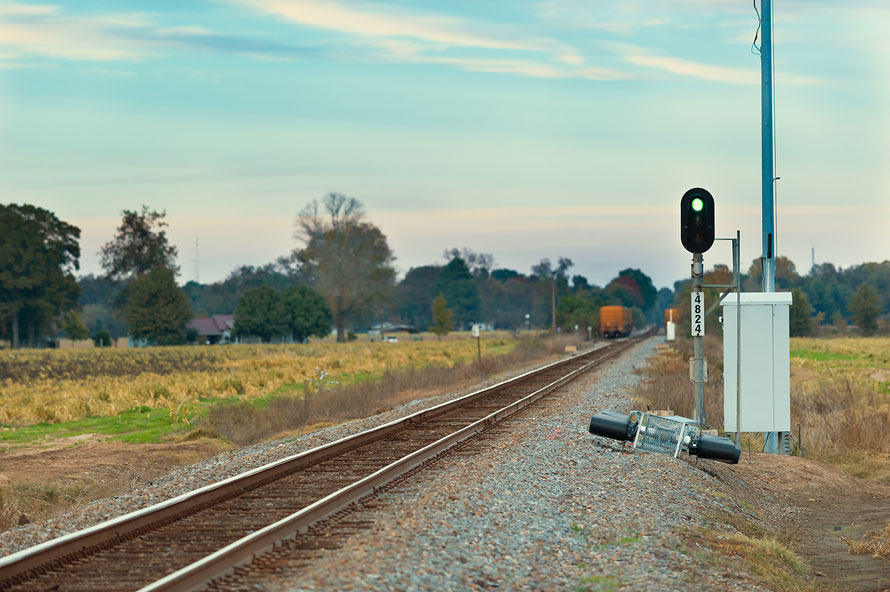 To the casual observer, this scene would suggest only the illumination of an incandescent bulb behind a green fresnel lens on Signal 482.4 as it sends out a clear indication to an approaching northbound train on the Union Pacific McGehee Subdivision. It is a scene that has been repeated countless times for well over a decade.
But it is November 14, 2013, and Signal 482.4 will soon fall victim to PTC-induced modernization as progress marches onward. With a replacement signal assembled and ready for installation, Signal 482.4 now sees the inevitable, impending doom of progress. It probably feels the same as the original Missouri Pacific signals felt when they were pushed aside. Originally installed elsewhere on the former Missouri Pacific, Signal 482.4 has witnessed the magic and mystery of the Mississippi River Delta region during its stay. The burning, brutal heat and humidity of summer, the cold, biting winds of winter and the ever-present severe storm threat during spring have all tested the resilience of Signal 482.4 and its ability to safely govern train movements.
Signal 482.4 basks in the last light of a perfect autumn day, free of challenges other than its impending death at the hands of progress. It seems appropriate that its last days are spent in tranquility, after the bustle of harvest season and with nothing other than a slight chill in the air to let it know that the cold of winter is coming. But Signal 482.4 won't feel the cold of the upcoming winter. Its life is almost over. It will end just as other vintage signals across the nation have ended their lives—at the end of a torch.
When I returned just a few weeks later Signal 482.4 was gone . . .
---
I don't know what made me shoot this image. Maybe it was a sense of finality. Maybe it was in an effort to show my appreciation and respect for the engineering and manufacturing behind the signal. Perhaps it was just to record an artistic image. Regardless of the reason, I am glad that I captured it. When I returned just a few weeks later Signal 482.4 was gone, replaced by hooded, LED equipped, "one-size-fits-all" signals that have no heritage, no experience and none of the charm that Signal 482.4 possessed.
It was, truly, the final harvest season in every respect.
Danny Johnson – Photographs and text Copyright 2018